One Young World Ambassador Joannes Yimbesalu was the first grant recipient of the Queen's Commonwealth Trust, a recently launched initiative supporting young leaders across the Commonwealth who are creating change in their communities.
Joannes, the founder of Hope for Children Cameroon, was awarded this grant to fund his Hygiene and Sanitation work aimed at provide a safe environment for school children in the West African country. He is also an advisor to the Trust, which has Prince Harry as its President and Her Majesty The Queen as Patron.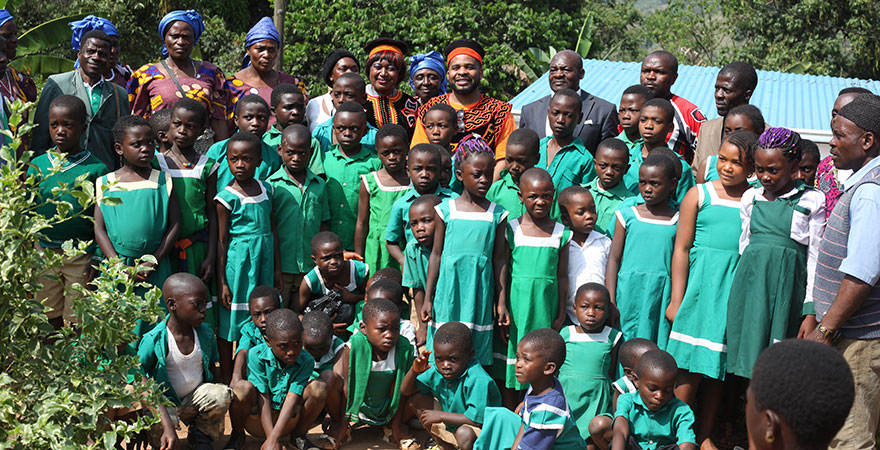 He said he was "very excited to be the first grant recipient" of an award from the Trust, which he said was a reflection of "The Queen's belief in young people as a force for good". The Trust places an emphasis on projects focused on education, health, the environment and sport.
The Trust funding is having a remarkable impact in the isolated village of Tinifoinbi, in the North West Region of Cameroon, where a local school has been given its first toilet facilities in the 12 years of its existence.
Until recently, pupils at the Cameroon Baptist Convention Nursery and Primary School were obliged to use a crude hole in the ground, accessed by a ladder. Several of the children under five years had fallen into the pit, which has now been closed as a health hazard.
This lack of sanitation is a chronic problem in schools across the developing world and particularly in sub-Saharan Africa where two-thirds of primary school have no adequate sanitation. In Cameroon, only 19% of schools have a working toilet and 30% have access to tap water, a problem, which Joannes says, is suppressing the nation's school attendance record, which barely reaches 65%.
"In Africa, half of the young girls who drop out of school do so because they have to walk for miles to use a toilet," he says. "They want a place they feel comfortable where no one can see them. So they walk for many miles away into the bush, so far that most of the time they would not come back to school."
The risks of using filthy latrines can be catastrophic. "Many, many children in sub-Saharan Africa die from preventable causes of death and one of them is diarrhea which is the result of poor sanitation," says Joannes. "Imagine holding a ladder in a pit that many others have held, bacteria infections can easily happen."
Hope for Children Cameroon has identified the exceptional impact on female students of the lack of toilet facilities in schools. "On these long walks to the bush they are at risk of being harassed sexually or shamed and it makes them very uncomfortable. We realized that most of the girls were not coming to school because they did not have a safe place to go to when they were on their periods or when they wanted to use the toilet."
While some children are too poor to bring food to school, others choose not to eat because of fear of needing the toilet, Joannes says. Even teachers go absent for large parts of the day because of the lack of decent sanitation.
Joannes set up Hope for Children Cameroon in 2011, inspired by his mother's belief in the value of education in spite of not being able to complete her own education. As children, Joannes and his brother sold bananas, plantain chips, peanuts and firewood to help support our schooling. Hope for Children Cameroon began by supplying basic school materials and has now supported more than 1,500 children with uniforms, writing implements and learning aids.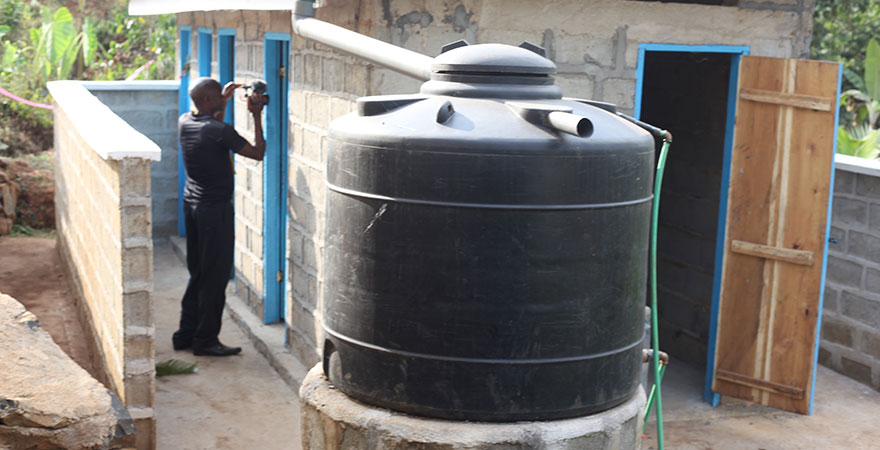 In 2014, Joannes gave up his position as a scientist in the United States to work full-time for Hope for Children Cameroon, which now has a staff of 11.
Beyond school sanitation, the organization support school construction projects and encourages children in learning healthy and sustainable farming practices and in tackling gender issues, including child marriage and domestic violence, which hinder the progress of women. "Patriarchy is a huge thing in most African countries," says Joannes. "We try to engage men and boys to see women and girls as partners."
The Tinifoinbi project has been a revelation, attracting crowds of onlookers as the facility was being erected. "People thought it was a house, because it looked so beautiful and because of the amount of financial investment that went in, says Joannes. "Parents, teachers and kids were coming and asking questions, wanting to know how they could get something similar in their school."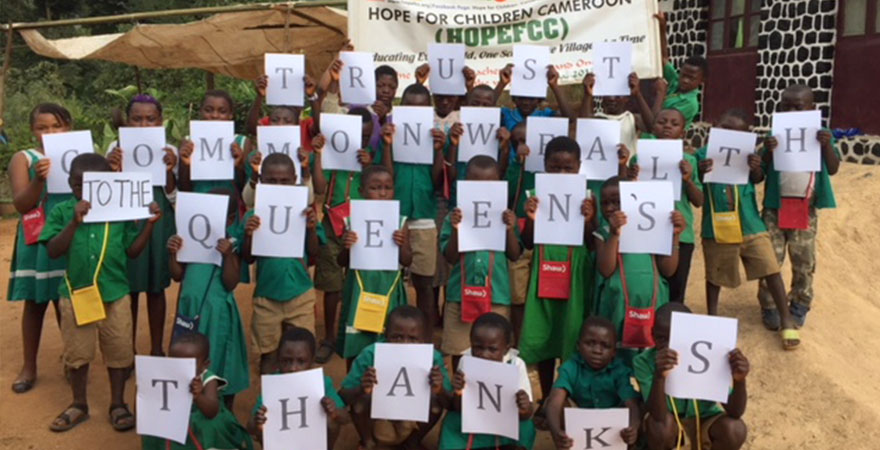 The building, with three cubicles for boys and four for girls, along with hand-washing facilities and a separate girls' changing room, took about five months to complete and is serving approximately 200 children. "We had the full support of the community," says Joannes. "Women were cooking food and bringing it to the builders, young people were helping carry the blocks. Some technical students had an opportunity to upgrade their construction skills while involved in this project."
There is much work still to be done. This is the only purpose-built school latrine in the entire division. But such has been its impact that new teachers are coming to Tinifoinbi looking for posts. As we strive to leave our country with smarter kids, we must ensure that our children are healthy so that they can achieve their greatest potential.