Her Majesty Queen Máxima of the Netherlands will officially open the One Young World 2018 Summit in The Hague this month.
Queen Máxima will attend the Summit's Opening Ceremony in the garden of the Peace Palace on Wednesday 17 October. This year's summit will bring together over 1,800 young leaders from around the world to debate and work on innovative solutions to global problems.
Queen Máxima has served as the UN Secretary-General's Special Advocate for Inclusive Finance for Development (UNSGSA) since 2009. She has also acted as honorary patron for the G20's Global Partnership for Financial Inclusion since 2011. She will address delegates and give an opening statement during the ceremony.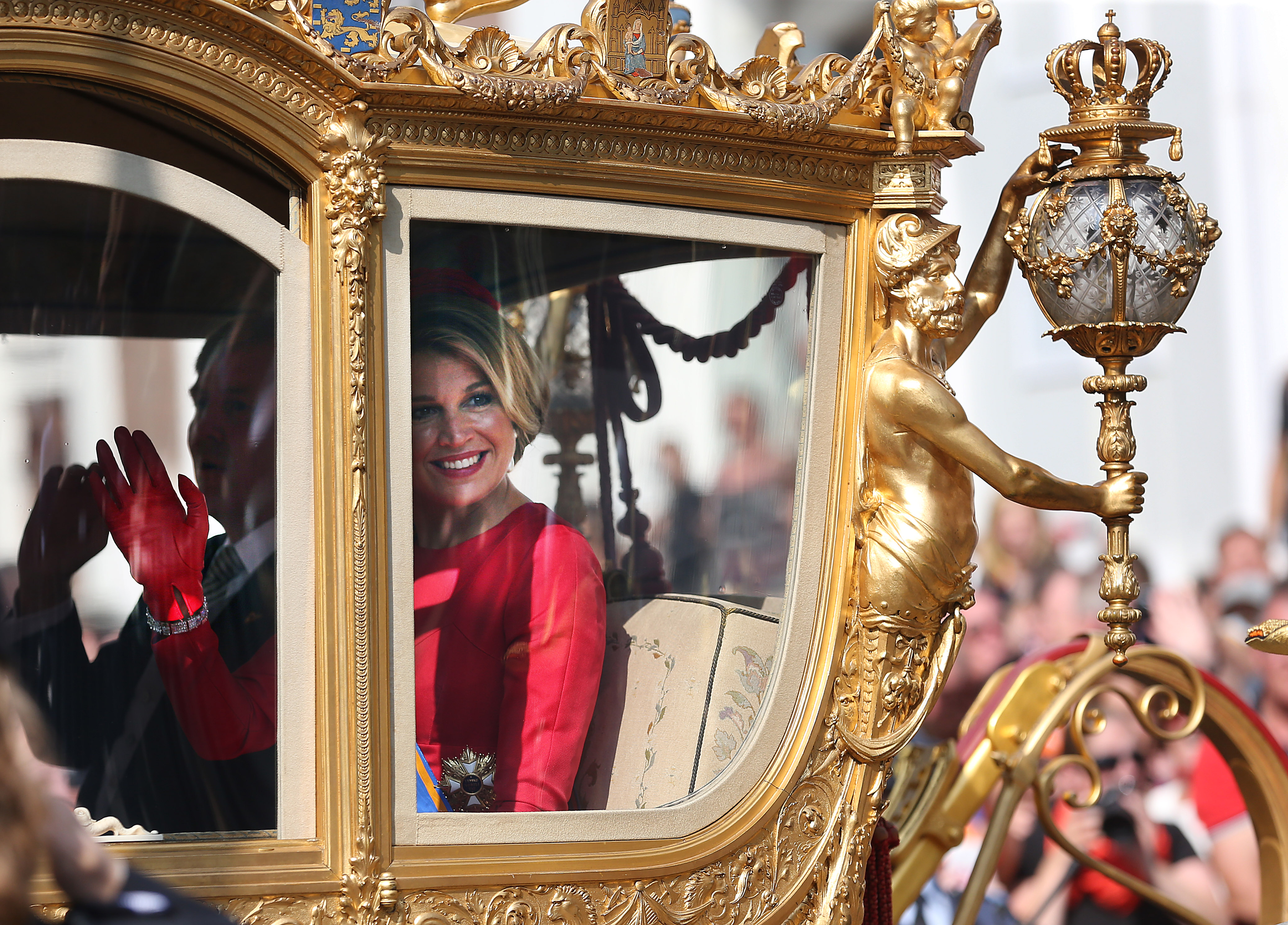 Her Majesty Queen Máxima pictured with His Majesty King Willem-Alexander of the Netherlands
One Young World was co-founded by Kate Robertson and David Jones and has built a network of over 9,000 Ambassadors – young leaders whose work projects have impacted 17.5 million people worldwide. In 2017 alone, 2.9 million people were impacted as a result of the work undertaken by Ambassadors and, for every $1 invested, the One Young World community delivered a social return of $13. One Young World organizes an annual conference for young leaders from more than 190 countries. The 2018 Summit in The Hague will be the 9th annual conference, and the biggest one yet. 
The Opening Ceremony will also include an address from Sir Bob Geldof, and a tribute to the late Kofi Annan. 
To read the full agenda for this year's Summit, click here.
---
Koningin Máxima bij opening congres One Young World The Hague
3 oktober 2018 - 16:24
RVD, nr. 232

Hare Majesteit Koningin Máxima is woensdagavond 17 oktober in het Vredespaleis in Den Haag aanwezig bij de openingsceremonie van het congres One Young World The Hague. Bij dit internationale congres komen 1.800 jonge leiders samen om te debatteren en te werken aan innovatieve oplossingen voor mondiale problemen.
Koningin Máxima zal een kort openingsstatement geven tijdens de ceremonie. Zij doet dit in haar hoedanigheid van speciale pleitbezorger van de secretaris-generaal van de Verenigde Naties voor inclusieve financiering voor ontwikkeling en erevoorzitter van het mondiale samenwerkingsverband voor inclusieve financiering 'Global Partnership for Financial Inclusion' (GPFI) van de G20.
 
One Young World organiseert jaarlijks een conferentie voor jonge leiders uit meer dan 190 landen. Zij zijn onder andere werkzaam in het bedrijfsleven, bij NGOs en universiteiten en komen samen om hun visie te geven op problemen die hun generatie treffen, zoals klimaatverandering en mensenrechten. 
 
Bij de openingsceremonie houdt onder andere Sir Bob Geldof, counsellor van One Young World, een introductie op een eerbetoon aan voormalig counsellor Kofi Annan.  
Mededeling aan redacties (niet voor publicatie)
Aankomst: 18.10 uur
 
Accreditatie tot en met uiterlijk vrijdag 5 oktober, 12.00 uur via https://docs.google.com/forms/d/e/1FAIpQLSdTh7quN9jfUON4pXPIVEfezWpNgwbPeUtMUNE-wnTf35O-Iw/viewform
Bij grote belangstelling geldt een beperkte toelatingsregeling.
 
Voor meer informatie:
One Young World
Krissy Koslicki
[email protected]
+44 7731 345 177
 
www.oneyoungworld.com 
 
Rijksvoorlichtingsdienst
070 – 3564142
www.koninklijkhuis.nl
www.twitter.com/koninklijkhuis
www.facebook.com/hetkoninklijk.huis
www.youtube.com/koninklijkhuis
www.instagram.com/koninklijkhuis