In October 2022, One Young World Brazil's team of Ambassadors joined forces with Gerando Falcões, a Brazilian social development ecosystem, to host the ultimate workshop. The event focussed on how to accelerate the impact and power of young people from favelas, working-class neighborhoods in Brazil. It brought together Ambassadors and supporters of the Community, forming a partnership to inspire and empower young Brazilians in their respective social missions.
This one-day event, held shortly after the One Young World Summit, was designed and delivered by One Young World Ambassadors and their allies from the Community in Brazil. It addressed the issue of young people living in favelas in Poá, (a city near São Paulo) in a situation of extreme social vulnerability, and the goal of the event was to stimulate behaviour that could promote changes in the everyday lives of the invited audience.
To achieve this, the Ambassadors divided the event into three core topics: self-knowledge, perspective, and protagonism.
During the protagonism section of the event, the Ambassadors facilitated a design thinking process. The young attendees were divided into groups, defined problems they wanted to solve, and proposed their own solutions. The challenge set to them was not only to propose ideas but also to select one and present it in front of everyone. Eloá Vidotti, a One Young World Ambassador who helped to organise the day noted "this was very difficult for some people, but it showed them how capable they really are, and that was very powerful!"
This full day of learning, experiences, and activities received widespread positive feedback from the audience. The event gave attendees and organisers the chance to collaborate and share ideas. It was a room buzzing full of energy, with mission-driven Ambassadors making new connections to create a fairer and more sustainable future for all! Particular thanks go to Johnson & Johnson in São Paulo for hosting the event, and Novartis who sponsored the transport of young people from Gerando Falcões in Poá to São Paulo.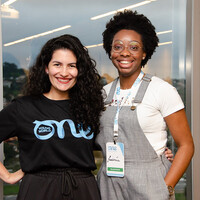 "These people have all the potential necessary to promote this transformation, they know better than anyone else the reality and the challenges they live with. And, more than that, they dream of what they want to do differently and conquer. That is why, in the event, what we proposed was a dialogue with others and a moment to look at yourself, to strengthen all this potential. We had very special moments in smaller groups, where ambassadors and audience shared stories and challenges faced, inspiring everyone through vulnerability and resilience."