On 29 and 30 August, One Young World Ambassadors and young leaders from across the Caribbean come together in Trinidad & Tobago for the 2018 Caribbean One Young World Caucus. Caucuses provide an opportunity for One Young World Ambassadors and socially engaged young leaders to connect face to face, explore opportunities for collaboration and gain insight into a range of emerging issues.
When?
29-30 August 2018
Where?
The Auditorium, Naparima College, Lute Drive, San Fernando, Republic of Trinidad and Tobago.
Who can attend?
Both One Young World Ambassadors and socially engaged young people are welcome to attend.
How much does it cost?
Participation is based on registration only. There are no fees to attend the event but One Young World cannot provide support for travel, accommodation or incidental costs.
Who will speak?
Speakers include:
The Honourable Basdeo Panday, Former Prime Minister of Trinidad and Tobago
Dr Dianne Douglas, Doctor of Clinical Psychology
Daren Dhoray, Webmaster at the University of the West Indies
Aruna Maharaj, Managing Director of the Madame Maharaj Cosmetology School
Tyrell Gittens, Vice-President of the Caribbean Youth Environment Network in Trinidad and Tobago
Shamla Maharaj, Founder of AbNormal Progress
Nazma Muller, Founder of the Caribbean Collective for Justice and the CARICOM Herb Farmers Union
Crista Sankersingh, Founder of In-Vision
Duane Zaheer Lall, Founder of Novel Sports Limited
Teocah Dove, Youth Development Consultant and One Young World Ambassador
Amilcar Sanatan, Research Assistant at the Institute of Gender Development Studies of the University of the West Indies
More speakers announced on a rolling basis.
What is on the agenda?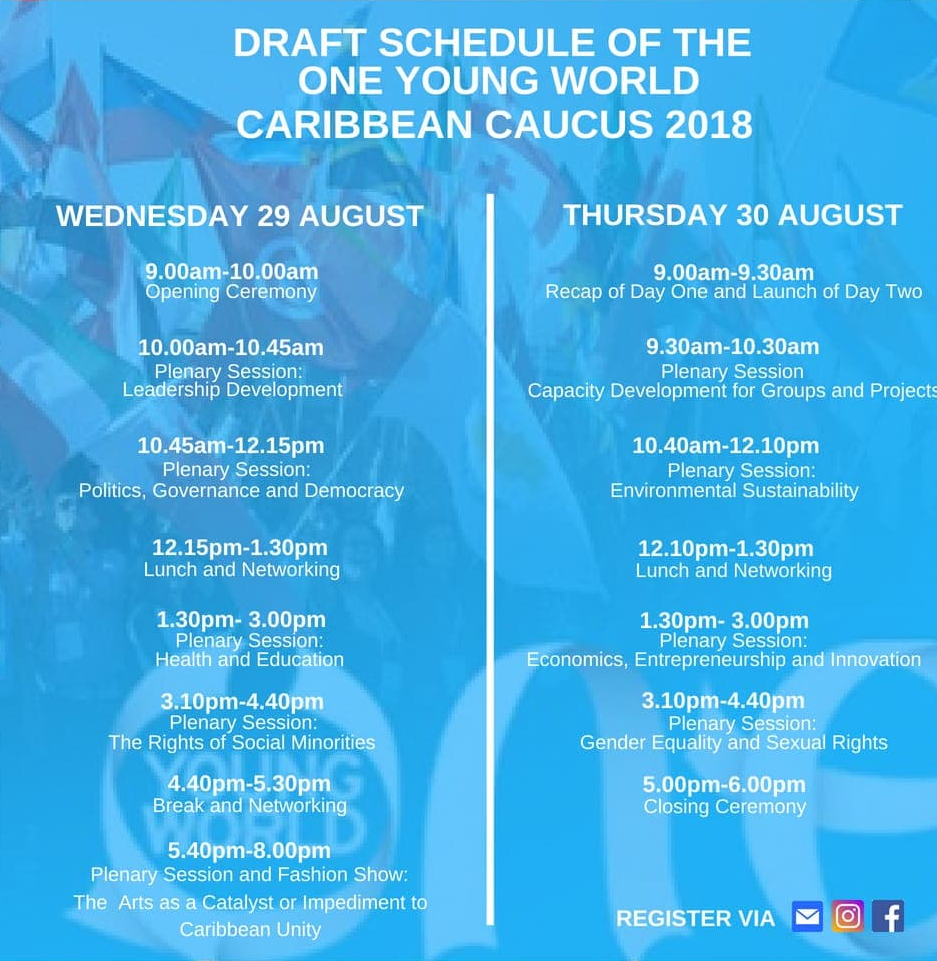 ​Please note that this agenda is subject to change.
How can I register?
Please sign up via https://goo.gl/forms/23oA11bqOmVYfUxE2.
Also, please like the One Young World - Caribbean Facebook page for additional updates about the Caucus.
News features
https://news784.com/regional/one-young-world-caribbean-caucus-to-taclke-regional-developmental-issues/

https://www.stlucianewsonline.com/one-young-world-caribbean-caucus-to-tackle-regional-developmental-issues/