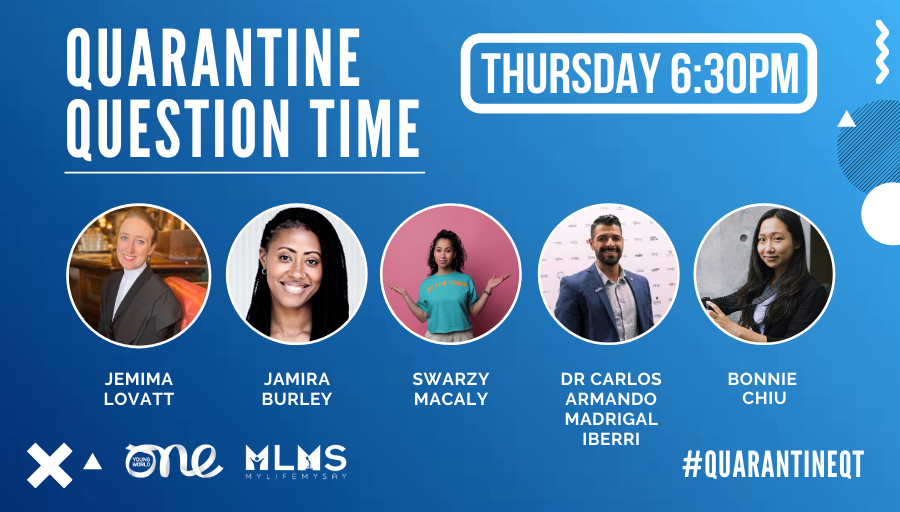 One Young World is partnering with My Life My Say on the next episode of Quarantine Question Time to help provide expert advice to young people about coronavirus and its impact on our lives.
Date: Thursday 7 May
Time: 6:30pm BST
About Quarantine Question Time
Quarantine Question Time is a new digital space on Zoom for young people to receive expert advice about coronavirus and its impact on our lives on a weekly basis. Speakers to date have included Gina Martin, Joshua Wong, Jermain Jackman, Abena Oppong-Asare MP and many other notable change-makers.
Join us to hear from OYW Ambassadors:
Bonnie Chiu, Hong Kong
Social entrepreneur, social impact consultant and advocate for gender equality. She has various roles as Founder of Lensational, Managing Director of The Social Investment Consultancy and Senior Contributor on Forbes.

Carlos Armando Madrigal Iberri, Mexico
Medical Doctor, currently working as Chagas Leader for Novartis México and Medical Leader in Salvando Latidos, an NGO focused on providing cardiovascular support for vulnerable populations.

Jemima Lovatt, UK
Jemima is the founder of Thrive, a collective addressing taboos including domestic abuse, and leads on partnerships at SpareHand, a Covid-19 volunteer response app. She is an aspiring barrister and was Called to the Bar at Lincoln's Inn in March 2020.

Jamira Burley, USA
Head of Youth Engagement & Skills, Global Business Coalition for Education. Co-Founder, ProjectZ. Focused on enabling equitable access to education.
About My Life My Say
MLMS is a youth-led, party neutral movement on a mission to empower young people to participate in Democracy by creating spaces for dialogue across communities and generations, and by providing young and socially excluded citizens with the tools to lead change within society. MLMS won the UK Government's 2018 National Democracy Change Makers Award, which recognises an organisation that has put a new idea forward to increase access to democracy, convinced others of the merit of their idea and affected a real change that benefits the greater good.