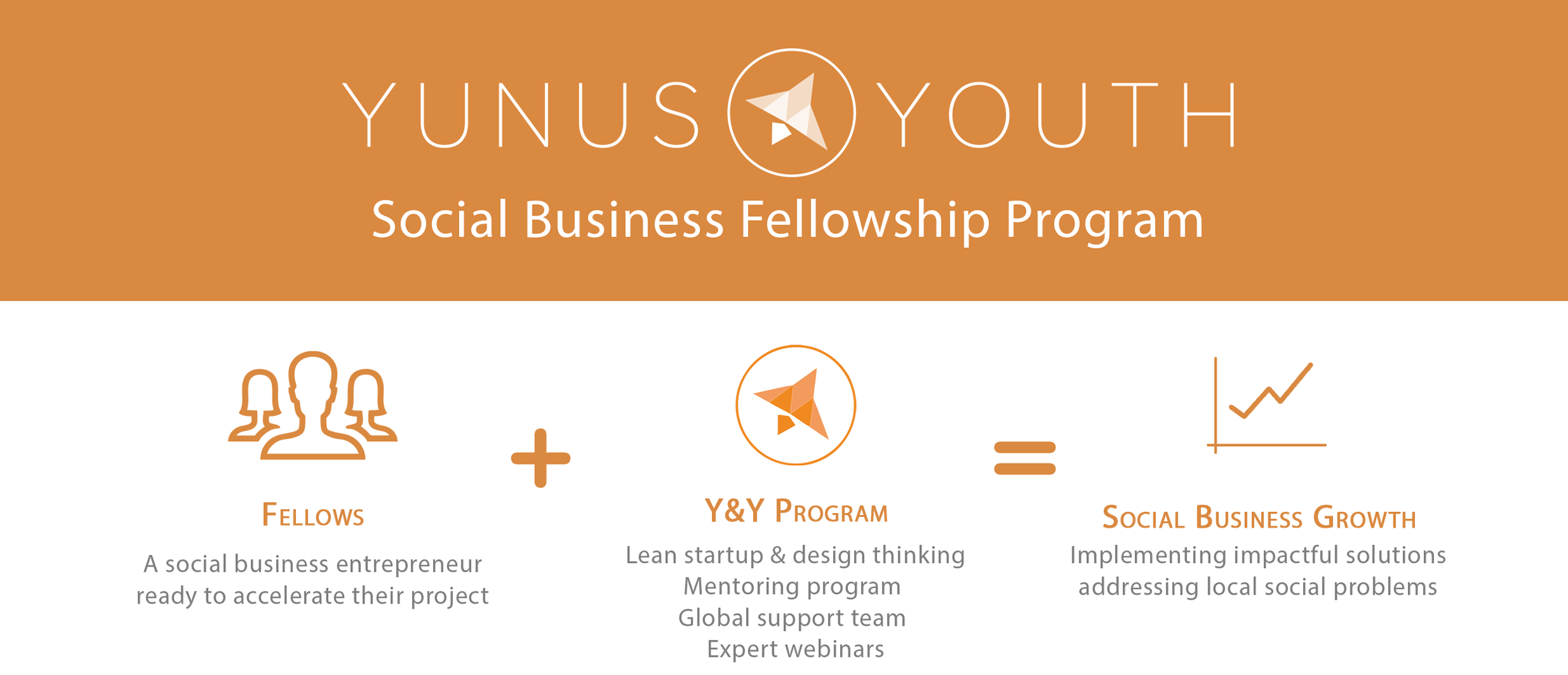 Are you building a business to create a better world? Yunus&Youth (Y&Y) have launched applications for their Global Fellowship Program. 
The Y&Y Fellowship Program is a six-month online global program for young people running businesses tackling social issues. It empowers young social entrepreneurs by helping them validate their business model and building a compelling strategy for their venture. The 25 selected changemakers will receive professional support and mentoring to scale their social ventures.
The Y&Y Fellowship Program is composed of:
A Mentoring Program that functions as a structured one-to-one relationship with an experienced business professional and involves transmission of knowledge, social capital and guidance enhancing the fellow's professional growth.
Online design thinking workshops with an intercontinental team that helps entrepreneurs create a game changing vision.
Expert webinars focused on developing functional skills such as revenue model development, budget management, social media strategy, branding, impact measurement, strategic management, and team building, among others.
A support network that facilitates the connection to like-minded professionals worldwide.
During the program you can expect to:
Be part of an individually-tailored online mentoring program with an experienced mentor who will provide professional guidance
Participate in expert webinars with our social business professionals.
Increase your global network by being part of a global class of exclusively selected young social entrepreneurs.
Receive support on focus areas and see your business grow and be taken to the next level.
Your are eligible if:
You have started a social business and are relentlessly working on solving a social issue in your country.
You are under 30 years old.
You speak English.
You want to receive professional guidance to help your business grow and develop.
Deadline: February 26th, 11.59pm ET
Yunus&Youth was co-founded by One Young World Ambassador Cecilia Chapiro with the aim of training, equipping and connecting young social entrepreneurs with the expertise, resources and opportunities needed to scale their impact. Already present in five continents, Yunus&Youth pairs social entrepreneurs with established business people, politicians and academics who share their skills and knowledge to support the mentees' social business development.