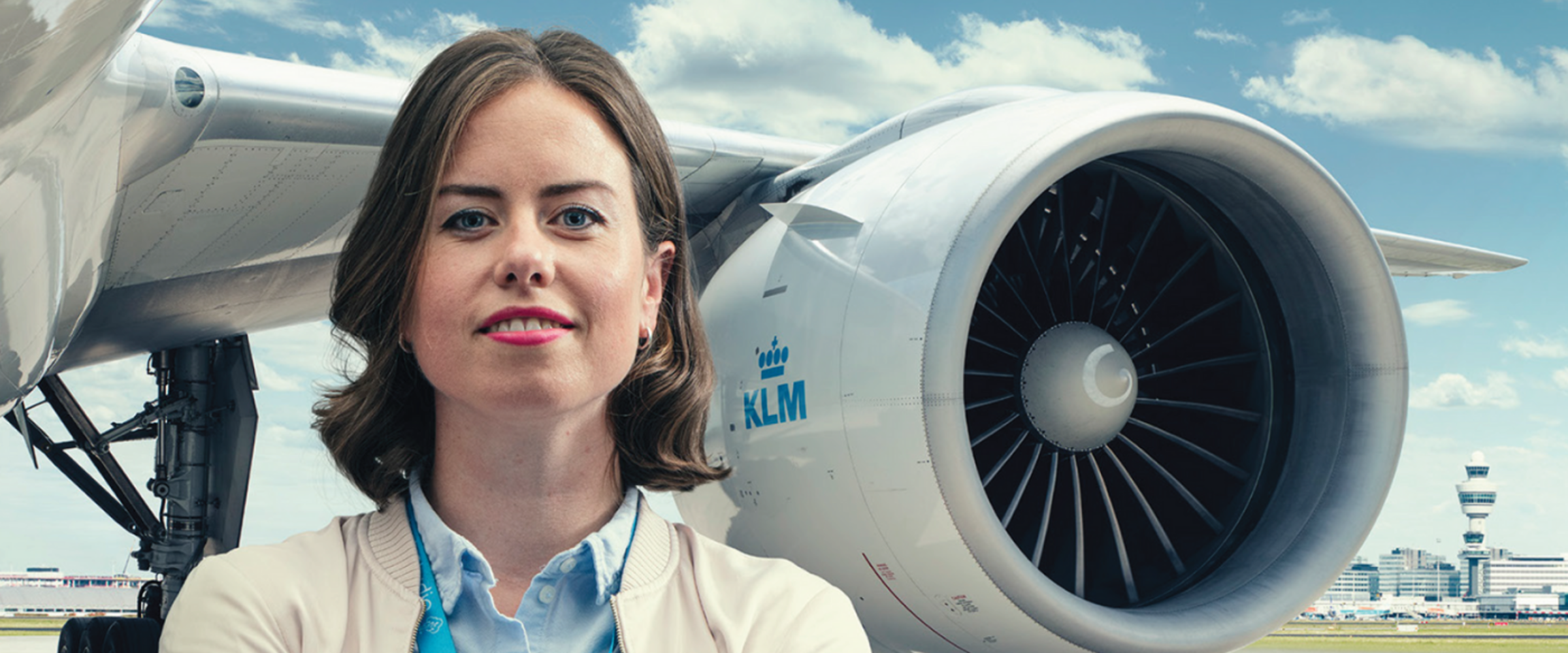 In KLM, there is a bottom-up initiative called 'Bold Moves' where a diverse group of bright minds came together in KLM to breed innovative new projects to push for change in the organisation. The Sustainable Flight Challenge was one of the successful ideas that resulted from this initiative and is being pushed forward by the company, to create much-needed sustainable development.
Having attended the 2019 summit in London and pondering the big questions of how to make an impact after returning from maternity leave, Robin noticed a vacancy in KLM's sustainability team. She had been inspired by the event to drive transformative change within large companies, and the chance to lead the Sustainable Flight Challenge posed the perfect opportunity.
The project aims to open-source sustainability innovations that will transform the entire aviation industry. These innovations will be brought to life through a challenge where all participating airlines are operating their "most sustainable flight" and leaving a better planet behind.
Despite originating within KLM and being led by Robin, the competition is being run by SkyTeam, an airline alliance. To date, 17 airlines have committed, despite some not previously having sustainability teams. The pre-condition for participation is that all innovations will be open source. This is the beginning of a coalition of companies that Robin hopes will continue to grow after the Sustainable Flight takes place at the beginning of May.
Flights will be judged on 14 different categories, ranging from lowest CO2 emission to biggest reduction, to lowest food footprint and many more. The jury responsible for the decision will include a One Young World Ambassador to ensure youth voices are represented.
Having been launched in October 2021, there is already significant momentum with many suppliers looking to assist and collaborate with airlines to maximise the sustainability improvements. This challenge is the beginning of a long journey towards more sustainable aviation and hopes to build pressure for further developments in regulation and legislation to unlock the potential for sustainability in the industry, as well as educating, sharing strategies and tactics, and finding smart solutions to unsolved problems through collaboration.
"One Young World was a transformative event for me. By the end, I felt empowered, understood the power of raising your voice, building coalitions and realised that in order to make a difference in the world you don't have to work for the UN or an NGO. One Young World influenced how we designed the challenge itself. Basic principles such as raising awareness, incentivising all forms of collaboration, and acknowledging that we cannot do this alone. This challenge has no individual winners, we are working together to make the planet win!"