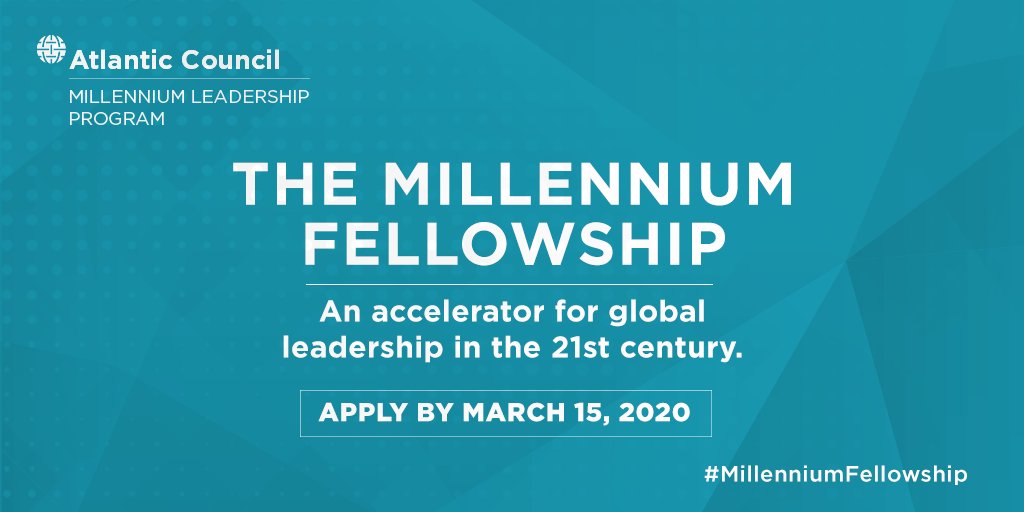 Apply for the Atlantic Council's Millennium Fellowship.
About the Fellowship
The Millennium Fellowship is the Atlantic Council's flagship leadership "accelerator" aimed at equipping young leaders to tackle the defining global challenges of the next generation. Open to rising leaders and innovators from every country and sector, fellows commit to leveraging the program experience to accelerate their own transformation as leaders. Fellows will be at the forefront of the Atlantic Council's work to promote constructive, international engagement and create a more secure and prosperous world. Through a competitive application process, the Atlantic Council will accept approximately twenty applicants between the ages of twenty-five and thirty-five to join each new class of Millennium Fellows.
The Millennium Fellowship is a two-year, part-time program requiring three weeks of in-person activities and eight hours of virtual activities and distance learning, supplemented by independent fellow-to-fellow work and optional events that take place around the world and throughout the year. As part of this, fellows will participate in two leadership retreats and training seminars each lasting one-week, as well as one "study tour" to the front lines of a global issue. Throughout the program, fellows will join a global network of exceptional peers, have unparalleled opportunities to meet with world leaders at flagship Atlantic Council events, go behind the headlines to explore global challenges up-close, and lead the debate on issues that will shape the 21st century.
The fellowship's goal is to foster a new generation of leaders to navigate a complex and rapidly changing landscape of challenges in the 21st century. Fellows hold a common belief in the power of constructive international engagement, democracy, human rights, rule-of-law, and sustainability as catalysts for good, while bringing a range of policy views from across the political spectrum to discussions on how we address this century's greatest challenges from climate change to rapid technological disruption to the return of great power competition.
About the Fellows
From public service, they include the senior adviser to the Prime Minister of North Macedonia who led a landmark political process to change his country's name in 2018; a sustainable developer from Oman who became the first woman soccer commentator in the Middle East; a director at the White House National Economic Council spearheading trade and tariff policy, among many others. From the private sector they include the chief economist of one of world's largest insurers; top investment advisers from world's largest hedge funds and investment banks; and the head of legislative affairs for a leading company developing space technologies working to shape a new generation of policies for how we engage in that domain, just to name a few. From the civil society and social entrepreneurship sectors, they include entrepreneurs in the regTech, AI, and life science sectors who are – among other things – making breakthroughs to eradicate Polio; and nonprofit executives convening the most powerful CEO's in the world to tackle the challenges of the fourth industrial revolution.
Who they are looking for
The Council is recruiting exceptional rising leaders thirty-five years old and under from around the world who share our passion for creating a more secure and prosperous world to join the next class of Millennium Fellows. Fellows will come from a wide range of backgrounds including policy experts, journalists, elected officials, military personnel, academics, entrepreneurs, executives, community and cultural leaders, and senior government officials. Above all, they will bring an entrepreneurial spirit, character to inspire and lead, positive vision, and passion for shaping the world to the fellowship.
Fellowship Benefits
Join: Join a global network of rising leaders and build life-long relationships through executive retreats and informal events.
Meet: Meet world leaders and senior experts at flagship Atlantic Council events around the world.
Discover: Go behind the headlines with study tours to regions on the frontlines of key global trends and learn from top experts through dynamic Master Class sessions.
Lead: Lead the debate with opportunities to speak, publish, and collaborate.
Deadline: 15 March, 11:59pm EST