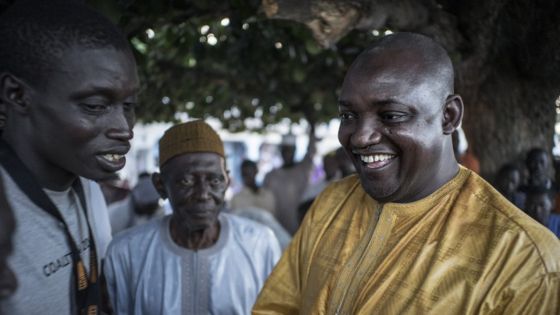 Adama Barrow, The Gambia's newly elected President
19 January, 2017 will forever be remembered in the history of The Gambia. Like many Gambians, this day has been a long wait for us. Everyday leading towards the 19th came with new developments of the political crises in our beloved country, but today many of us rejoice as we celebrate the inauguration of our new President, His Excellency President Adama Barrow.  President Barrow was sworn in at The Gambian embassy in Dakar, Senegal, where Gambians and Senegalese alike gathered to witness his swearing in ceremony.  It is rather unfortunate that it has come to this, but we remain hopeful that in the next day or two Yahya Jammeh will be history.
This is a day that many of us have longed for. A Gambia with a new president, a Gambia free of Jammeh. After 22 long years, Gambians decided that we have had enough of Jammeh and that it is time for a new president. We do not only expect that he respects the will of the Gambian people, but we demand that he respects our decision. 18 January marked the end of the official presidential term of Yayha Jammeh, and as of today, 19 January, he is considered a rebel.
The situation in the country today is one of uncertainty, and as such many have fled to our neighboring country Senegal, which has remained very supportive to The Gambia and Gambians at such a moment of need. Many of us still have our families in The Gambia, and we continue to pray for peace and for Jammeh to step down peacefully.
With this military intervention, we pray that Jammeh will be removed and The Gambia will be restored to its citizens who have fought a long fight to be free from dictatorship.
Yassin Choye is a One Young World Ambassador from The Gambia. She is the founder of Educate our Children Africa, a non-profit organization which ensures that children in The Gambia are afforded a chance to quality education. Yassin is also a Global Youth Ambassador for A World at School, calling attention to the 58 million children, whom are currently denied their human right to education, around the world. She is currently studying at Georgetown University.