Inspired by the Syrian refugee crisis, Hungarian OYW Ambassador Balázs Nemethi started Taqanu, a blockchain-based digital identity platform and ecosystem. Taqanu will help stateless and un-identifiable individuals verify who they are, helping them to access services, open bank accounts and find work.
We spoke to Balázs who shared his 10 tips to launching an impactful social venture based on his personal experience.
1. Follow your instincts to do good.
This project started because Hungary built a fence (on its southern border with Serbia and Croatia in 2015) against refugees and I felt obliged to do something as a Hungarian citizen. I was living in Norway at the time, and was expected to be the Hungarian expert on this topic by all my Norwegian friends. I knew the political scene in Hungary, but this fence came as a shock. I was embarrassed. I really wanted to do something about it,  I wanted to have meaningful impact.
2. Solve a problem.
I quickly learned a lot on the refugee situation, about the immigration routes and how Hungary ended up in this position. It become obvious that a lot of the problems encountered by refugees came back to struggles to prove their identity. Their homes might have been destroyed, and many lost their papers throughout their journey. With Syrians being the first served refugees within the asylum process, many other refugees will claim to be Syrian. Many newcomers did not even have passports initially, especially the generation of Palestinians who came and were born there as refugees.
On top of all these problems, governments do not share data easily in relation to people. So having a system that is decentralised and not controlled by anyone, makes sense. All your data can come with you - your  educational record, health record, financial record, even your birth certificate. So even if you become a disenfranchised person you have the ability not to rely on a random organisation for your identity. But you can go back to your ID which is made with Blockchain.
3. Learn from experts.
At the beginning it wasn't about how to build the technology, it was about understanding the problem. I'm an architect by training and I didn't know much about immigration or financial inclusion, or the finance sector, or blockchain technology. But I had the chance to visit a lot of conferences and meet the smartest people in their fields, to learn from them and get some of them as advisors to the company.
.@Nembal: "Refugees often lack the ability to prove their identity. Without an identity, access to essential and financial services is limited. @Taqanu enables anyone with access to a smartphone establish a trusted digital ID" #FTEIB @FTLive #InclusiveInnovation pic.twitter.com/hnNuDmOS2G

— EIB - the EU bank (@EIB) December 7, 2017
4. You don't have to be a geek.
I am an architect but I have a good understanding of technology and data, however, I don't code much. We have good advisers and a capable team, who are able to help us progress in the Blockchain space. There are people who have mastered these topics already so it's a matter of finding the right people who know their stuff and are also interested in the project.
5. You don't have to go the non-profit route.
I wanted to do something about this refugee identity problem but I'm not really a volunteer type person, and I believed something more business-oriented would suit me better. And allow me to do it full time. The whole business mindset in impactful thinking ensures an approach for long term sustainability.
In this (Humanitarian) space everyone is thinking about NGOs and grant money and although that money is there, it is really hard to get and comes with strings attached. Having a business in mind you can avail yourself towards very different groups of people who are only in business - investors.
Endurance and persistence is something important to have as a personal asset along with financial ability to take these risks.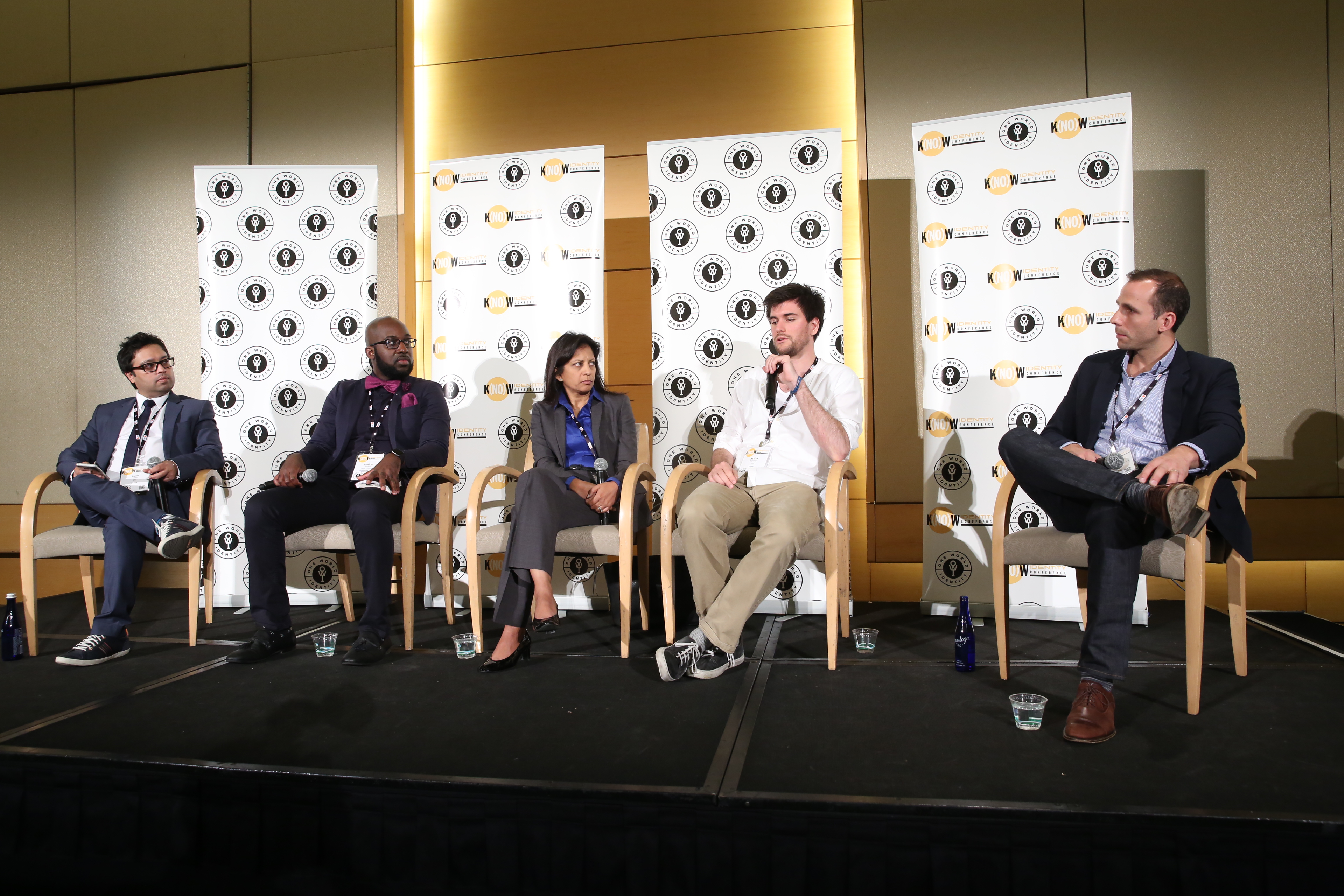 Balazs at the K(NO)W Identity Conference in May 2017.
6. Getting investment isn't easy.
It's really hard to make the business case and I struggled a lot. You can talk about the long term impact but most investors want to see how their money will be making more and not only going down the drain. A ten-year impact projection is really a long shot here.. It might work for Elon Musk, but for a vaguely known entrepreneur from a not well-known country, it's not something that is accepted.  Refugees are a bit of a red flag when it comes to business.
7. Neither is it simple working with refugees.
Working with refugees is easy, if you can get access to them.
What we have learnt in these last two years is that they are treated like porcelain.  Organisations and governments, are overprotective and don't want you to interfere with their relief efforts. It's crazy.
It's really hard to find a partner in the space because everyone says you are a for-profit organisation that will try to make money out of them. You can't do AB testing. Because of this the whole ecosystem is even slower than normal. Public and private sectors need to be working together, and taking financial risks.
8. So be flexible.
Our original plan was providing bank accounts for refugees, but over time we made a pivot and are now focusing purely on digital identity for anyone anywhere. This change in pitch is getting us more traction and more support - we have widened our vision to help more people. Worldwide 1.1 billion people don't have any forms of ID. We can help more people than just refugees. We are now a team of eight, and Taqanu already has interest from more than 50 countries in pre-applications - and that's achieved with zero marketing.
Our first proof of concept will be in West Africa, partnering with a large organisation who are eagerly pushing us. They have a vast amount of knowledge and resources in this space. It's a great match. Very exciting.
9. Location can help.
After Norway I moved to Berlin. It's a lot cheaper than Norway and one of the biggest entrepreneurial hubs in Europe. Berlin is one of the world's largest blockchain hubs and Germany is the country most welcoming to refugees in Europe. So I'm close to new developments and the smartest people in this space.
People who are unable to physically relocate should know that you can start anywhere. But it's important to be in touch with the smart people and if possible go to places where you can meet them and learn about how things work. You need to be empowered and pushed by your environment. Productivity is also key - none of these things just happen by themselves.
10. Recognise opportunities.
Taqanu has three angles; humanitarian, business and government. The coming of General Data Protection Regulation in Europe means every business that works with private data will have to have the consent of users on how their data it is being used. With our blockchain model, users have the ability to see how organisations use their data. It's a different offering with the same technology and has potential for larger revenue generation. However, our initial focus is social impact and innovation.
But it's very important to us that Taqanu is not simply a refugee or poor person's identity system, it is designed to host any person's data. We see ourselves as a global ID for a range of everyday use cases. Anyone will be able to download the app, register, start building their own ID and then access a range of services globally.