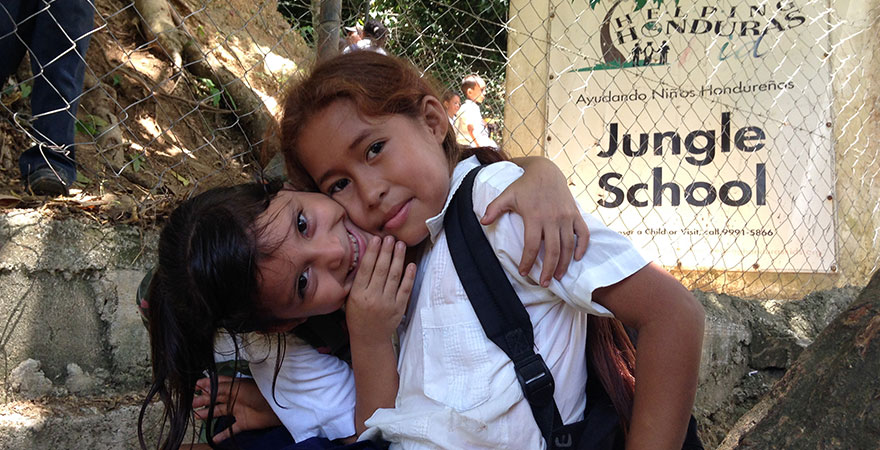 As young leaders and entrepreneurs, our desire to help sustain the world's progress and development is not only a common aspiration, but a reality that we want to be part of.
One Young World has given us perspectives and solutions that go beyond borders and has opened our hearts and minds to new experiences. It has been an invitation to meet wonderful people sowing the seeds of mobilization and change around the world.
Following the 2016 Summit in Ottawa, we, Francois Rodrigo (KPMG France), Cyrielle Sénéchal-Chevallier (Deloitte France) and Tania Guevara (Embassy of Colombia in Canada) explored shared visions and joined our efforts to support the valuable work of the French non-profit organization Nuevo Destino.
The aim of Nuevo Destino, founded in 2013 by François Rodrigo, is to help deprived children in the jungle of La Ceiba in Honduras through education and food programmes whilst promoting the social and economic development of vulnerable households. Indeed, Honduras is deeply affected by recurring violence and poverty; it is nowadays registered as the second poorest country of Latin America.
Since its inception, Nuevo Destino has delivered more than six tons of food, hygiene and school supplies to 150 families and children living in the jungle of La Ceiba. Through each of its programmes, Nuevo Destino has contributed to the improvement of the children's educational opportunities and empowerment. In 2015, Nuevo Destino won the first prize of the Deloitte France Foundation rewarding the commitment of the team as well as the quality of the project. The NGO is currently mentored by Cyrielle Sénéchal-Chevallier and other Deloitte professionals.
In addition to the cooperation created during the Summit, the Ambassadors jointly developed the idea of launching a new microcredit project to empower the families living in La Ceiba. This initiative was further enriched via meetings organized in Paris and regular communications between Delegates from across the world, including when the ambassadors met during the European Caucuses in Berlin (April 2017) and Barcelona (July 2017). In order to deepen the understanding of how the microcredit structures work and learn from best practices, Nuevo Destino also got the opportunity to mobilize Ambassadors who are currently working for microfinance structures in several parts of the world including Latin America, such as the young Ambassador from Paraguay, Bruno Vacotti.
Thanks to this collaborative work, Nuevo Destino will be able to set up its first microcredit projects during the next summer mission that will take place from July 22 to August 19, 2017. Four One Young World Ambassadors, representing three different countries, will be in Honduras to work on these projects: François Rodrigo and Cyrielle Sénéchal-Chevallier from France, Tania Guevara from Colombia and Kevin Méndez from Belize.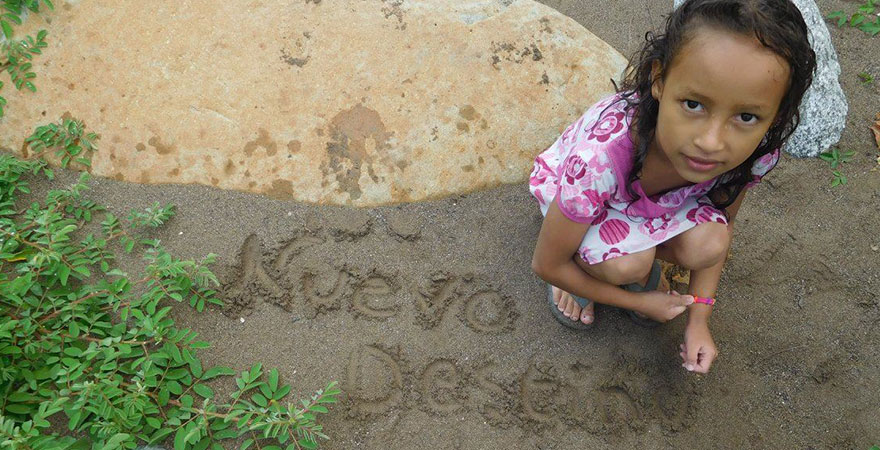 During the 2017 summer mission, we will work together on the three priority areas of actions of Nuevo Destino:
Education Programme: The NGO has already developed several partnerships with neighboring schools to help them rehabilitate damaged classrooms. It also provided uniforms for children, facilitated transportation and distributed essential food and school supplies. Our aim is to continue to strengthen the partnerships and also to develop a new programme to enable French people to sponsor children.
Food Programme: During each mission, Nuevo Destino prepares and delivers food baskets (composed of beans, rice, flour, sugar, salt, etc.) to each household identified as vulnerable, based on previous needs assessments and surveys carried out by the team. To reinforce this support, we will introduce a coupon system so that the poorest families are able to regularly receive food through local selected suppliers.
Development Programme: We will launch the first microcredit programme with four pilot projects: a pigsty, a plantain plantation, a fish farm and a sewing initiative involving several women in the community. We aim at giving the first loans during the summer mission, supported by potential local partners we have already identified.
Being part of the summer mission 2017 is an honor and a privilege: as One Young World Ambassadors and Nuevo Destino volunteers, we strongly believe we can start building a better world together!