Who are you?
I'm Andréa Ngombet, a Congolese human rights and democracy activist and Founder of #Sassoufit. I have been a One Young World Ambassador since 2016. I live in Paris and next to my activism work, I am passionate about space exploration, history and geography.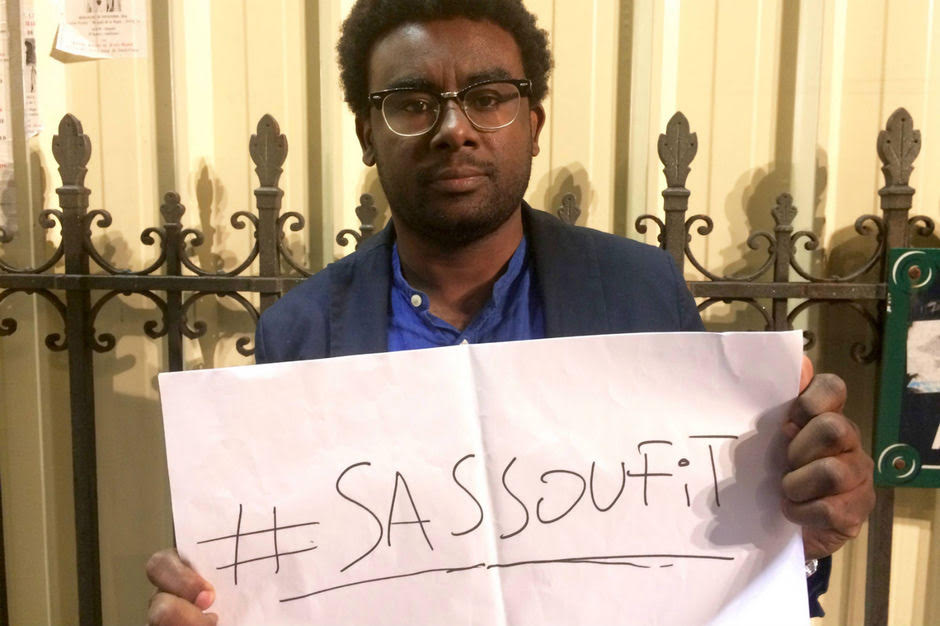 What is #Sassoufit? And what inspired you to found this movement?
#Sassoufit was founded in April 2014. Its name is a play of words in French; the current President of Congo's name is Sassou Nguesso, but Sassoufit also means "it's enough" ("ça suffit").
Denis Sassou Nguesso, who has been President of Congo from 1979 to 1992 and again from 1997 up to the present day, changed the constitution, which allowed him stay in power after almost thirty years of totalitarian rule in Congo.
#Sassoufit was founded as a non-violent movement to influence and inspire our compatriots to resist this constitutional change and oppose Sassou's grip on power. The #Sassoufit Campaign brought evidence of the illegality of Sassou's constitutional change to the Congolese and international media, and it has become a practical tool to help the Congolese youth better organise themselves and to draw the world's attention to Congo.
What is the current situation in Congo?
Kidnapping, imprisonment, torture and murder of journalists, major political opponents and civil society activists, as well as the bombing of citizens based on their supposed ethnic origin are part of the daily routine. The people of Congo are feeling abandoned and hopeless. Unfortunately the status quo isn't changing, and it's hard to see how we can ensure the rule of law prevails without a multilateral military intervention, like the one in Gambia earlier this year.
What is #Sassoufit's biggest achievement in your opinion?
On September 27th, 2015, more than 300,000 Congolese citizens took to the streets of Brazzaville, shouting "Sassou #Sassoufit"! It was the single biggest protest in the history of Congo.
How has attending the One Young World Summit impacted your work?
I have been able to share our message with young leaders in every country and expand our network, for example by recruiting a Spanish translator. I also came back with new and inspiring ideas, such as a music festival for the liberation of our political prisoners.
What can Ambassadors do to help?
As a first step, they can amplify the Congolese voice of resistance by learning about the #Sassoufit campaign and the struggle of the Congolese people against dictator Denis Sassou Nguesso. Secondly, we urge them to translate and share what they learn on social media and inform their local media and authorities. Thirdly, we welcome them to join us as #Sassoufit ambassadors in their own countries, and as we need funds to continue our work, to help us raise funds for the campaign!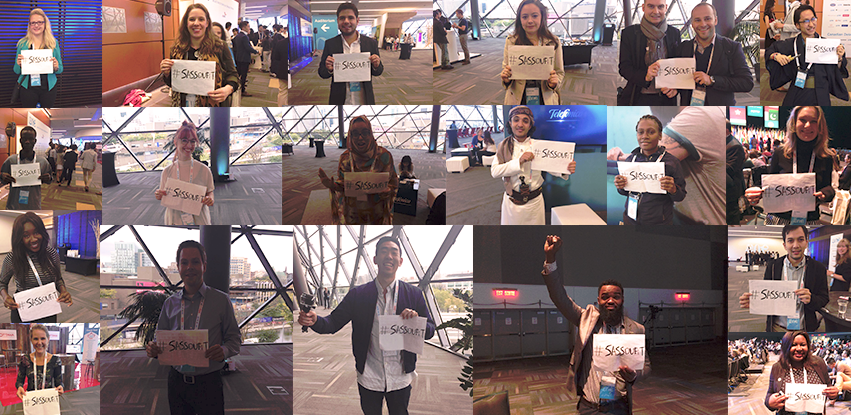 Above, One Young World Ambassadors showing their support for the #Sassoufit campaign at the Summit 2016 in Ottawa, Canada
Image