On Wednesday 15 November, the world woke up to news that President Robert Mugabe's nearly 40 year rule over Zimbabwe had come to an end. With President Mugabe placed under house arrest, the Zimbabwean military took control of state broadcaster ZBC's headquarters and denied access to government offices in what the international community hoping a "peaceful transition" is underway.
In a televised statement on Wednesday, an army spokesman emphasized "it is not a military takeover of government. We are only targeting criminals around him who are committing crimes that are causing social and economic suffering in the country in order to bring them to justice."
The military have now been in talks with Mugabe, but according to reports, he is refusing to step down. Armed forces have already detained 'criminals' from his circle.
Over the past few months, cracks have shown in the Mugabe administration as a power struggle emerged in the ruling Zanu-PF party - most notably, First Lady Grace Mugabe has been setting the stage for a Vice Presidential takeover after the recent dismissal of former Vice President Emmerson Mnangagwa.
With the military now in control, the world watches with great anticipation to see what's next. We spoke to One Young World Ambassadors based in the capital, Harare, as well as those in neighboring countries.
[node:field_blog_image:4]
James Bayanai - Lawyer and Human Rights Activist, Zimbabwe
"The ouster of the Mugabe regime brings hope to life for many young Zimbabweans who had suffered from hopelessness, poverty and joblessness for almost two decades. Army takeover was not the correct thing to do but as Zimbabweans, we feel it is the best option at the moment to prepare us for a transitional government that will guarantee democracy."
Anonymous - Zimbabwean Entrepreneur, South Africa
"I am part of the generation that grew up when the country was in its heyday. I unfortunately am part of the generation that has seen the country's economy and watched our parents' hard work all washed down the drain. There have been moments in between when it appeared the political situation was changing and like those moments, it is too early to say what the future holds for the country. I just hope that things are resolved peacefully with no loss of life and that the principle of democracy upon which the country was founded in 1980 can be realised again."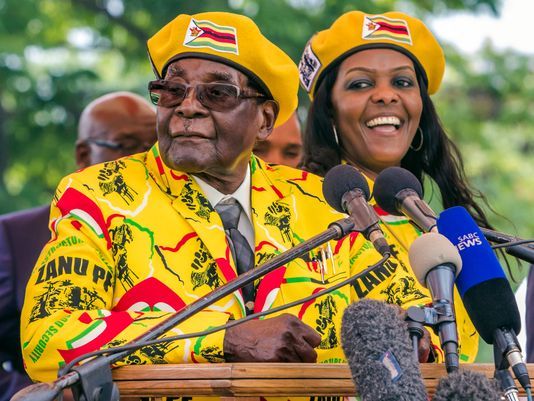 Photo sent by a OYW Ambassador in Harare.
Anonymous  -  Entrepreneur, Zimbabwe
"While the development in Zimbabwe cannot be justified in terms of democracy, the outcome is what most people wished for or wanted. For the future, it spells hope for the hopeless, simply because no one wanted a family dynasty, especially after long suffering in these last ten years. No one wanted to imagine a family takeover as if it's a family company.
Personally l do not hope the same situation should be repeated in future because we have learnt that leadership tends to corrupt the incorruptible, and if handled carelessly, the masses suffer. For many families in places where the Mugabe regime committed genocide, it's a 'live by the sword and die by the sword' outcome. While the future looks bleak and unclear, it's hope that keeps people alive for a better Zimbabwe."
[node:field_blog_image:3]
Photo sent by a OYW Ambassador in Harare.
Zanele Mabaso - Regional Advisor, Girls Globe, South Africa
"The population most affected by male-dominated power-greedy military coups, are women. For women, military coups means dark days of great pain, torture and suffering. The future of women, adolescents and children in Zimbabwe is at stake. The military invasion poses a serious threat to their health, economic, social and political lives. I predict there being increased asylum seekers and internally displaced women with their daughters and children from Zimbabwe,  seeking refuge in neighbouring countries. To ensure peace, women in the SADC region need to raise their voices and rise to the streets to fight against male dominance and militarist mentalities and stand in solidarity to a call for freedom, peace and democracy in Zimbabwe."
Edio Matola - Accountant, Mozambique
"Unfortunately what we see in Zimbabwe is not what everyone needs and expects to happen there, as it is only about internal power struggle within ZANU –PF, resulting from the fact that those who have supported the Mugabe regime felt themselves in danger through the recent decisions taken by President Mugabe. In fact, the current military struggle is to keep the establishment and not to make Zimbabwe more democratic. I think that the young people should take this opportunity and go to the streets asking for the really necessary change in their county."
Mona- Lisa Danieli Mungure - Lawyer, Botswana
"The situation in Zimbabwe was inevitable. Firstly, change is always a constant and Zimbabwe was in dire need of change of leadership; whether this means change within the ruling party or change of regime entirely, change had to happen. Secondly, the rhetoric of celebrating leaders that once brought immense change to their countries has long ended. Mugabe, for many, was a liberation hero who also initiated many socio-economic prospects for the country. At some point, Zimbabwe was the breadbasket of Africa - she was leading in education, tourism and the Zim currency was very powerful. However, leaders need to remain relevant and needed by the communities in which they serve. He simply became stale - staying in far beyond his welcome and refusing to hand over power.
In recent years, there have been too many human rights abuses, political turmoil, economic and social upheavals, all of which would not be attributed to his name if he had simply stepped down when his time had lapsed. As a neighbour to Zimbabwe in Botswana, I foresee a few changes in the immediate future.
We are likely to see a wave of migration into our borders, We are also likely to experience economic and social turbulence from what could be an influx of asylum seekers if the transitional government is unable to ensure peace and stability. For the future, we hope that change will be positive. Zimbabwe is a country with exceptional potential. It is vested with human capital that is highly skilled, educated and resistant to hardship. I know that they will soon start soaring as they did once before. I believe that the African continent is going through a massive leadership ​awakening. Present day The Gambia, Kenya, South Africa are examples of countries that continue to strive for purity in leadership. The Zimbabwean situation is only adding to Africa's narrative - that we refuse to be associated with weak governance systems, poor leadership and an alarming socio-economic discourse. #makeZimbabwephenominalagain.
Jack Kafwanka - Retail Service Executive, Zambia
Its difficult to piece together what will become of Zimbabwe after all this is over but whatever happens between now and then I think the military need to give Robert Mugabe a honorable send off in his right as a leader and a patriot.They shouldn't send him to exile or punish him otherwise, just let him retire peacefully, for he is one of the last standing Pan-African ompadres. He did his best in his own understanding to stand for the Africanism ideology and his people with other African nations - people were in support of this. He went overboard, taking his country's democracy hostage - we see karma at work here nonetheless he truly stood by Africa for Africans so let's avoid harsh handling of the situation - otherwise we may risk what happened to and in Libya.
I would like to commend the military for putting dialogue ahead of the conversation than force, let's do more of it. My hope for Zimbabwe is that the President Mugabe allows for a smooth and peaceful transition of power and rekindles the right of democracy as was what established Zimbabwe in the first place. We look forward to a peaceful new day in Zimbabwe, Africa NEEDS this to end well for the sake of the future.
Nkonde Racheal Chenda - Manager, Zambia
This situation depicts the type of leadership that has infiltrated the African Continent, a leadership that seeks to cling on to power and benefit only a few. A leadership that is not centered on good stewardship or service to the people it governs. Our hopes are that this comes to an end.   
Once known as the bread basket of Southern Africa due to its mass agricultural production and one of Zambia's biggest trading partner, Zimbabwe in the recent years as a result of the land redistribution has become a country wracked by corruption, political conflict, and economic upheaval. Unemployment and inflation were at their highest, resulting into the replacement of the Zimbabwean Dollar with the United States Dollar. Many migrants fled from Zimbabwe to neighboring countries such as South Africa and my own country Zambia in search of a better life.     
What the current situation means for Southern Africa is social, economic and political uncertainty making the economy vulnerable until a time when the country becomes stable. Choosing the right leader is key for this to be achieved, and so is unity among all Zimbabweans regardless of race. Zambia, having been one country with Zimbabwe in the past, will continue to support Zimbabweans in the quest for a new era because a stable Zimbabwe will pave way for a stronger Southern Africa.