Caught in the Crossfire: Ethar's Escape and Sudan's Escalating Civil War
The streets of Khartoum, Sudan, have become the battleground for a civil war between the Sudanese Army Force (SAF) and the Rapid Support Force. In the pursuit of power, innocent lives are being lost as two factions ignite this violent conflict. We interviewed Ethar Ahmed, a Sudanese One Young World Ambassador, to gain insights into the situation and shed light on the plight of the affected civilians.
Ethar's Escape to Egypt
Ethar Ahmed, like many civilians, sought refuge in Egypt with her family following the outbreak of the conflict. "I arrived in Egypt six months ago and have been here ever since," shares Ethar. Egypt has become a common destination for Sudanese nationals fleeing the war. However, recent changes in Egypt's immigration policies have made it necessary for women to apply for a visa to enter the country.
Previously, Ethar could extend her stay in Egypt for another six months under the residential tourist permit. Unfortunately, this is no longer the case for those arriving amid the conflict. Ethar's friend, who arrived just a day later, was granted only three months of residency. There are concerns about the issuance of visas in the near future.
A few days after this interview, Ethar sent a picture depicting her neighborhood covered in smoke, illustrating the dire conditions faced by civilians on the ground and the urgent need for countries like Egypt to open their doors to them.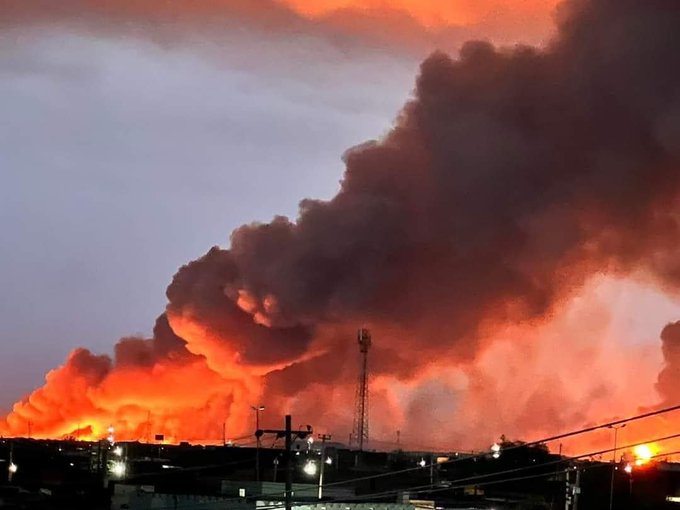 The Origins of Conflict: The Struggle for Control
On December 19 2019, the 30-year dictatorship of former president Omar al-Bashir came to an end, sparking a fervent movement demanding a democratic Sudan. This revolution momentarily triumphed over al-Bashir's regime. However, the downfall of al-Bashir had its own set of consequences.
Sudan has long been plagued by economic instability, high inflation, and unemployment, leading to widespread dissatisfaction among the population. The consolidation of military power under al-Bashir's regime dissolved political parties and suppressed democracy to protect his rule. Sudan faced years of crippling sanctions due to its support of groups deemed as terrorists by Western governments, the campaign of genocide in the Darfur region, and other devastating wars.
Throughout his rule, al-Bashir cultivated support from the Sudan Army Force and a notorious rebel group in Darfur known as the Janjaweed Militias, later renamed the Rapid Support Force (RSF). When masses gathered in downtown Khartoum demanding a dignified life and a fully functioning democracy, the military forces that once protected al-Bashir turned against him in April 2019. General Abdel Fattah Al-Burhan, leader of the Sudanese Army Force, led the coup, closely followed by RSF warlord billionaire and deputy Mohamed Hamdan Dagalo, also known as Hemedti. Since then, Sudan has been governed by an uneasy alliance between the military and civilian groups.
Over the past few years, al-Burhan agreed to transfer control to a civilian-run government. However, he has one condition: merging the RSF with the SAF, effectively placing it under his control. Dissatisfied with this proposition, Hemedti contemplates overthrowing al-Burhan and assuming leadership himself. This escalating dispute has resulted in bloody armed confrontations, leaving civilians to suffer.
Violence, Looting, and Destruction of Infrastructure Increase as the War Continues
Ethar and her family are among the many families who fled to Egypt as the war erupted. Her work in Sudan no longer exists, and she lost the majority of her savings, only recovering 10% of the money she had left behind.
As chaos gripped the capital, the SAF accused the Rapid Support Forces of looting banks, gold markets, homes, and vehicles. The terror against civilians continues to rise, with increased violence against women and children suffering from malnutrition. The scarcity of medicine and obstruction of humanitarian aid exacerbate the already dire situation.
Despite international efforts to provide aid, numerous obstacles hinder the delivery of assistance, leaving many vulnerable to hunger, illness, and violence. Since the conflict started on April 15, an estimated 2.2 million people have been displaced, and over 25 million require assistance, which is more than half of Sudan's population. Approximately 700,000 people have been forced to flee their homes, enduring unimaginable suffering. The conflict has also led to the destruction of critical infrastructure, including hospitals and water facilities.
Availability of Aid and Ceasefire Talks
Armed groups have been accused of confiscating relief supplies and diverting aid as the fighting spreads. Recently, donors pledged nearly $1.5 billion towards humanitarian relief in Sudan at a conference in Geneva. However, concerns remain about whether the aid will reach the people in need.
The United Nations World Food Programme, in collaboration with the Egyptian government, has established distribution points at the borders between Egypt and Sudan. They have transported 50 tonnes of basic food aid and initiated a cash resistance program, benefiting 130,000 Sudanese individuals.
At the time of this publication, a ceasefire is underway between the army forces in Jeddah, the capital of Saudi Arabia, mediated by Saudi Arabia and the United States. The proposal emphasizes three crucial objectives: a permanent ceasefire, facilitation of the humanitarian crisis, and political progress.
Supporting the Civilians on the Ground
Ethar highlights several ways to extend support and assistance to the people in Sudan. She emphasises the importance of visa sponsorship for qualified Sudanese who have lost their jobs: "If you have a company or business, open visa sponsorship opportunities for qualified Sudanese who lost their jobs." 
However, many civilians are not fortunate enough to seek refuge through visa sponsorship. As the war worsens, people are frantically searching for necessities such as food, shelter, medicine, and security, Ethar adds: "As we are speaking, there is a lot of bombing happening in the middle of residential areas. I am trying to raise awareness of what's happening in Sudan. And, I really hope it gets people to value human life before anything else". 
Organisations Ethar Recommends
HomeTaxSd: Founded by Sudanese in the diaspora, their GoFundMe page provides assistance.
Hadreen: A Sudanese-founded organization on the ground that has been supporting and reporting since the revolution started.
Beam Reports: Works to verify news shared on social media and supports citizens' journalism.
Sara (@BSonblast): A young Sudanese woman who uses her social media accounts to provide daily reports, collecting data from eyewitnesses on the ground. Follow her on Instagram and Twitter @BSonblast.
To show support and reach out to Ethar Y. Ahmed, you can connect with her through her LinkedIn account.
About One Young World Blogs

We publish weekly blog posts covering thought-provoking content on current affairs, the latest developments leading social impact, and thought leadership pieces about our esteemed Ambassadors.

Here you'll find insightful content where you can connect with our ambassadors and learn about their endeavours within their fields. Tune in for regular updates on this exciting journey of knowledge sharing and inspiration.