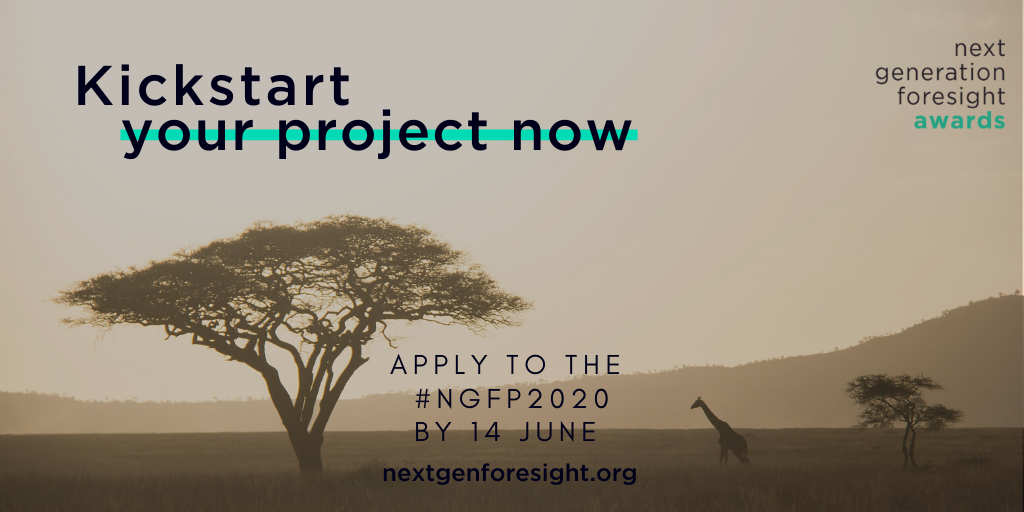 Are you an innovator in foresight, working to shape or disrupt the future?
Apply: Next Generation Foresight Practitioners Award
Established in 2018, this annual award aims to recognise emerging 'waves' of foresight work internationally, from civil society, government, business and creative industries. It is these new approaches to the future that will help us to create change by doing different things today.
It recognises your efforts to shape the future and improve lives. It also showcases stories of change in communities internationally. Change that may come from a new generation with new aspirations and values; from new geographies, with a growing foresight practice in Africa and Asia as well as other regions; and from second- or third-career practitioners entering the field from other domains, bringing fresh ideas and approaches.
The Main Award
The Main Award will recognise one individual or team that our judges feel is at the forefront of innovation and shaping the future of their community or field. THe winner will receive USD 15,000 to support their project. They will be invited to attend the SOIF Summer retreat at zero cost, and will receive quarterly mentoring and support from SOIF to help them to develop personally and professionally.
We will also offer a set of Special Awards to innovators in each continent and across key sectors including policy-makers, academia, entrepreneurs, humanitarian and development, education, environment, cities and communities. Our special awardees will join the NGFP Fellows and receive partnering opportunities and support from SOIF and our judges.
Who can enter
The Main Award is open to anyone aged between 18 and 35 or with less than 10 years' experience as a foresight practitioner. Applications are welcome from anyone who considers themeselves a foresight practitioner – and is taking a futures approach to their work to explore and understand the impacts of longer-term factors and drivers of change, to better understand how different futures might evolve, and to generate insights for decisions made today.
You should be actively studying or working to develop innovative practice. You should be committed to putting people at the heart of the future, with a focus on impact and purpose.