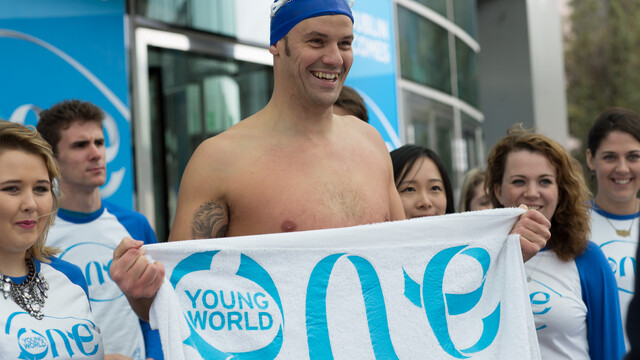 Adam Walker
Motivational speaker and record-breaking Ocean swimmer
[[[video-0]]]
Adam Walker is a record-breaking ocean swimmer who has just become the first British athlete to complete all 7 of the world's most difficult and deadly ocean swims, otherwise known as "Oceans Seven."
Long distance ocean swimming is recognised as one of the toughest challenges to man on the planet. Not only conquering the immense distances but, perhaps even more so, the incredible dangers surrounding the activity, from enduring freezing cold temperatures and huge, nauseating swells to the likelihood of being severely injured, sun burnt, stung by jelly fish or even eaten.
Despite starting his career as a salesman, with no qualifications or training as a swimmer, in 2007, Adam decided he was going to take part in the Oceans Seven Challenge after watching a film on a flight to Australia. The film, "On A Clear Day", presents the story of a man overcome with insecurity who decides to rectify the situation and rebuild his self-esteem in the face of adversity, doing so by swimming across the English Channel. That was all Adam needed; that was the motivational push that got him started.
So not even a full year later, in 2008, Adam appeared in Dover to swim across the English Channel for the first time. After finishing it in 11 hours and 35 minutes, he committed himself to successfully complete the Oceans Seven challenge.
With that said, in 2010, Adam became the first British person to swim from Spain to Morocco... and then, instantly, the first person to swim there and back.

After the initial two swims, each endeavour has had a particular element about it that Adam has used to his advantage as a means to overcome future swims. In 2012, "determination" seemed the most appropriate description of Adam's efforts as he took on the Molokai Straits in Hawaii.
Having to evade tiger sharks, and even though he was stung by a Portuguese Man o' War, he managed to complete the swim on the verge of paralysis within 17 hours. Later in the same year, Adam swam, with intense motion sickness, over 21 miles in darkness over the Catalina Channel, having to cross the last 3 miles with a torn shoulder.
Next was the Tsugaru Channel where the current was so strong that Adam found himself to be nearly stationary, despite the huge amounts of energy he was expending to move forwards, and all for over 15 hours. After being constantly confronted by "the wall", the psychological and physiological barrier of pain that tests even the most seasoned of athletes, this swim had to be dubbed as his "toughest to date." Adam completed these feats due to his incredible fitness, stamina, willpower to succeed and his power of mind – a psychological triumph.
A recent swim took place in New Zealand, over Cook Strait in the earlier months of 2014. On this particular swim, it wasn't as much the distance that worried Adam, but more so, the marine life below him. This swim saw Adam rise to fame as he continued on his mission regardless of the fact that sharks were actively hunting him. What made the journey all the better, was a nearby pod of dolphins who came to his aid, protecting him until he was at a far enough distance from the Sharks to continue unassisted.
Adam's swims have been life changing, both in the pool and in the ocean. He taps into a wealth of experience, knowledge and expertise, specifically focusing on motivation, self-esteem, self-discovery and overcoming psychological barriers. He talks to a wide range of audiences not only in the UK but also in US, New Zealand and Japan about his amazing story, his challenges and what drives him. He is also part of a global Skype program, which educates children and gives them the psychological edge to follow their dreams.
On 6th August 2014 Adam completed the final, gruelling swim of the Oceans Seven Challenge and swam the 33k from Northern Ireland to Stranraer in Scotland.
Adam trains future oceans challengers and teaches open water swimming. He supports a number of charities including The Whale and Dolphin Conservation Society, Make A Wish Foundation and Sports Aid.
Adam is, to inspiration and determination, what gunpowder is to a bullet!
Adam is an exceptionally interesting and inspiring speaker either for motivational, keynote or after dinner events.