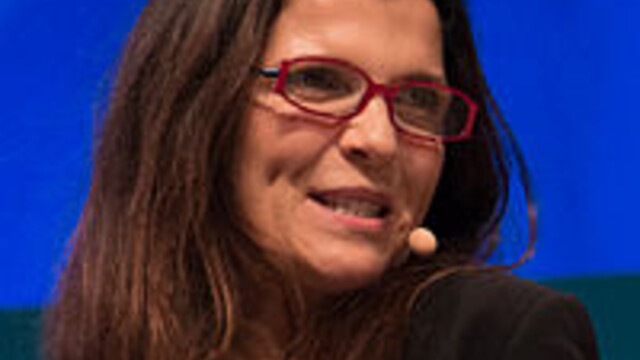 Ali Hewson
Activist and Businesswoman
[[[video-0]]]
Alison "Ali" Hewson is an Irish activist and businesswoman. Ali is the wife of singer and musician Bono, from the rock group U2. Ali was awarded a degree in politics and sociology from University College Dublin in 1989.    
In late 1985, following U2's participation in Live Aid, Bono and Ali spent five weeks as aid volunteers in Ajibar during the 1983–1985 famine in Ethiopia. In 1986, the couple travelled to strife-torn areas in Nicaragua and El Salvador on   a visit organised by Central American Mission Partners.             
In 1992, Ali participated in Greenpeace protests against the Sellafield plant for nuclear reprocessing. She was especially set against the Thermal Oxide Reprocessing Plant component being opened.           
This involvement led her to become interested in the Chernobyl nuclear disaster of 1986. Ali went to blighted, high-radiation exclusion zones in Belarus for three weeks to narrate Black Wind, White Land. The 1993 Irish documentary highlighted the plight of fallout victims of the Chernobyl event.
Hot Press magazine wrote that Ali had "obvious gifts as a presenter, which include a sense of quiet compassion that draws forth the best from the people she talks with."                
Since 1994, Ali has been a patron of Chernobyl Children's Project International, an organisation founded and run by Roche that works with children, families, and communities that continue to be affected by Chernobyl. Through the years, Ali has taken at least ten trips to Belarus and other nations        in the region despite the risk to her health. She has organised overland aid convoys and sometimes driven ambulances filled with medical supplies herself; in one case she had to retreat quickly when a fire spread in a village a few miles from Chernobyl.          
In 2007, Ali became a member of the board of directors for Chernobyl Children's Project International, a role that would give her a voice in the organisation's policy making. In 2009, she staged a public abseil of the 17-storey Elysian Tower in Cork to raise funds for the organisation.         
In April 2002, Ali was one of the leaders of an effort which delivered over a million postcards demanding that the facility be shut down; recipients included British Prime Minister Tony Blair, Prince Charles, and Norman Askew, head of British Nuclear Fuels Limited. The message to the first said, "Tony, look me in the eye and tell me I'm safe". Ali personally delivered a giant postcard to Blair at 10 Downing Street. The Shut Sellafield Campaign had its postcards stocked in Superquinn and Dunnes Stores supermarkets, and Ali publicly engaged Tesco when they refused to do the same. The campaign was backed by celebrities, including Ronan Keating and Samantha Mumba.       
In 2005, Ali, Bono and designer Rogan Gregory co-founded the EDUN fashion label. It was intended to help bring about positive change in Africa through a fair trade-based relationship rather than by direct aid. Another aim of the label was to set an ethical example in an industry they felt had long exploited child labour. Ali said they wanted "to show that you can make a for-profit business where everybody in the chain is treated well."           
Ali is also co-founder, along with Bryan Meehan, of Nude skincare – a luxury, natural skincare company. Established in 2007, the venture sought to combine ethical principles and environmentally friendly, yet chic, packaging, with a high-performance product based on probiotics and omega oils.
In 2002, Ali received an honorary Doctor of Laws degree from the National University of Ireland for her work on environmental issues, particularly the Chernobyl Children's Project. Bono and Ali were given the Council of Fashion Designers of America board of directors' Special Tribute Award in 2007 for their humanitarian work via the Edun clothing line.
Ali remains committed to her political activism and development of socially and ethically responsible business.