Preparing Delegates for the Summit
We at One Young World (OYW) are counting down the days until the OYW 2022 Manchester Summit, taking place from 5-8 September!
For young leaders, the Summit is the landmark event of the year. It is a chance for the individuals responsible for shaping the future of our world, to come together to confront the biggest challenges facing humanity. The Summit is the ultimate place to be inspired, share learnings, connect and collaborate to raise the bar for what it is possible to achieve as leaders, individually and collectively.
Every month leading up to the Summit, we will be bringing Delegates together to equip them with the knowledge, advice and informal connections that will enable them to maximise their time in Manchester and beyond.
Session timings:
Each session will be 1 hour long, and will be held twice on the day to accommodate multiple time zones.
Sessions will always take place at 10:00am BST and 16:30 BST.
If you miss a session, don't worry. We will post recordings on this page after each session.
**Delegates: please register for each session individually below to ensure you don't miss out on reminders.**
Session 1: Meet One Young World
Thursday 28 April
Welcome & congratulations on being selected as a delegate! We are so excited to welcome you to the OYW 2022 Manchester Summit, where nearly 2,000 young leaders from every country and every sector will convene for four inspiring, energising and memorable days.
In this first session, we will introduce you to One Young World, the Summit experience, and what the other 361 days of the year look like for us. We'll hear from OYW's Co-Founder Kate Robertson as well as other members of the OYW family.
All of our sessions are designed so you can connect with as many fellow Delegates as possible - we are excited for you all to meet each other.
Watch the recording below: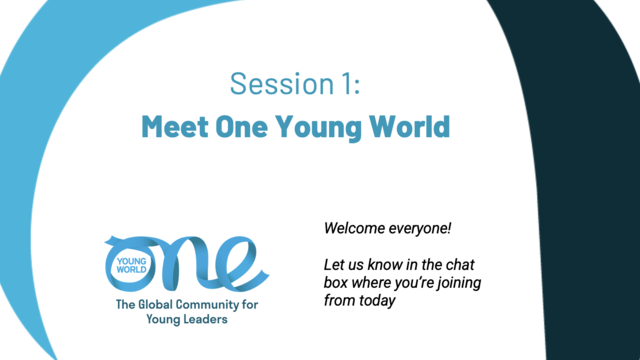 OYW Pre-Summit Session #1 - Meet One Young World
Session 2: Your leadership & why it matters
Thursday 26 May
At One Young World, we are united by our desire to make this world better through ethical, empathetic leadership. We are united by our belief that every challenge has a solution, if we are bold and courageous enough to take action, even when the odds feel stacked against us.
As a young leader, what is it that you stand for? How do you mobilise the people around you? How do you build influence, inspire, and challenge? What leadership abilities do you hope to improve?
Join us as we fill you in on the latest #OYW22 updates & then dive into your leadership and why it matters. We have two special guests joining us, namely One Young World Ambassador Dara Latinwo, and the brilliant researcher John Higgins who will set the scene.
As with every session, we will have a presentation and then head off into breakout discussions.
Watch the recording below: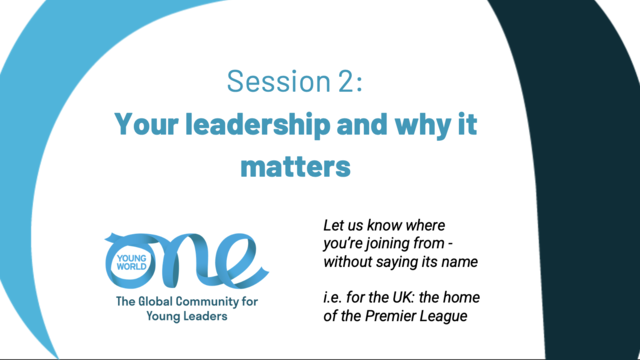 OYW Pre-Summit Session #2: Your Leadership & Why It Matters
Dara Latinwo is a One Young World Ambassador who was selected to attend the 2017 annual Summit, held in Bogotá, Colombia. More generally, she is best described as a 'human capital futurist' – a snappy way of referring to her fascination with the Future of Work and strongly held belief that humans should always be at the centre of that future, even as the definition of 'work' evolves. As a Digital Transformation Consultant at Deloitte, an interviewer on the vocL platform and tech conference host, amongst other roles, she draws from her considerable expertise and experience to captivate, convince and connect with audiences across a range of contexts and environments. Having lived and worked across four different continents, she is passionate about rethinking and redesigning the paradigm within which organisations operate, such that sustainability - economic, environmental and societal - sits at the heart of solutions and strategies proposed for the future.
John Higgins is a long-standing researcher, author, tutor and coach who has been published widely, including in the Harvard Business Review and Sloan Management Review. He has recently, alongside one of his co-researchers Megan Reitz, featured on the Brene Brown 'Dare to Lead' podcast talking about their work into speaking truth to power and activism in the workplace. His focus is on what it takes for people to find their voice and ears at work - and so become masters of speaking up and and listening up. His work takes him into the relationship between personal and workplace identity, especially their relationship to their own and others power and authority, and draws on his many years in Jungian analysis, his abiding mantra being that when it comes to any strength 'the greater the light, the deeper the shadow'. For more on his extensive writing and research materials go to www.johnhigginsresearch.com.
Session 3: Action delivered: stories to inspire
Friday 24 June
The Summit is merely just a further springboard for action. After every Summit, we have seen countless Ambassadors convert their energy and ideas into fresh, impactful initiatives. At this session, we will spotlight some exceptional members of the Community who have made incredible strides since attending their first Summit. We celebrate our community's impact at every opportunity.
Join us as we fill you in on the latest #OYW22 updates, hear stories that will inspire you, and then send you off into breakout sessions to connect with others.
Watch the recording below: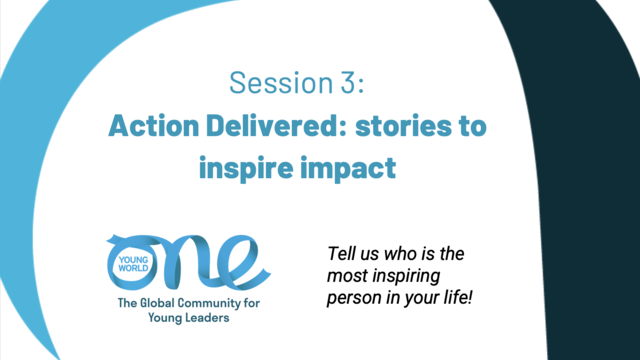 OYW Pre-Summit Session #3 - Action delivered: stories to inspire
Session 4: Connecting with your region
Friday 29 July
Managing Ambassadors, Coordinating Ambassadors, Engagement Leads: these are people we at One Young World HQ simply can't do our work without.
While OYW HQ is based in London, we have six regional hubs across the world. These hubs are led by members of our Ambassador community, known as Coordinating Ambassadors, to better serve the regions they represent. Coordinators are led by Managing Ambassadors, and supported by Engagement Leads on various programming. All together, we work year round to serve our Ambassador community, in order to provide opportunities that build their capacity to lead, and elevate their profiles locally and globally.
Join your regional session to meet the team looking after you, and connect with other Delegates from your regional community. Some Ambassadors may even stop by!
We recommend joining a session based on what region you live in - but if you'd like to join another regional session because of your nationality, that's ok. If the sessions don't clash and you can make both sessions, please do join both.
Watch the recordings below:
Session 5: #OYW2022: What to expect
24th and 26th August
Whether you are joining us in Manchester, at a Summit Hub, or digitally, we will be giving you a whistle stop tour of what to expect. We want to ensure that you can visualise the experience, receive complete information, and have the chance to ask our team any questions you may have.
Watch the recordings below: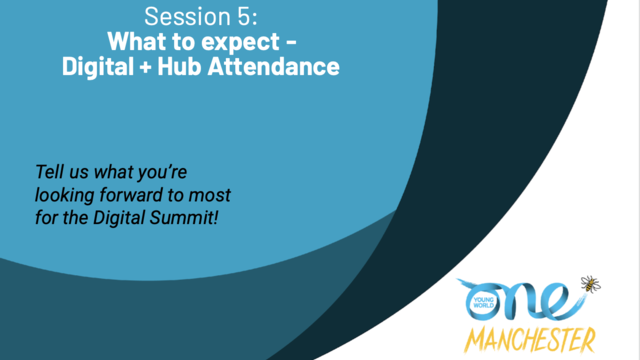 OYW Pre-Summit Session #5 - What to Expect - Digital/Hubs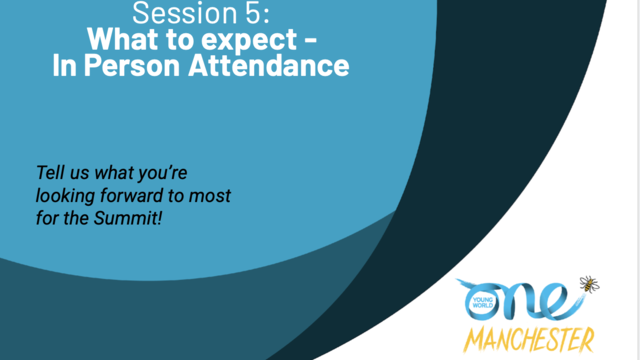 OYW Pre-Summit Session #5 - What to Expect - In Person
Post-Summit programme: Open to all
The Summit is not just a life-changing four-day experience, it marks the start of every attendee's journey with us. Every leader who attends leaves the Summit as a One Young World Ambassador and a valued member of our global community. This is a lifelong membership to one of the most incredible networks on earth.
We are thrilled to be launching a new programme that will bring our global community together on a monthly basis to keep the Summit spirit alive. What unites OYW Ambassadors is a desire to make this world better through ethical, empathetic leadership. So, every month, we will offer sessions where Ambassadors, no matter what year they first attended the Summit, can engage with the defining challenges of our time, sharpen their leadership skills, and be inspired by conversations with their peers.
Every monthly session will have a morning and an evening option so we can best accommodate our Ambassadors based across all time zones.
Programme details to be shared in due course.
Exclusive post-Summit programming: regional Action Accelerator(s)
Last year, a team of One Young World Ambassadors successfully hosted the pilot Action Accelerator programme for Europe-based delegates who wanted to bring their post-Summit ideas to life. Over the course of six months, 40 selected participants joined an exclusive programme where they accessed experts from a range of sectors, participated in sessions which helped them design and operationalise their initiatives, and were mentored along the way.
The programme will be relaunched for specific regions. Further details to be shared in due course.
For any Ambassadors interested in supporting the further global rollout of the programme, please contact [email protected]
We also use analytics & advertising services. To opt-out click for more information.