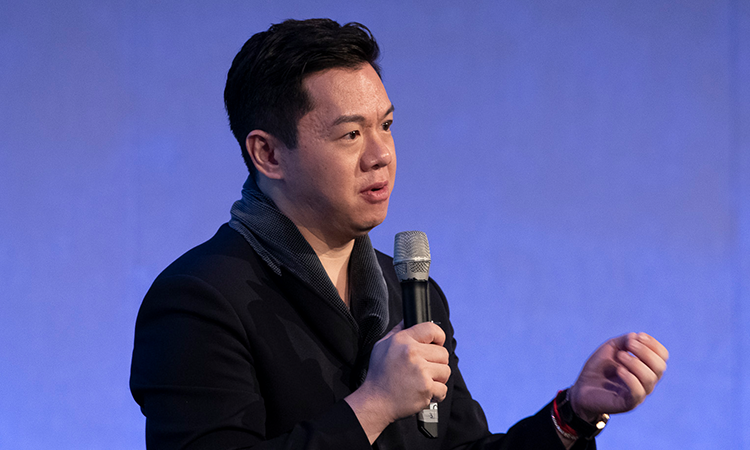 James Chau is a news anchor, UN Goodwill Ambassador, and host of The China Current with James Chau, a show that leverages the outreach of videos, podcasts and social media, and explores the challenges to our global future.
A former guest presenter on the award-winning show Horizons on BBC World News, and a main anchor on China Central Television with an audience of 80 million people, his work seeks to bring understanding to critical issues in the world today: from climate change to many areas of health including pandemics and non-communicable diseases.
Most recently, James has been working on a special coverage report of the current COVID19 outbreak, creating a stream of reliable information about the pandemic with The China Current's new series: The Novel Outbreak.
We asked James to share more about his on-the-ground experience with the virus from Hong Kong, and his thoughts on the latest COVID19 headlines dominating the global news cycle.
One Young World (OYW): Can you describe the current situation on the ground in Hong Kong?
James Chau (JC):

It's an ever-changing situation. In a sense, with a population of over 7 million people, the situation in Hong Kong provides a snapshot of many of the challenges now being faced globally. 
I arrived back in Hong Kong on Chinese New Year's Eve, which was the 24th January this year. I returned from Washington in New York specifically for our traditional family reunion dinner. Chinese New Year Eve is a big night and, of course, all across China people were rushing back to see their family on time. 
That's why when the outbreak began, the timing was so significant. Everyone was back in their hometowns, so many people who were locked down in Wuhan and in the Hubei Province are still there and haven't been able to return to work. 
In Hong Kong the picture is interesting. It's nuanced and it still changes every day. Right now, the number of new confirmed cases has tailed off. There were a couple of days last week where there were no new confirmed cases - but in the last couple of days that's changed again. 
It makes me feel worried, because there can be a second wave of COVID-19 in a city like Hong Kong. Why? Because there is always 'outbreak fatigue'. People begin to relax on the social disciplines that we've now become accustomed to, for example wearing face masks or keeping a social distance from the person in front of you. Many people who were in self isolation have had to return to work. For many weeks after Chinese New Year, people worked from home - including the civil servants. I wonder and I worry whether in Hong Kong, as in mainland China, we will see a return of the outbreak because people are experiencing full movements once again. 
 
OYW: Now that the World Health Organization (WHO) have declared a pandemic, how will/have things change/d in your region?
JC: Pandemic is a really big word. Eight letters, three syllables - and the definition is quite loose. It's a rapid spread of an infectious disease around the world. 
What it means in the case of COVID-19, and specifically in the case of China and Asia, is that there's a new underlying seriousness by which we should take the current outbreak.
I worry about the response from many young people. Some are saying 'we are young and healthy, so we are technically in a lower risk category', or 'we don't need to worry, we can go out and enjoy our lives!'. I worry about this response causing a very false sense of security. We have seen younger, healthy people - some of them who are health workers exposed to high risk environments in China - succumb to COVID-19. In some cases, they too have passed away. 
In terms of Asia and China, again I would say that the pandemic, in some cases, means that governments need to get up - and wake up. There is an alarming inaction. 
We need to recognize that mass gatherings and public gatherings create very high risk environments. Even though it may be counter to our culture or social norms - kissing, shaking hands, being very close to another person is not safe. 
The directive for the government is still the same: it's the same consistent message to detect, test and treat and then isolate, trace, and mobilize the workers and the people in each country towards the response effort. 
OYW: We're seeing stories in the media with the primary purpose of instilling fear in the global community - for example, people stockpiling supplies and 'panic buying'. What can we do to stop widespread panic?


 
JC:  Unfortunately, I think it's part of the human condition that we panic and that we fear the unknown - all of that is completely understandable. 
We need to acknowledge people's feelings because this is a new coronavirus that has spread around the world very deeply and very quickly. The anxiety, the fear, and the nervousness around this is completely understandable and should be acknowledged.
However, there is a difference between that and panic - and also the dissemination of misinformation and rumors. This brings us back to the challenge of this new era in which we live. 
18 years ago when I was covering SARS in Hong Kong, there was no WhatsApp, there was no Facebook, no Twitter, the first generation of i-Phones was not out yet - we were still very much on Blackberries! With the advent of social media, the ability to have a voice and to exercise your voice by communicating either publically or within your friends' circles has become a huge challenge. It is accelerating the panic.
I'm embarrassed. When I saw that we in Hong Kong had not seen enough from SARS to prevent mass panic buying of household supplies of hand sanitizers, of rice and instant noodles, of tinned food - it made me wonder, did we not learn anything? 
When you panic, it increases the fear that the media then picks up on and is only too delighted to cover. Additionally it is really dangerous in terms of face masks, hand sanitizers, disinfectants because lots of people need these and it doesn't help if someone is buying 10X what they need and therefore depriving most of the population of buying that. 
It increases the fears, the worries, the frugality in society and when you look at the elderly population who isn't able to get out because A) they are less mobile and B) because they are trying to stay in doors and self isolate in a time where they know they are in the high risk category - what are they going to do if they don't have access to these supplies?
In the case of healthcare workers it has been extremely damaging. It's compromised their ability to mount an effective response to those in hospital. We saw a huge dent in face mask supplies for health workers who absolutely need it to seal off from their environment when they are treating patients in hospitals. 
OYW: In the wake of the outbreak, there was a huge spike in racial attacks against those of Asian descent. In times of crises, what advice do you have for young leaders to continue to act with integrity and respect for one another?
JC: I would say continue to do what you do at One Young World. Every time I go to the Summit, I always have the huge, humbling honor of interacting with young people who have earned their way to a place to participate in One Young World. 
They are always quite similar in the sense that the set of values they possess are universal. They are generally ambitious - some more loudly, some more quietly! - and they tend to be very kind and fully aware that they are a member of society.
In the case of these racial attacks, it's been very sad to see. We can more simply say people who are 'Asian looking' because we may be living thousands of miles from the epicenter of Wuhan and they could be Japanese, Korean, Vietnamese, Bhutanese, anything. They might not even be Chinese ethnically, and yet still be under the eye of suspicion, or more sadly as we've seen in some cases, victims of physical and violent abuse.
It's been very demoralizing for me to see the case with Jonathan Mok, the UCL student from Singapore, living in London who confronted people who he heard uttering racial slurs in linkage to COVID-19. He was physically very badly beaten. I think that he set a template for how we hold ourselves. He chose to confront, and I'm not necessarily saying everyone is in a position to do that, but he was willing to absorb the consequences. In this case, unfortunately, they were physical and I'm sure emotional and mental as well. On top of that, he stood up for what is right and this characterizes I think the entire response to this outbreak. 
We have seen countries, governments, and organizations like WHO come under direct attack for what has been perceived as not best handling the outbreak. I disagree in many of those cases, particularly in the case of WHO and China and the region surrounding it. I think they've done a stellar job throughout Asia as a whole. 
Always remember that it's not about making the popular decision that's going to win you the plaudits on social media, it's about making the right decision that's going to be sustainable, that's going to be meaningful, and that's going to improve lives everywhere.
Listen to the four part interview series here: