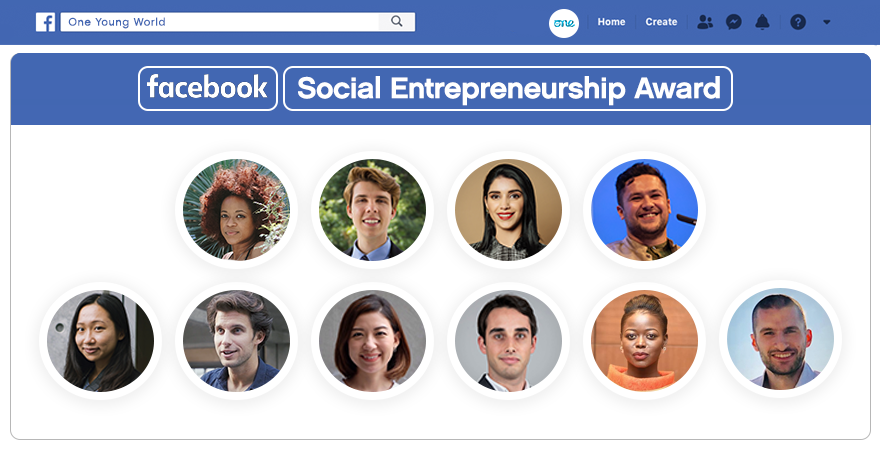 Facebook is the world's largest social network and connects over 2 billion people monthly. As part of its mission to give people the power to build community and bring the world closer together, it connects people on the platform with over 90 million businesses. Facebook not only helps businesses get discovered and find customers, but also helps people develop meaningful connections to products and causes.
To better support cause-driven businesses, Facebook has partnered with One Young World for the second year in a row and launched the 2018 - 2019 Facebook Social Entrepreneurship Award, which will offer 10 non-profit or for-profit entrepreneurs with advertising credits and executive mentorship.
We're delighted to share the winners of this exciting award. Congratulations to all those who have been selected!
The Facebook team have selected 10 regional Awardees: 2 from Latin America, 2 from North America, 2 from Europe, 2 from Middle East & Africa and 2 from Asia Pacific.
Each regional winner will receive a regional executive mentor from Facebook and USD$5,000 in ad credits.
​Out of the 10 regional Award recipients, 1 Grand Prize Awardee will be selected to receive an additional USD$50,000 in ad credits and an additional mentor, Facebook's VP of Global Marketing Solutions, Carolyn Everson.
Congratulations to the winners!
More about the winners:
North America

Chelsea VonChaz, Founder, #HappyPeriod
#HappyPeriod bridges access to menstrual products for girls and women that are experiencing homelessness or have low-income, and reshapes the discussion surrounding menstruation. Since launching in 2015, #HappyPeriod has distributed over 15,000 menstrual care kits, impacting over 100,000 periods, in 32 cities in the U.S.
Our model consists of promoting social good and creating volunteer opportunities, that enable the public to independently donate products, assemble, and distribute donations to homeless individuals and shelters. By partnering with brands, manufacturers, and corporate organizations #HappyPeriod is able to allocate donations across the U.S.

Midia Shikh Hassan, Founder, Dextra
Dextra is a not-for-profit that provides 3D printed prosthetics to amputated refugees and amputees living in poverty zones. Dextra builds a community to empower amputees rather than a service by facilitating the production of orthotics and prosthetics through providing communities with the necessary resources and training so that the impact can be scaled.  Dextra's proposed innovation does not only provide those in need with a human-looking prosthetic hand that moves, it also provide them with a tool to empower them to find jobs, go to school, hold their babies, and to be a functioning members of the society - things that prevent amputees from full societal integration. Dextra has collaborated with ICRC in Lebanon and and Al-Wifak organization in Casablanca, Morocco to aid in developing Dextra presence in their local community by sharing the technology, design, service and training with local prosthetists and community members. Dextra has also provided two prosthetic hands to a double-amputated child in Morocco as an initial phase of implementation in Morocco. They are currently working to develop prosthetic hand to a refugee in Canada and finalize the collaborate with an organization in Ghana to implement their on-group training in July 2019.  
Latin America

Willian Mallmann, Founder, TODXS
TODXS (the gender-neutral term for "everyone" in Portuguese) is a not-for-profit social startup committed to including and empowering the Brazilian LGBT+ community through three main pillars: Society, Government, and Enterprise. TODXS launched the TODXS App to tackle the discrimination and violence faced by the LGBT+ community as Brazil, which has the highest LGBT+ murder rate in the world. The app operates through three interfaces: learn, denounce, protect yourself to combat the lack of knowledge on denouncing mechanisms and the cultural influence of heteronormativity which makes it difficult for a database to be developed that allows for an accurate estimation of homophobic discrimination cases.

Ludovic de Gromard, Founder, Chance
One billion people worldwide have talents that are invisible to them, making themselves invisible to the world of work. Chance delivers an augmented coaching experience for professional orientation, to guarantee anyone whatever his/her social background, to identify his/her why, to determine and start the job that will make him/her happy! That is how Chance aims to maximize each person's professional potential, fulfillment and thus performance, in Brazil and in France to start with.
Europe

Francisco Rojo, Founder, Voluntechies
Voluntechies uses new technologies to improve people's lives and in particular those who need it most, such as hospitalised children or elderly people. Through virtual reality workshops, Voluntechies offers an immersive experience so people enjoy an experience that they wouldn't otherwise have by bringing them "outside" of their reality. Voluntechies aims to reach 100,000 people by 2020.

Bonnie Chiu, Founder, Lensational
Lensational's work addresses two fundamental gaps: the need for women and girls to have a stronger voice and be economically empowered, and a gap in stock photography and the media for female-centric and diverse imagery. Economically, women only earn one-tenth of the world's income; and this is even more acute when only looking at developing countries. Stock photography is a $2.88bn industry where only 6% of photographs originate from Asia and very few from Africa.
Lensational is a social enterprise that equips marginalised women and girls in the developing world with digital skills, photography and video production training. They recycle cameras and mobile phones and conduct training with women in underserved communities, allowing them to share their unheard stories, earn revenue, and develop a base of strength. Women's photographs are sold on Lensational's photography platform, the first marketplace for female-centric, diverse stock photography, and through our corporate partners, which include Getty Images and Standard Chartered. To date, Lensational have worked with over 800 women across 23 countries in Asia and Africa.
Middle East & Africa
Mary Helda, Operations & Program Manager, Zimba Women
Zimba Women provides tools and technology platforms, business training, digital literacy training, mentorship and networks to improve the livelihoods for women entrepreneurs and women in STEM in sub-Saharan Africa. Their mission is to multiply earning income of these entrepreneurs by providing cross-cutting e-solutions to improve affordable market accessibility and capacity building. Zimba's work addresses the barriers that women-owned small and medium enterprises face, as well as the barriers women face in adopting technology when compared to men.

Wasim Abu Salem, Founder of LOOP
Loop strongly believes that children have the power to develop Ideas and startups in order to make a positive impact on their communities. Loop aims to promote technology, computer science, and coding among children & youth aged 7-18 through unique concepts, modular methods, and modern tech-incubators. Loop's successful techniques and it's modern mindset offer students (11,000+ participants) at early ages to develop their own ideas and startups so they can use technology in order to build creative solutions to problems; becoming creators and makers - not only tech consumers! Loop's vision is of a tech industry shaped by younger generations, where every student takes part in teaching, learning, benefiting the world, and becoming an important part of the Loop system.
Loop - Simply, mentoring children to code the future. 
Asia Pacific

Tanyamai Anantakoraneewat, Co-Founder, Trawell
Trawell is a group of energetic youths with a mission to preserve local tourism. Trawell responds to the needs to generate sufficient income for local communities and preserve the local treasures of Thailand. They've created a tourism platform for locals to earn money with the creation of the "Local Pass", which allows tourists to access and discover the extraordinary culture of the locals. Tourists will get a chance to participate in exclusive local workshops and go on unique routes in local communities.

James da Costa, Co-Founder, teleStory
teleStory is working to solve two of the biggest issues facing our world today - the 800m still illiterate and the 3.5 billion still offline. Children who are not read to by their parents may hear 30m fewer words by the age of 4. In this cycle, illiteracy is passed from parent to child, along with poverty. teleStory, enables illiterate parents to read to their children for the first time in Mumbai, via basic mobile phones. teleStory combines mobile phones and modern cloud telephony with storybooks, to deliver audio lessons in 4 different Indian dialects to 5000 illiterate children and their parents, working with the largest education NGO in India – Pratham.
Image