One Young World is deeply saddened to learn of the passing of long-time One Young World Counsellor and Seventh Secretary General of the United Nations Kofi Annan (80).
Mr Annan served as UN Secretary General from January 1997 to December 2006. During that time, he led a comprehensive programme of reform that sought to revitalize the United Nations and make the international system more effective.   In 2001, he and the United Nations were jointly awarded the Nobel Prize for Peace.
After his tenure as Secretary General, he set up the Kofi Annan Foundation in 2007 to mobilise leaders of all sectors to provide leadership where it is needed.
He firmly believed in the power of the next generation and was dedicated to passing on his wisdom to young leaders. His work with One Young World began at the inaugural One Young World Summit in London in 2010, following the campaign he led with Kate Robertson and David Jones for Climate Action ahead of COP15 – he said at the time:
"Climate change is an all encompassing threat: a threat to health, a threat to water, a threat to our food supplies – we cannot just sit back. I'm counting on all of you to act."
Mr Annan then went on to write "Interventions: A Life in War and Peace" which he discussed at One Young World in Pittsburgh and generously donated a copy to every delegate so that they could learn from his experiences and commit themselves to service:
"I hope that, when you've read the book, some of you will decide to become engaged in public life in politics or the United Nations … wherever we are we can make a difference – from the private sector to NGOs."
Mr Annan was born in Ghana in 1938 and his commitment to humanitarianism was sparked by witnessing the Gold Coast Independence Movement as he grew up. He noted at One Young World in 2012:
"No one starts tackling the big issues – I started with a hunger strike at the age of sixteen, I tried to make a difference. We all start at some level and we move on – what we do today will be part of us tomorrow. When I was a teenager and the struggle for independence was beginning, all of us in school were excited about independence and freedom and we achieved it. For me as a young man, who could feel electricity in the air, having heard all this talk about change, change arrived and inspired other African nations. So I grew up thinking change was possible and I've lived my life believing that change is possible."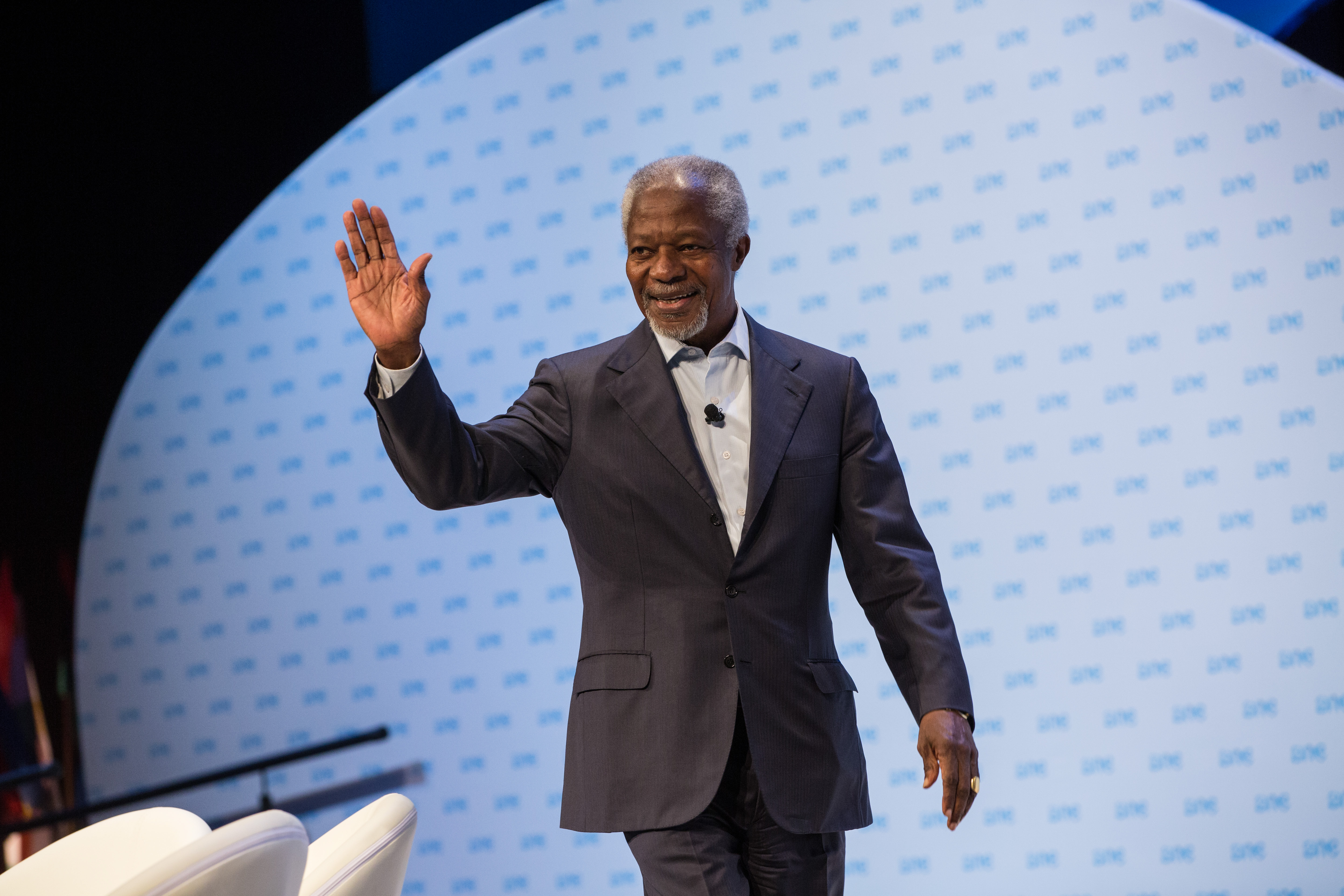 He wanted to share this belief with the next generation and so collaborated with One Young World on the Kofi Annan Dialogues: an unprecedented series of conversations on critical global issues, held between Kofi Annan and young people around the world. These were to serve as a repository of his knowledge to inspire and inform the next generation – young people in more than 100 countries tuned in to listen to Mr Annan's words and to learn from the experiences of the great man.
Mr Annan said at One Young World 2013 Johannesburg:
"People often say that young people care only about themselves, I know from the Kofi Annan Dialogues that this is nonsense. Wherever I have travelled it has been young people's commitment to peace, justice and equality that has given me hope."
Watch the Kofi Annan Dialogues here. 
A proud African, he joined the One Young World Summit in 2013 in Johannesburg to almost deafening cheers from the young people of the African continent: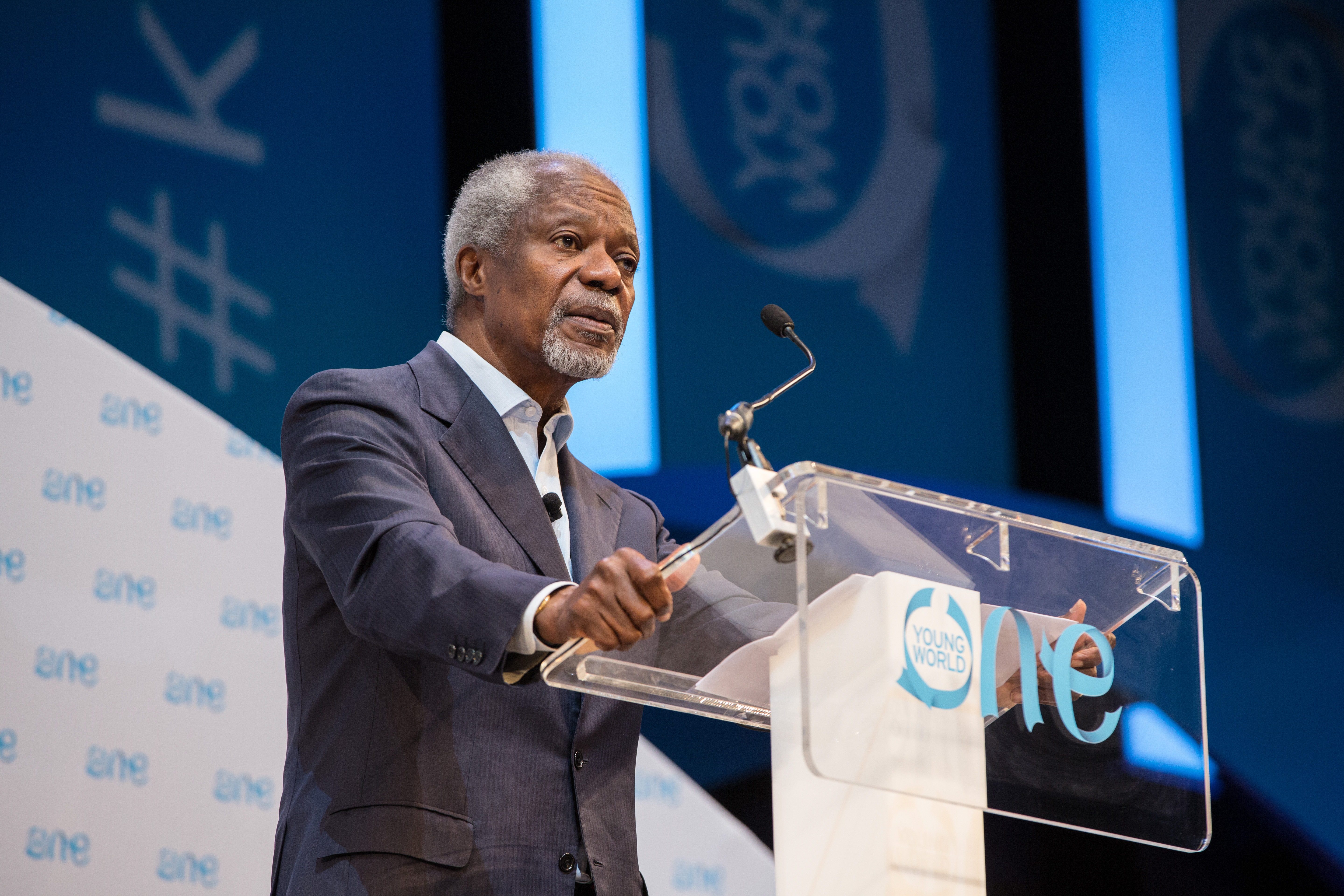 "We all feel very young tonight and I feel very young tonight because of you! Nothing lifts my spirits more than having so many young people in front of me. We expect and we need great things from each and every one of you."
He echoed this sentiments in 2014 in Dublin.
"I come away from these sessions (at One Young World) hopeful and reassured that the future of our world is not lost. Ours is a really messy world – young people are especially vulnerable to and disproportionately affected by violence and conflict but the young are also amongst the most determined peacekeepers and the most effective agents of reconciliation."
Mr Annan revisited the topic of climate change at the One Young World Summit in Bangkok:
"The intergenerational discussions that will take place over the next three days will have an impact and spark action far beyond this Summit. We are rapidly approaching the tipping point at which climate change may become irreversible. No other issue will have a greater impact on the wellbeing and security of future generations – it will take all of your creativity, vision and determination to find and implement effective solutions."
Mr Annan recorded a message as part of the #CallonCOP campaign at One Young World 2015, urging the leaders who were to meet at the upcoming COP21 meeting in Paris to come to a strong solution:
In 2016, the Kofi Annan Foundation, along with One Young World and the European Commission, conceived the Extremely Together program, which aims to inspire and engage the next generation of leaders and empower them to tackle violent extremism.
"This is a global struggle, this is a generational struggle," Mr Annan said at the time; "I am convinced that young people are the key to this threat."
Mr Annan's commitment to peace was echoed at One Young World in Bogota where he took part in One Young World's Peace Day – he documented his experiences in an article for Vanity Fair to commemorate his 80th birthday:
"The energy around the Summit was tremendous, and the diversity of the delegates, who come from different cultures, religions and ethnicities, was harnessed by a sense that we are in this world together and together we must build a global culture of peace."
The article can be read in full here.
One Young World Co-Founder, Kate Robertson:
"Without his love and belief in young leaders One Young World could not have been, could not have thrived. He was the greatest UN Secretary General. He leaves a huge hole in global leadership that he would not have wanted. He tried to drive all of us to a higher standard of leadership. He was ultimately, truly a great man. My whole heart goes out to his beloved Nane and the children and all the staff at the Kofi Annan Foundation."
One Young World Co-Founder, David Jones:
"Kofi Annan was the greatest leader we've ever had the privilege to welcome to One Young World. A man of such huge wisdom, integrity and compassion. He dedicated his life to peace and to others. "You're never too young to lead and never too old to learn" was his mantra and one of the many pieces of wisdom he imparted to us. One Young World would never have happened without him, he supported us from day one and ensured he came to every Summit no matter where in the world it was. We will miss him terribly. As will the world."