Whilst the 52-year Colombian civil conflict is finally drawing to a close, war in over 60 countries across the world wages on.
In a One Young World survey of 2,000 young people internationally, more than half of respondents said they had experienced conflict during their lifetime and 60 per cent lived in fear of terrorism in their country.
And although Colombia may have signed a peace accord, this does not necessarily guarantee a long lasting peace.
One Young World experts and delegates in peace and conflict resolution joined the main stage on Peace Day, the final day of the Summit, to address the complexities of peacebuilding and best practices to ensure sustainable peace.
The Peace and Reconciliation Plenary Session was opened by Seventh United Nations Secretary General and peacebuilding veteran Kofi Annan, who has personally consulted on the Colombian peace process.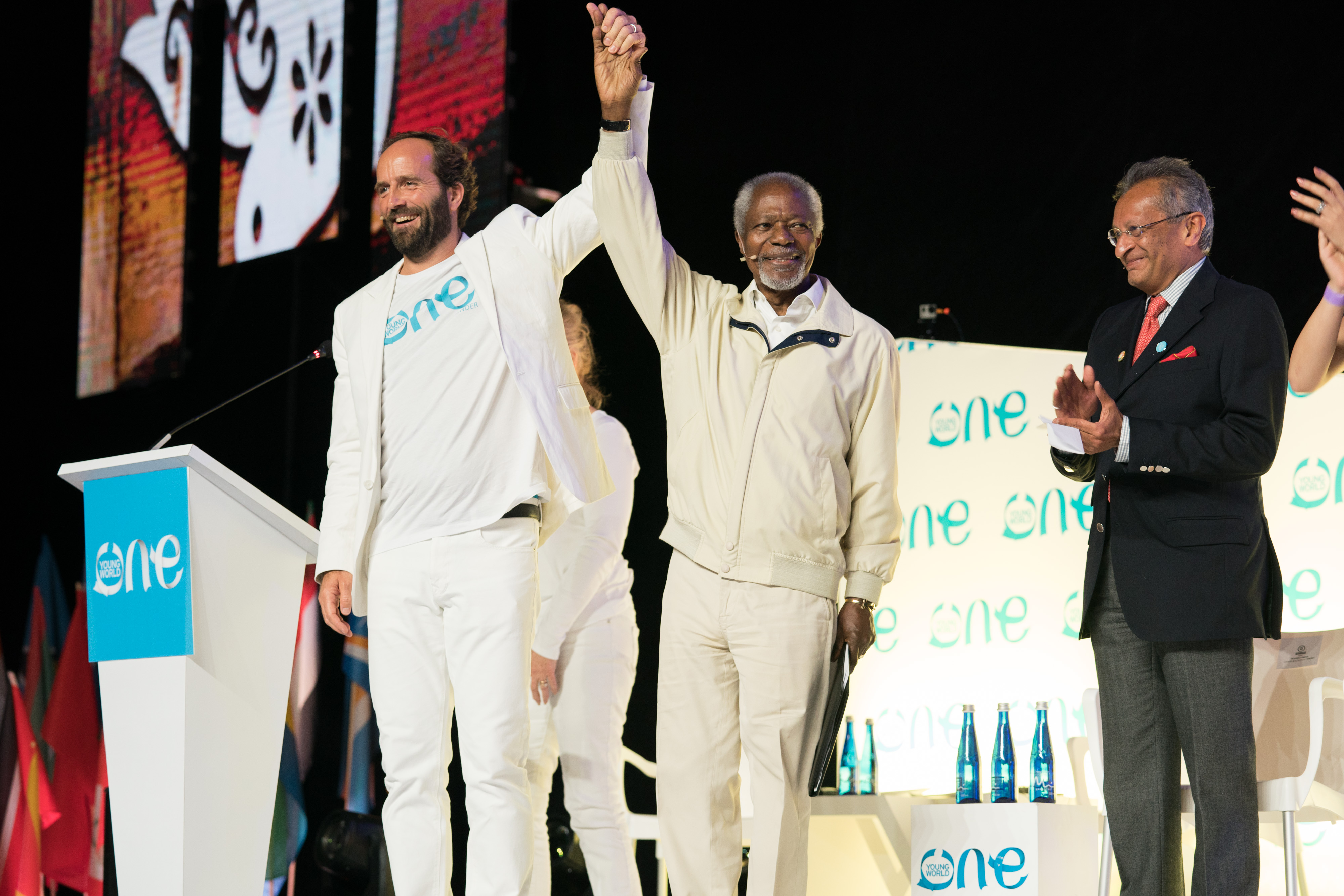 The first of Annan's three crucial steps to establishing peace was "Trust...an essential element for getting beyond conflict. It must be built step by step". He also added that "If the peace process is to succeed, it must be inclusive" and that "the voices of the victims must be heard - and heard clearly".
"We all want peace", he elaborated, "but peace is a complex process. Lasting peace requires reconciliation, and reconciliation is a process… not a single event...it requires patience and understanding, relationships between people and groups". 
Mr Annan then introduced the delegates, and reminded them, that they "are never too young to lead".
Young Leaders For Peace
Ousmane Ba of Guinea recounted his tales of fleeing his home after it was devastated by conflict. He described how he suffered many sleepless nights thinking of a child who died in his arms, wondering how men and children were "killed by the same people who were supposed to protect [them]".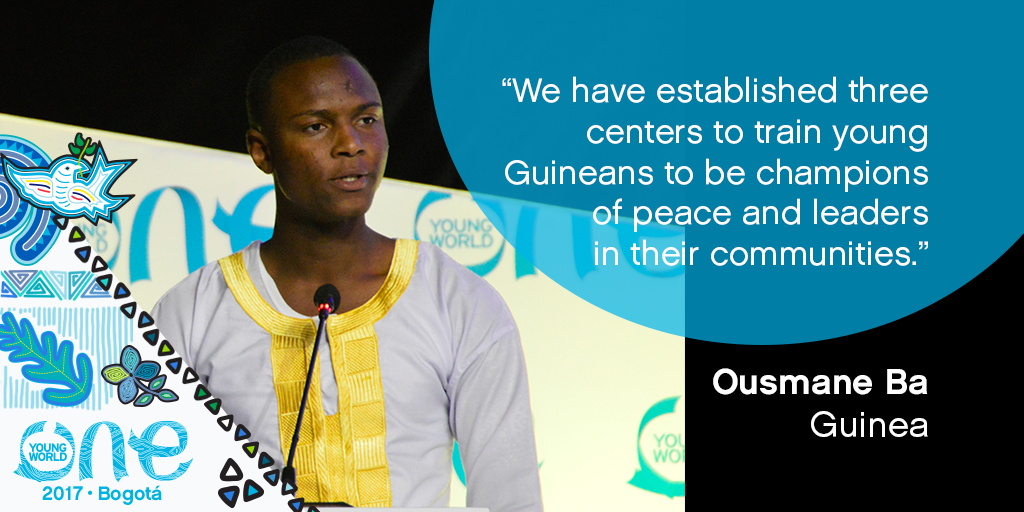 "The only way to achieve a sustainable peace", he said, "is to provide a platform for the oppressed to express their needs and concerns".
This is why Ba now provides a platform to ensure young Guineans are fully and peacefully engaged in the next election and believes youth is the key to a long, peaceful future.
"To those who say we are too young to change society", he added, "my word to you is this: if we are not too young to be soldiers and carry AK-47s, we are not too young to be part of the peaceful solution, a peace that will last".
Hyppolite Ntigurirwa of Rwanda recalled how he was just seven when his father was killed in the genocide which left nearly a million Tutsis dead in the span of 100 days. Using forgiveness as his tool for peace, he said 'I believe peace is what you give, not what you ask others to give you.' Having shared his harrowing story of witnessing the slaughter and rape of his family members, he told delegates about his initiative Be The Peace, where he has established a network of five Be The Peace Clubs in Rwandan schools and reached 5,000 students through art and debating. 
The Challenges To Peace
.@Hyppolitent's harrowing story marked a heart wrenching and uplifting end to the #OYW2017 Summit. If you missed it, check it out here: https://t.co/fUdGY3Ljym pic.twitter.com/cxIxJCCthx

— One Young World (@OneYoungWorld) October 7, 2017
Conour Houston, of the Centre for Democracy & Peace Building Belfast highlighted the "complex challenges" the Colombian peace process is yet to face by drawing on his own experience promoting reconciliation in Northern Ireland.
"This is the challenge of post-peace agreement", Houston told the audience. "Political structures do not on their own change attitudes or build relationships."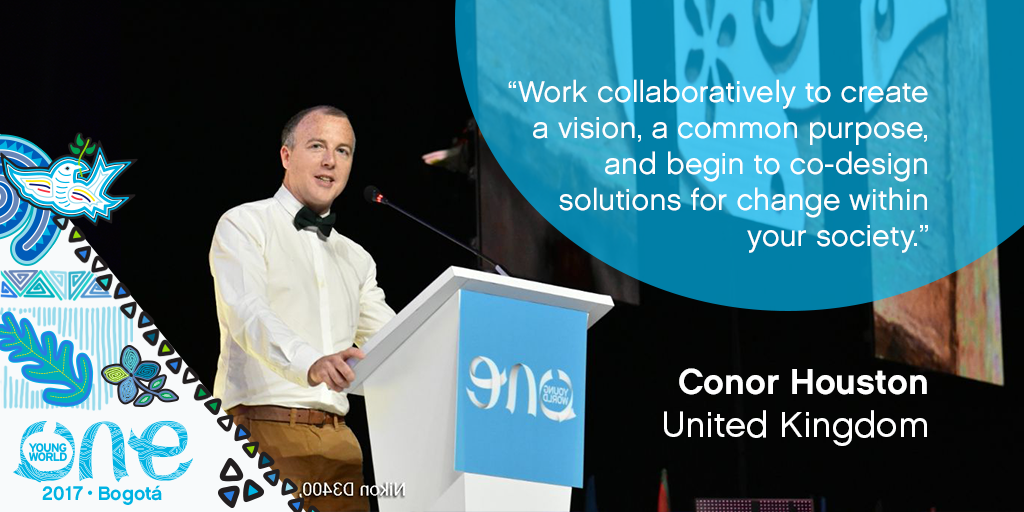 President of Colombia, Juan Manuel Santos emphasised the importance of the peace accord, but like Houston, reminded that it offers few guarantees. "At this very moment in Colombia, we are at a tipping point", he said.
Noorjahan Akbar, one of Forbes' 100 Most Powerful Women and founder of the collective Afghan women's collective Free Women Writers, drew attention to the fact that although everyone suffers in war, women often bear a disproportionate amount of the consequences.
"When we talk about making peace sustainable, we have to pay attention to the gendered experience of conflict", she said. "Whether it is in the stories of ISIS fighters or mass shooters in the U.S., it is becoming clearer that those who contribute to violence in society are first and foremost violent towards the women in their families".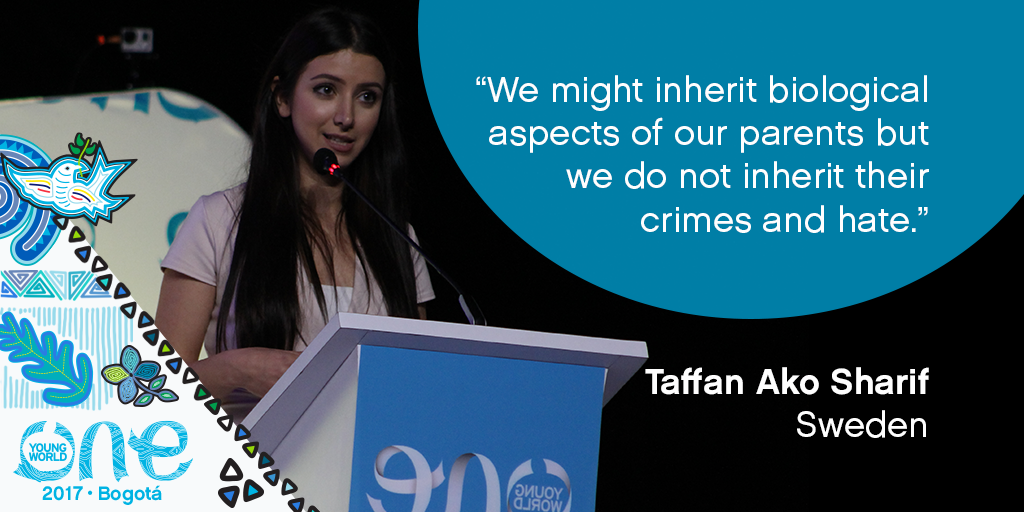 Taffan Ako Sharif told delegates of her work to bring victims of ISIS from different religious and ethnic comunities together.
After citing the fact that according to UN Women, when women are involved in negotiations, peace is 30 per cent more likely to last, Akbar argued for women being central political actors if we are to see a more peaceful society and world.
"I believe that this decades-long cycle of violence in Afghanistan can only be broken if women are given a meaningful voice in deciding the country's future", Akbar said. "For peace to become a lasting reality, women's voices must be an integral part of peacebuilding".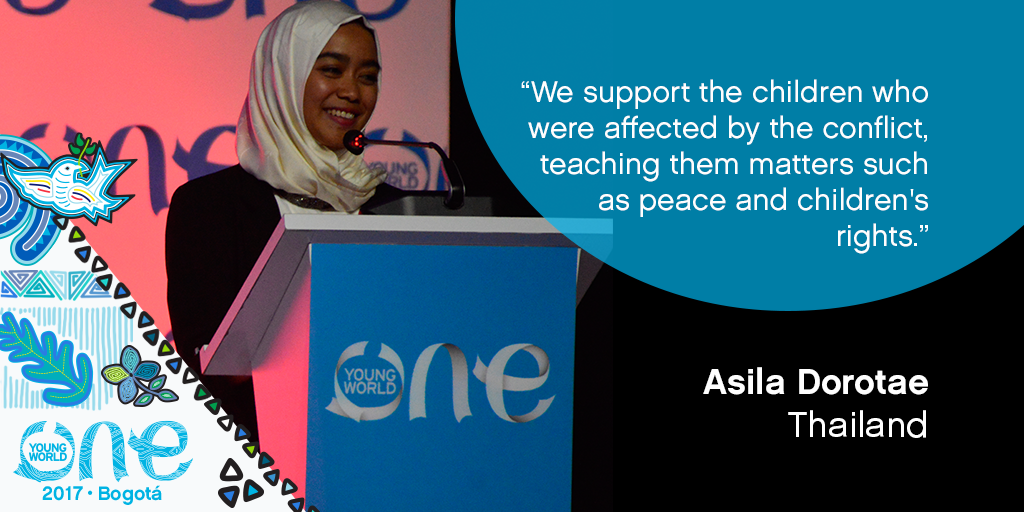 Asila Dorotea spoke about the violence in the southernmost region of Thailand.
To close the Plenary Session, Juan Manuel Santos discussed his personal experience in the peace progress and encouraged young leaders to continue dreaming and pursuing peace at all costs, as they were central to realising Colombian's own peace agreement.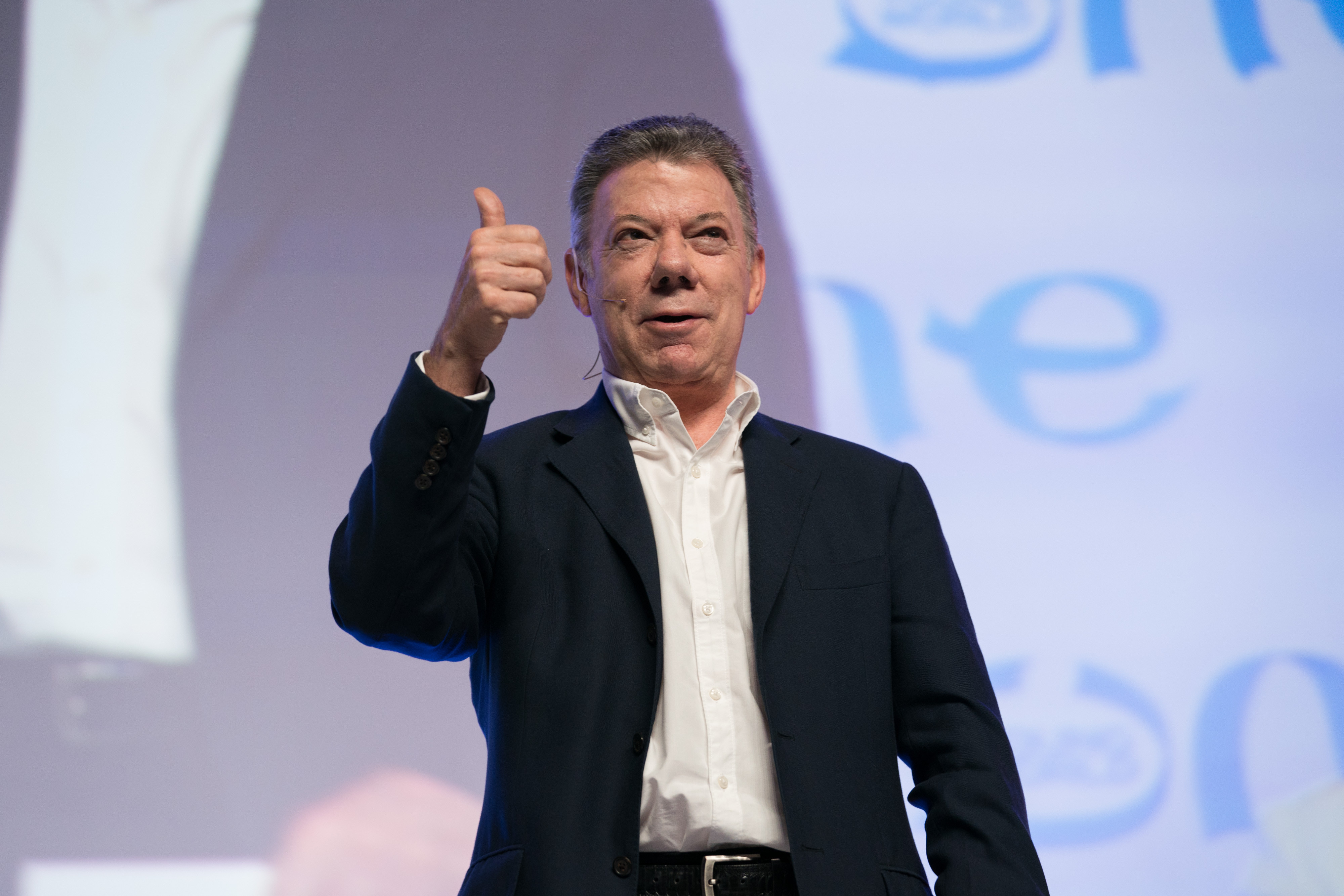 "Never stop trying", he urged the audience. "I kept trying and I said six years of negotiations cannot be simply abandoned, but I must recognise and I must thank the people who that at that precise moment gave me more strength to continue to persevere, were the young kids of Colombia. They went out to the streets, to the plazas and said 'we want peace now, we want a new agreement now'".
President Santos introduced Rotem Weizman of Israel, who is using environmental peacebuilding to bring communities in Israel and Palestine together over shared resources; namely, water.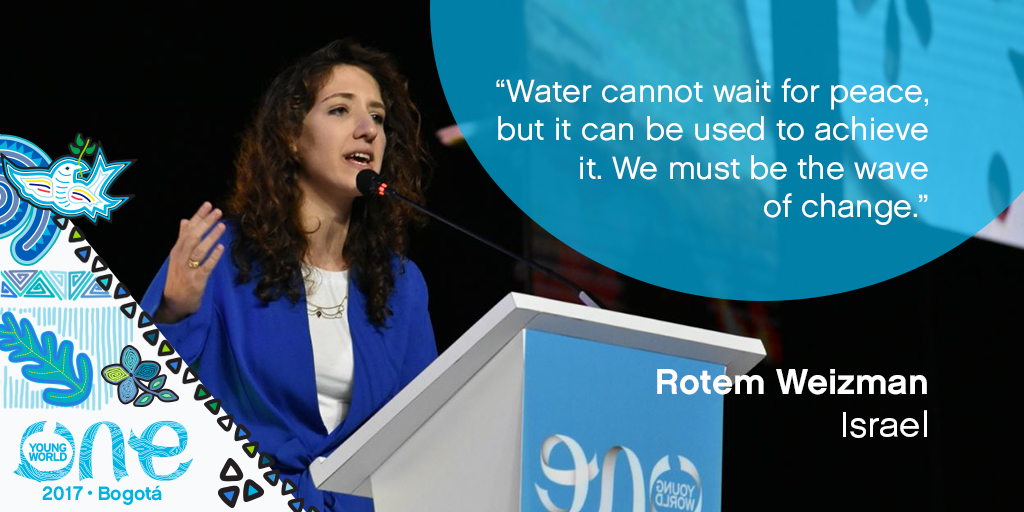 "This is my message to you. Always try to be audacious. Try to think big, the unthinkable, think that the impossible is possible", Santos summarised in his optimistic words, before thanking the One Young World delegates "from the bottom of [his heart] for [choosing] Colombia for this meeting".
"A better, brighter future is possible. With leaders like you I know it is possible...We are all one race. One world. One Young World."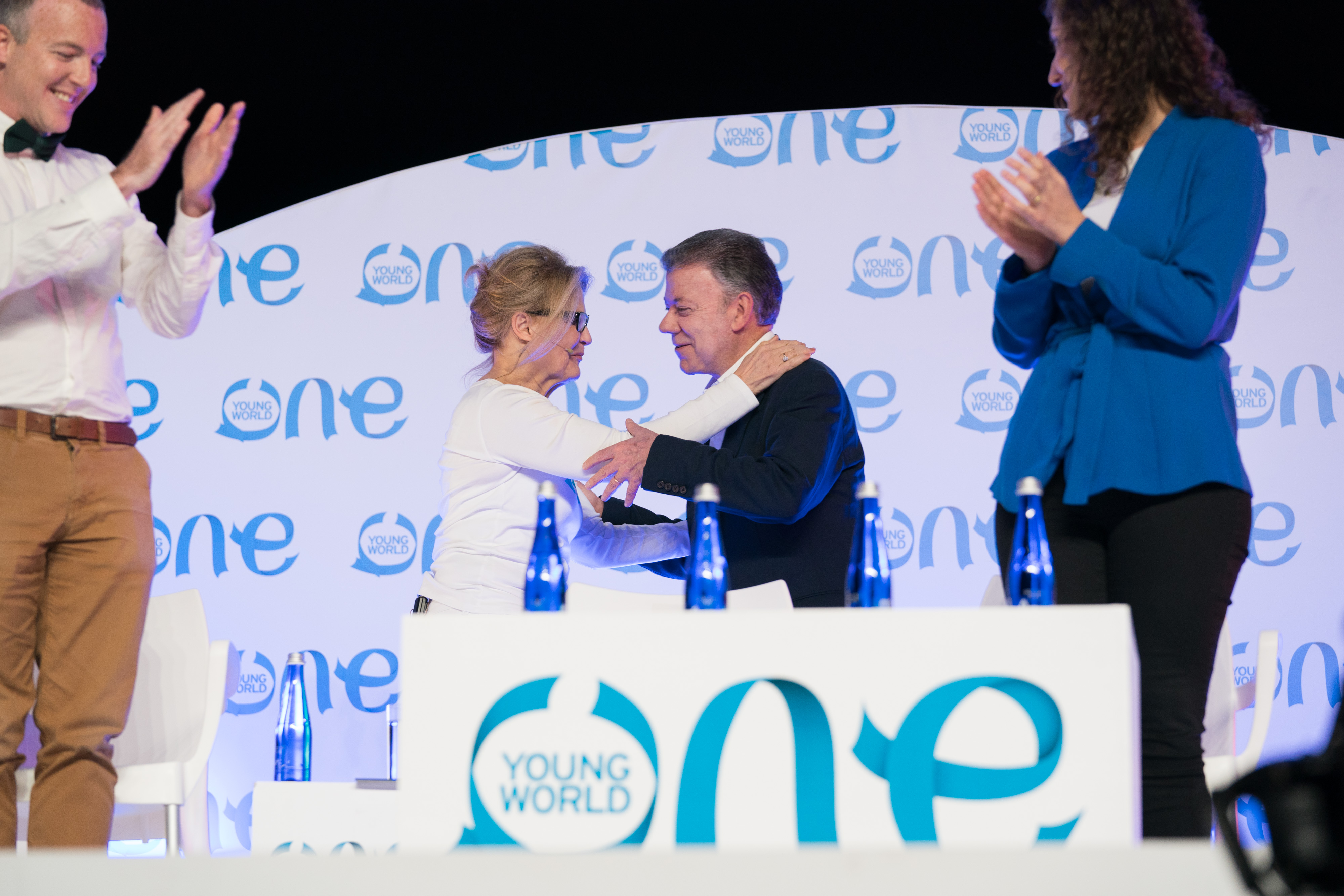 This article was written by Luke Taylor. He is an English journalist living in Bogota, Colombia. His reports on Colombia have been featured in leading English, Canadian and Australian publications.