Delegate speakers will present at five Plenary Sessions, dedicated to the themes of Education, Environment, Health, Human Rights and Poverty Alleviation. Contributors will debate, formulate and share innovative solutions to help achieve the Sustainable Development Goals (SDGs).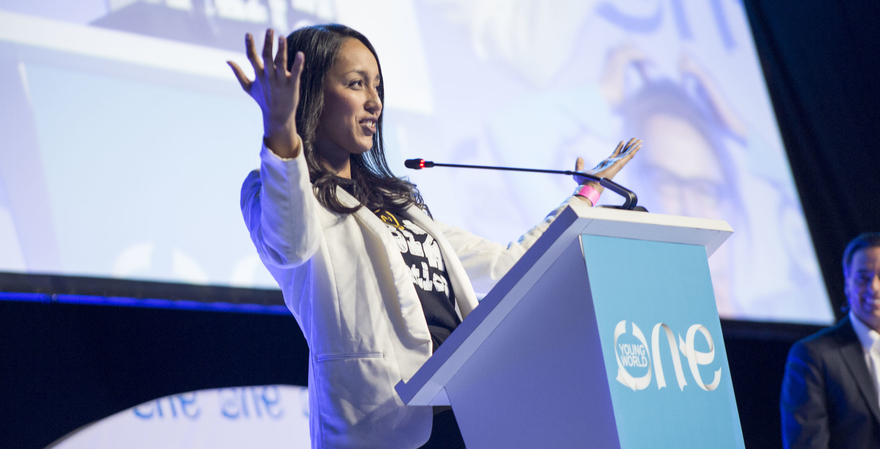 They have the opportunity to speak alongside Presidents, Nobel Prize winners and global business leaders. Among the world leaders who have previously attended Summits as One Young World Counsellors are Canadian leader Justin Trudeau, former United Nations Secretary-General Kofi Annan, social entrepreneur Muhammad Yunus and Hollywood actor Emma Watson.
This year's Education Plenary Session will address the question: "Will the internet achieve equality in education?"
There are roughly 750 million people in the world over the age of 15 who cannot read or write a basic sentence. But $8.17 billion was invested in edtech companies in 2017 and projects initiated by One Young World Ambassadors have already educated more than 108,000 people, providing employable skills and training. The Session will explore initiatives that can exploit the world wide web to ensure that quality education is received by those who need it most.
Our Environment Plenary Session is themed: "How can our planet survive plastic pollution?" Every year, 13 million tonnes of plastic leak into the world's oceans and some of it can survive in the environment for 500 years.
One Young World Ambassadors are committed to fighting this tide of pollution and 69 per cent have personally taken steps to be more responsible in the disposal and consumption of plastics in their country. Ambassador initiatives have impacted 17,418 people in sustainable production and consumption. But can we identify new and more effective ways to ensure that a warning by the Ellen MacArthur Foundation that there will be more plastic waste in the seas than fish by the year 2050 does not become reality?
The subject of our Health Plenary Session is: "Why are people still dying of preventable diseases?"
With global vaccination coverage stalled at 86 per cent, according to the World Health Organisation, around 1.5m people are dying each year from deaths that could be prevented by vaccine. A further million die from HIV-related causes, and close to a million more could be saved simply by the routine washing of hands.
Health projects led by One Young World Ambassadors have impacted on 1,342,595 individuals who have had access to medical care and healthier lifestyles through technology-driven initiatives. Nearly 90 per cent of our Ambassador community believes education and awareness are the keys to preventing disease and ill-health. But how can this best be achieved?
Human Rights will be addressed in a Plenary Session headed: "SDGs: where do human rights fit in?" Amnesty International identified a "rollback in human rights" during 2017, and 69 per cent of One Young World Ambassadors say they have witnessed a human rights violation in their country (and almost half have personally experienced one).
Ambassador-led initiatives have impacted 137,723 people in tackling inequalities and 207,774 in education on building more peaceful and inclusive societies. But in the current international political climate, do we need a more explicit commitment to protecting human rights in the SDGs?
Our Poverty Alleviation Plenary Session is titled: "Can solving youth unemployment avert future conflicts?" Youth unemployment is on the rise again and more than 71m people under the age of 25 are without work, according to data from the UN's International Labour Organisation. In the developing world, 160m youth who do have jobs are on pay of less than $3.10 a day.
With a widespread assumption that youth unemployment is a potential gateway to criminal activities and armed violence, what ideas do we have for creating work for young people and reducing the risk of war and conflict.
The One Young World 2018 Summit takes place between 17-20 October. The Hague, in the Netherlands, is known as the International City of Peace and Justice and is home to more than 200 international organisations and institutions, including the International Court of Justice, the International Criminal Court and the Peace Palace.