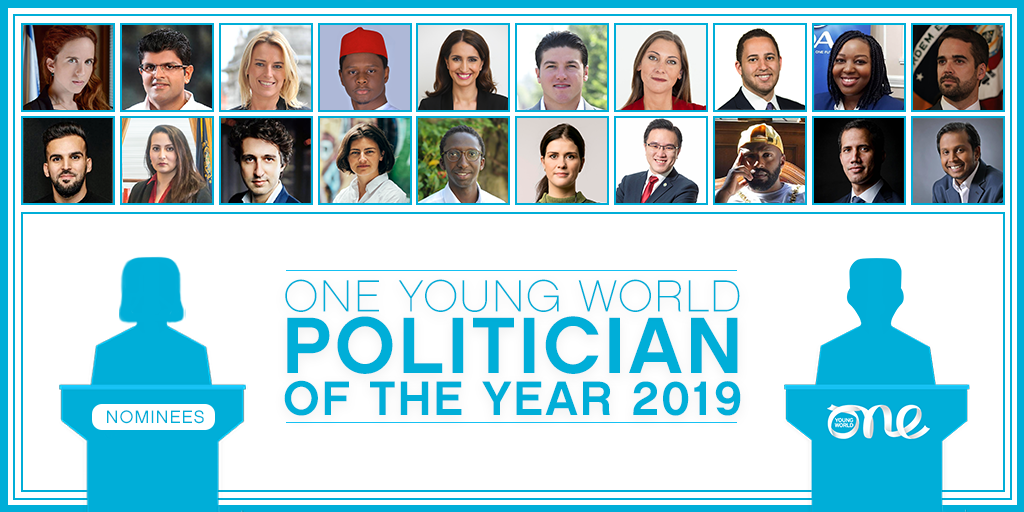 One Young World are excited to announce the 20 nominees who have been shortlisted for the One Young World Politician of the Year Award 2019
The award was created to celebrate the most impressive, impactful, young politicians around the world. The five winners will be chosen based on the impact they are having on their community and how they have used their position to benefit the lives of young people. These 20 politicians, aged 35 and under, are shining examples of the young people revitalising the world of politics. They act as role models to encourage others to engage with or participate in politics, and to see it as one of strongest forces to create positive change.
The shortlisted nominees are currently being reviewed by One Young World's expert judging panel, who will decide the final five winners. The judges are:
Lindiwe Mazibuko - Co-founder of Apolitical Academy and former leader of the Democratic Alliance (RSA) 
Mary Robinson - Chair of the Mary Robinson Foundation for Climate Justice and former President of Ireland
Mo Ibrahim - Chair and Founder of the Mo Ibrahim Foundation
Ilia Calderon - Emmy® award-winning journalist, Co-anchor of Noticiero Univision and Co-host of Aquí y Ahora
Tawakkol Karman -  human rights activist, journalist, politician, President of Women Journalists Without Chains organisation, and Nobel Peace Laureate 2011
Jan Peter Balkenende - former Prime Minister of the Netherlands
THE SHORTLIST
Juan Guaidó, 35, Venezuela
Juan Guaidó is the President of the National Assembly of Venezuela and is recognised as the acting President of Venezuela by 54 governments. He is a member of the Popular Will party and serves as a federal deputy to the National Assembly, representing the state of Vargas. 
Hervé Berville, 29, France
Born in Rwanda, Hervé Berville was adopted by a French family in 1994 during the Genocide against the Tutsi. At 27, Hervé became one of the youngest members of the French National Assembly, where he currently serves as Spokesperson for La Republique En Marche and is responsible for the Overseas Development and Fight Against Global Inequalities Act. 
Lynn Ruane, 34, Ireland
Senator Ruane is an independent member of Seanad Éireann, representing Trinity College graduates in the Oireachtas since 2016, and serving as the deputy leader of the Seanad Civil Engagement group. Her legislative priorities in office have focused on equality of access in education, gender equality and reproductive rights, tackling socio-economic inequality and advocating for progressive reforms of drug, migration and social welfare policies. 
Safiya Wazir, 28, USA
Safiya Wazir is the first former refugee from Afghanistan ever elected to statewide office in New Hampshire. She serves as a State Representative and has worked to overturn the death penalty, establish paid family and medical leave, and encourage young people to become active citizens.
Samuel García Sepúlveda, 31, Mexico
In 2015 Samuel was elected the youngest person ever to be elected to the Nuevo León legislative body. As a local representative, he was the only local representative nationwide to reject all entitlements and privileges derived from his post, donating his salary to local charities and causes. In 2018, he became the second youngest Senator in the country. 
Anna Ascani, 31, Italy
Anna has been an Italian MP since 2013, elected at just 25 for the Democratic Party. She has been the coordinator of the Culture Department of the Democratic Party in Italy and her activity mainly deals with schools and education. Furthermore, she developed the first Freedom Of Information Act to be applied in Italy.
Nasima Razmyar, 34, Finland
Nasima Razmyar was elected to the Finnish Parliament in 2015 and was the first MP in Finland with a refugee background. She left parliament in June 2017 in order to take the position of Deputy Mayor of the City of Helsinki. As Deputy Mayor she has stressed the importance of education and inclusion of all young people, and speaks for equality and diversity. (Photo credit: City of Helsinki / Pertti Nisonen)
Jesse Klaver, 33, Netherlands
Jesse is a Member of the House of Representatives and the leader of GroenLinks. He is the youngest party leader in the history of the Netherlands. In the 2017 elections, he took the party to a record of 14 seats, and his highly ambitious climate laws have received backing from a coalition of seven parties in parliament. 
Magid Magid, 29, UK
Magid Magid is a British-Somali activist and politician who is the youngest, the first Somali refugee, and the first Green Party councillor to serve as the Lord Mayor of Sheffield. After deciding to run in the 2019 European Parliament elections in April this year, Magid was chosen as the primary candidate for the Green Party and elected as MEP for Yorkshire and the Humber. 
Milinda Rajapaksha, 34, Sri Lanka
Milinda is an elected Member of Colombo Municipal Council & Founding Executive Committee Member of Sri Lanka Youth People's Front since March of 2018. He also holds leadership roles in committees on Finance, Law and Order, Public Health, and Women's, Youth and Children's affairs and is the youngest Chairman of the Standard Committee on the Prevention of Corruption and Resource Management in the Council's history.
Mete Coban, 26, UK
Mete was elected to Hackney Council as the youngest ever Councillor in the borough at the age of 21. He is the Chair of the Skills, Economy and Growth commission, and has led an inquiry into the risks and opportunities for young people living in a borough experiencing rapid gentrification and transformation of work opportunities. Mete also founded My Life My Say, making democracy more accessible to underrepresented communities. 
Eduardo Leite, 34, Brazil
Eduardo Leite is the current governor of Rio Grande do Sul. Before this position, he was Mayor of his local town Pelotas, from 2013 to 2016. During his four-year term, for example, the town's IDEB (Basic education development indicator) reached a growth rate of 23% during his government. His healthcare programme "Rede bem cuidar" was elected the second best health experience by the Ministry of Health award, InovaSUS.
Stav Shaffir, 34, Israel
Stav Shaffir of the Israel Labor Party, the youngest parliament member in Israel's history, entered public life after leading the 2011 social justice protests - Israel's largest-ever protest. Shaffir is the founder and chair of the Transparency Committee, and she led a reform on budgetary transparency, successfully exposing and blocking the use of government funds for political purposes. She is also one of the strongest voices for the two-states solution.
Dushyant Chautala, 31, India
Dushyant is the youngest ever MP in the history of Indian parliament, and founder of the Jannayak Janta Pary. He has sat on various committees in leadership positions, such as co-convenor of Parliamentarians' Group for Children & WASH Form and Member of the Consultative Committee of Ministry of Skill Development and Entrepreneurship to name just two.
Thordis Gylfadóttir, 31, Iceland
Thórdís Kolbrún R. Gylfadóttir, is simultaneously Iceland's Minister for Tourism, Industries and Innovation and the Minister of Justice. In January 2017, she became the second youngest individual to become Minister in Iceland and the country's youngest ever female Minister. In 2018 she was elected vice-chairman of the Independence Party, Iceland's largest political party.
Chlöe Swarbrick, 24, New Zealand
Chlöe cut her political teeth as a 22 year-old, running a ground-breaking campaign for election as the Mayor of Auckland in 2016. She is now a Green Party MP, and Aotearoa's youngest MP in 40 years. Chlöe is the Green Party spokesperson on a variety of matters, including education, open government, sensible drug law reform, local government, arts culture & heritage, small business, broadcasting, mental health and youth.
Osman Timbo, 32, Sierra Leone
Osman is the Member of Parliament for Constituency 130 in Freetown, Sierra Leone. Additionally, he has been appointed as Deputy Chairman of the Legislative Committee, and is member of the Public Accounts, Technical and Higher Education, Energy and Inter Parliamentary Union Committees. 
Mbali Ntuli, 31, South Africa
Mbali Ntuli is a Democratic Alliance representative in the KwaZulu-Natal provincial legislature. She has served as the Provincial Campaigns Director for Kwazulu-Natal since 2018. Her former roles include DA Youth Chairperson (2010), a councillor for the community of Inanda in the eThekwini Municipality (2011), DA Youth Federal Leader (2013), and the member of KwaZulu-Natal legislature (2014). 
Phoong Jin Zhe, 30, Malaysia
Phoong Jin Zhe, 30, is the youngest State Assemblyman and youngest Youth and Sports State Minister of Sabah, Malaysia. His passion in public service was ignited when he fought for students' autonomy in university, and he oversees a community centre which provides free tuition for under-privileged children.
Svante Myrick, 31, USA
Svante L. Myrick was sworn into office in January 2012 and became, at 24, the youngest Mayor in New York state history and first Mayor of colour in Ithaca. Myrick played a key role in starting a Youth Council in Ithaca, New York. He still takes time to meet with the current Youth Council Ambassadors, College Discovery Students and gives regular talks to Ithaca's schools. 
The five winners will be announced by the end of June, and presented with the award at the One Young World 2019 Summit taking place in London, 22 -25 October