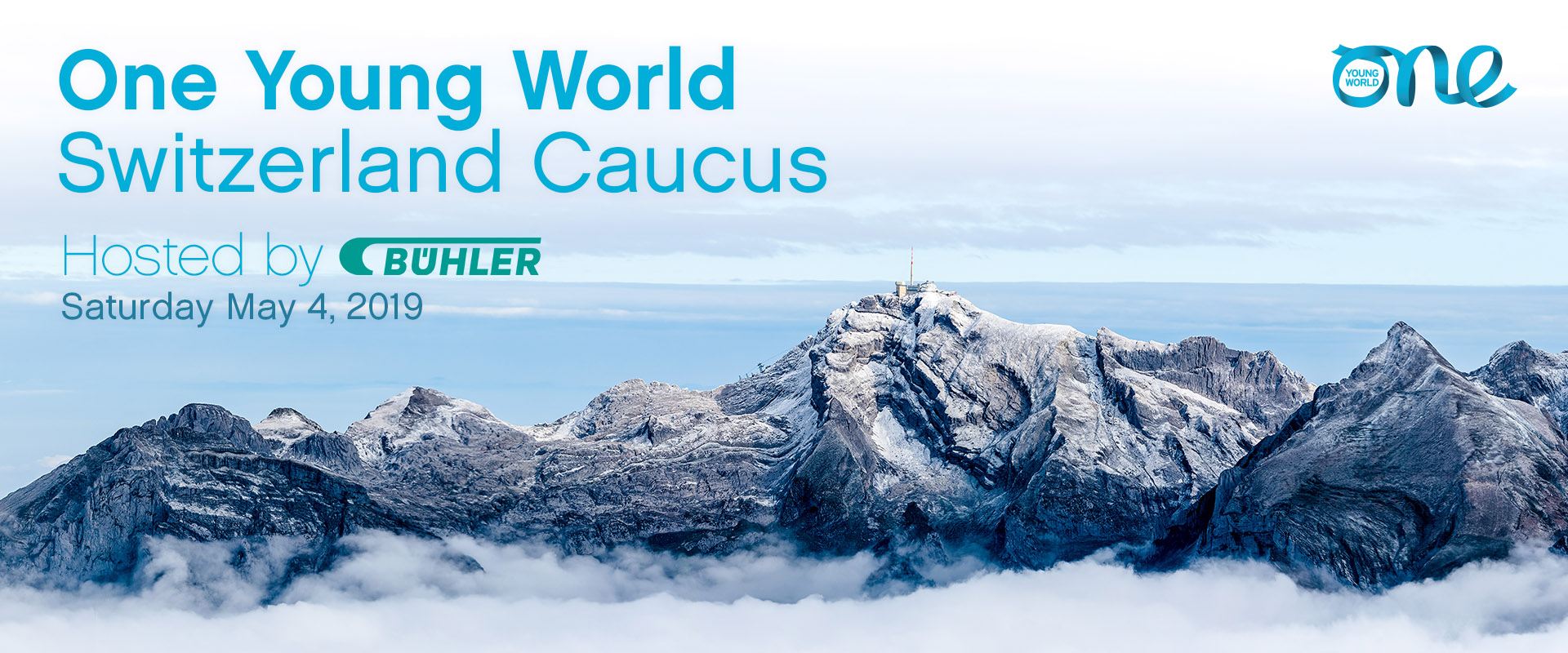 We are happy to invite you to the​ OYW Caucus hosted by Bühler Group on their brand new Innovation Campus.
We have now closed registration. If you are still really interested in participating, please contact: [email protected].
Event details:
Date: Saturday, May 4, 2019
Time: 09.00 AM - 05.00 PM (CET)
Location: Bühler Group Innovation Campus, Gupfenstrasse 5, 9240 Uzwil, Switzerland
Participants: Young leaders from the One Young World Ambassador Community, Bühler employees interested in sustainability and responsible growth & impact-oriented professionals.
This event is organised by the Bühler Generation B team.
About the Caucus - full agenda below
The full-day event is all about the UN Sustainable Development Goal (SDG) 12: Responsible Production and Consumption. It focuses specifically on the following two topics:
Shift:  exploring alternative food sources like insects to increase resource and energy efficiency
Repower: taking the e-mobility trend further by re-using to repower
Learn more about the SDGs here.
Why should you come?
Debate and discuss some of the most pressing issues the world faces with a range of individuals representing big industry, not-for-profits and more.
Gain insights into sustainable production and consumption, not only in the food sector, but also in energy and infrastructure.
Formulate and share innovative solutions to the key sustainability challenges we collectively face.
Connect to new people, reconnect to the OYW community (if you have been an Ambassador) and have some fun in the meantime.
About the topic
The 17 Sustainable Development Goals set by the United Nations are the blueprint to achieve a better and more sustainable future for all. They address the global challenges we face, including those related to poverty, inequality, climate, environmental degradation, prosperity, and peace and justice. The Goals interconnect and lead the way to the future we want and are willing to work for. 
Goal 12: Sustainable consumption and production is about promoting resource and energy efficiency, sustainable infrastructure, and providing access to basic services, green and decent jobs and a better quality of life for all. Its implementation helps to achieve overall development plans, reduce future economic, environmental and social costs, strengthen economic competitiveness and reduce poverty.
Speakers confirmed:
Kate Robertson, Co-Founder, One Young World

Ian Roberts, CTO, Bühler

Philipp Leutiger, CDO, LafargeHolcim

Daan Luining, CTO, Meatable

Maximilian Stark, Senior Manager for Mobility Solutions, e.Go

Jacek Prus, Business Innovation Specialist, ProVeg Incubator

Fabian Starsich, Project Manager Haelixa (Traceability of sustainable cotton)

Legendairy Foods (AI & Biotech)

Mushlabs (Valorization of sidestreams for fermentation of mushroom spores for food & feed)

Hector Freitas, Head of Investor Relations at Blue Horizon
How to organize yourself
You need to organize your own travel and accommodation.
Uzwil is close to Zurich airport. The easiest option is taking a direct train that will take you to Uzwil in not more than 40 min.
For hotel nights: We can recommend to you the Hotel Uzwil and Hotel Schäfli. With the code word "One Young World", you will get a special discount for your stay.
Most OYW Ambassadors travel on a shoestring and on their own expenses – therefore, we set up a couchsurfing concept connecting people who live somewhere between St. Gallen and Zürich and have a spare couch to people joining us from far away. Bühler employees who offer to host a OYW Ambassador for two nights will be favored for the Bühler spots at the Caucus.
FULL AGENDA
TIME

SESSION

DETAILS

08:00 - 09:00

Networking breakfast

Arrival & Registration

09:00 - 09:30

Welcome Keynote

Ian Roberts, CTO Bühler Group

09:30 – 10:00

Keynote: The threats to our privilege // Call for Action

Innovation and social disruption as the key to sustain our very own standards of living.

Philipp Leutiger, CDO Lafarge Holcim

10:00 – 10:30

Coffee break / networking

 
10:30 – 12:00

 

Introducing SDG 12. Shift and Repower: challenges and potential
 

12:00 – 13:30

Networking Lunch
Tasting of alternative food solutions

13:30 –14:30

Breakout sessions
9 separate sessions on core topic: Shift & Repower

14:45 –15:45

Breakout sessions
9 sessions on core topic: Shift & Repower - these sessions will be the same but attendees can join new ones after their first  workshop

15:45 – 16:15

Coffee break
 

16:15 – 17:00

 

Panel: 

How do we foster sustainable consumption, change habits & anticipate consumer behavior? 

 

17:00 – 17:15

Closing Remarks
Kate Robertson, One Young World

17:15

Aperitif