Having had success as a Team USA swimmer, One Young World Ambassador Kristin Duquette is now a policymaker in Washington DC, helping to make Americans safe from terrorism and to build a transport system in the US capital that sets new standards in access for people with disabilities.
In her day job, Kristin works in federal government for the Federal Emergency Management Agency (FEMA) in the US government's Department for Homeland Security, where her role is in transit security grant work. She previously worked for the Obama administration as confidential assistant to the Chief of Staff for the National Endowment for the Arts.
Separately, she is chair of the Multimodal Accessibility Advisory Council for the city of Washington DC.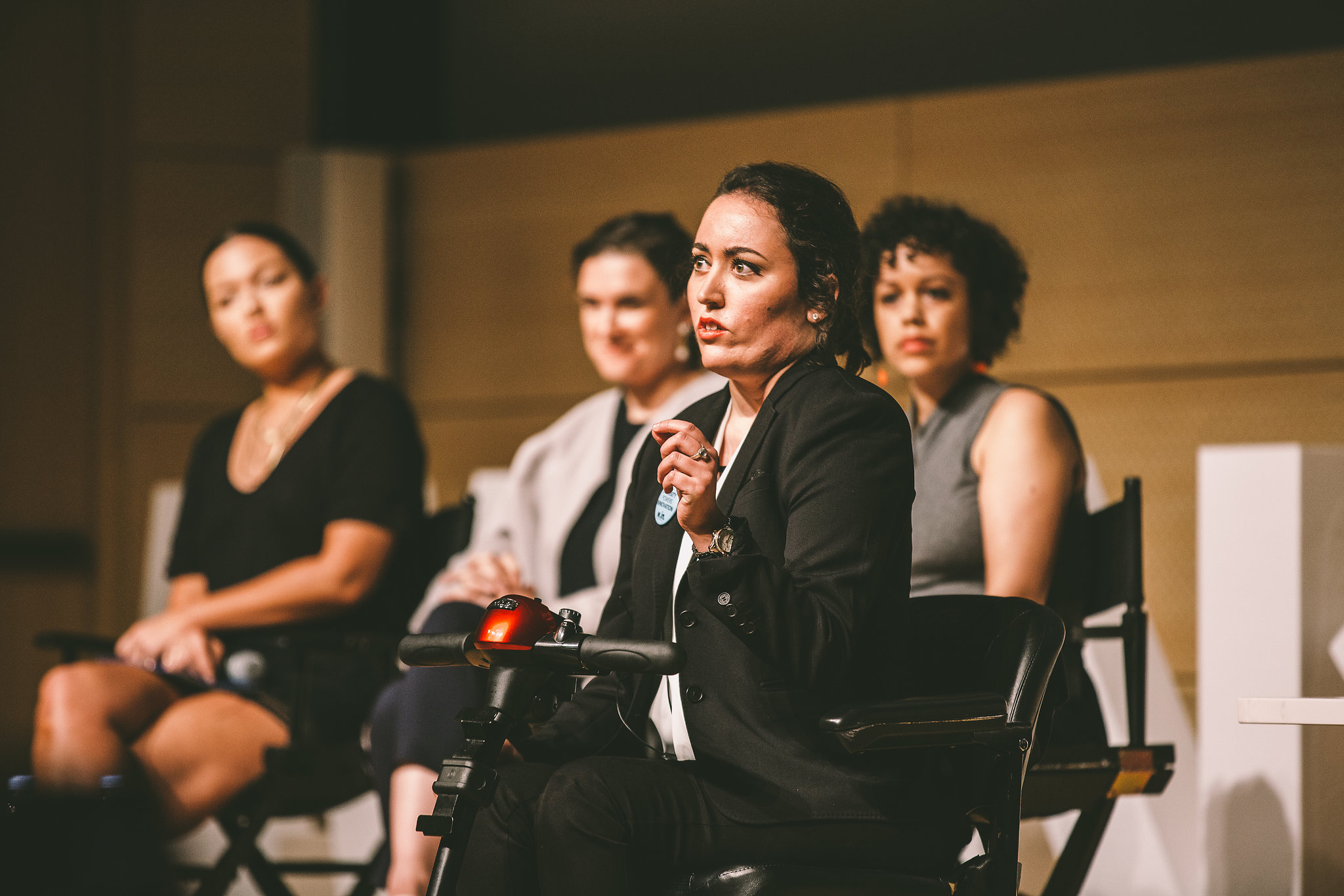 Alongside her athletic career, Kristin, who was diagnosed with Muscular Dystrophy at the age of nine, has a long history of activism in improving conditions for people with disabilities. She earned her BA in human rights at Trinity College, Connecticut, and was named the Disability Mentor for the Clinton Global Initiative University.
While she achieved recognition as a five times American Paralympic swimming record holder and a former United States team captain, she says she feels a calling to public service. "I believe that in federal government the bottom line should not be to profit but to help people, that's our end goal."
And she points out that the sheer number of people with disabilities is often unrecognised. "Just lately I was looking at a World Health Organisation statistic on people with disabilities - at a staggering 15.6 per cent of the global population this is the biggest minority on earth."
But discrimination contributes to worrying levels of unemployment among this population. "According to the Organisation for Economic Co-operation and Development unemployment rates are at 56 per cent, compared to 25 per cent for non-disabled men and women," says Kristin. "That is staggering. And the numbers have not improved since I first looked them up as a senior student in college, if anything the gap has increased."
"I am sitting here today reflecting on the inherent power of being a disabled woman in this world. [...] Your influence IS your power." ~ @KristinDuquette at #WIN18

@RKolbeSemhoun pic.twitter.com/mw2yF6uLvt

— One Young World (@OneYoungWorld) May 21, 2018
Improving public transport access is a part of helping to create a fairer jobs market and society.
Kristin's work with the Washington DC Department of Transit covers a remit to advise on local transit, public space sidewalks, ramps, bikes, parking meters and the layout of bus stops.
Since she arrived in DC in 2013 she has been impressed by the city's attitude towards people with disabilities. "DC is kind of a disability mecca for transit and getting around, although I say that with a caveat because every disability is different," she says. "This is the most accessible city on the East Coast of the United States and the metro system is great compared to the one in New York City. But there's always room for improvement. We are strategising issues, collecting information, and being accessible to the public so that they know we are listening. For example, how are we making it safe for deaf people when they are riding a bike in this city?"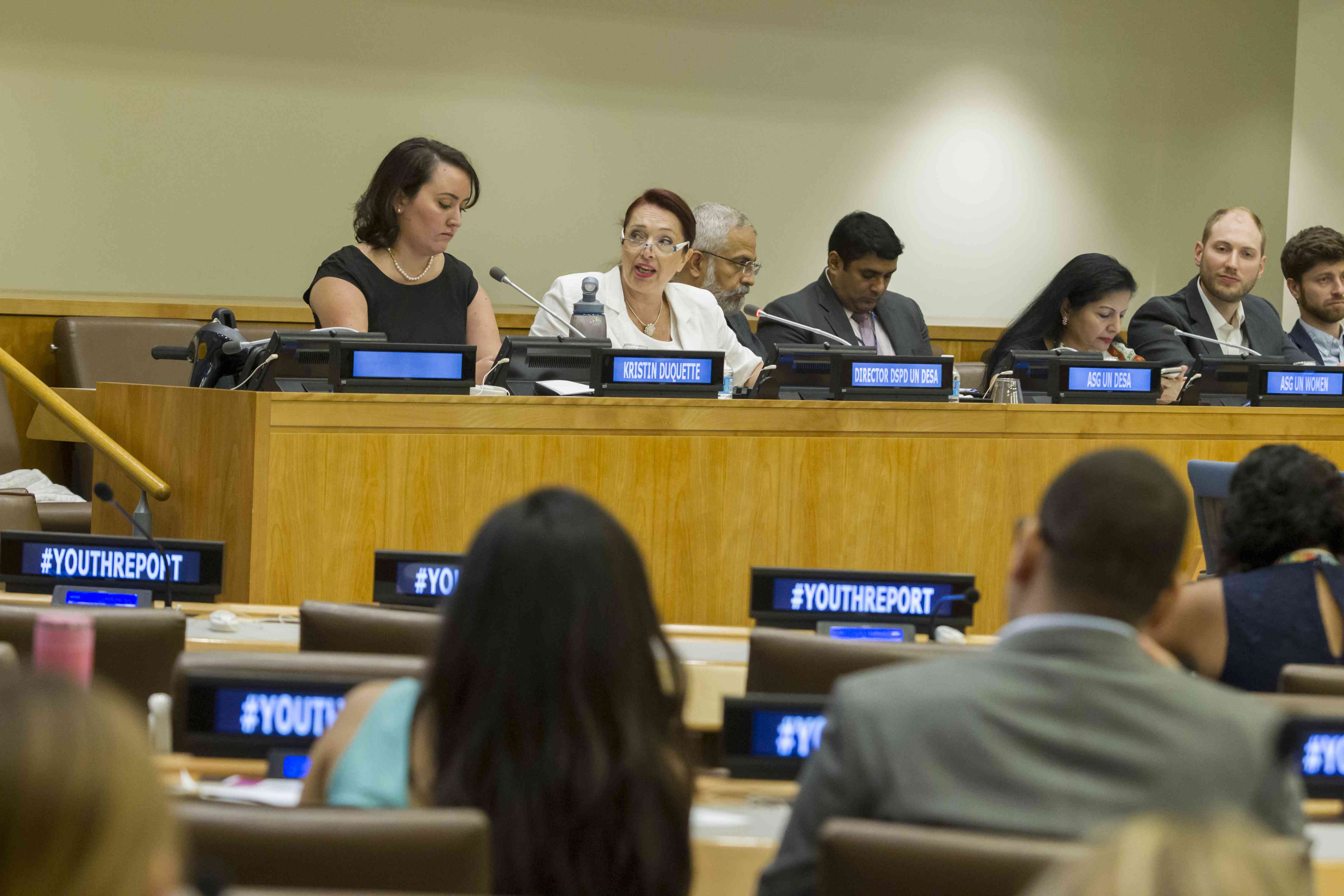 She believes that the composition of the council will help ensure its effectiveness. "All have disabilities of their own and bring something different to the table. So our council, which is the first of its kind, is empowering and I am proud to have been voted as its chair."
Such an approach needs to be more common in society, she argues, if people with disabilities are to get an even break in the work place. There is a "crucial need", Kristin says, "to have disabled people in senior roles that are not directly related to disability".
Her path to Washington has been a long one.
Her interest in politics began with an internship with the Senate majority leader of the Connecticut state legislature. She had her first experience of DC when, through the American Association of People with Disabilities, she was placed as an intern inside the US Senate on Capitol Hill.
After graduating she returned to Connecticut and for a while was unemployed, like so many disabled people in the OECD statistics. She moved to Boston and began working for a non-profit before, on the 25th anniversary of the Americans with Disabilities Act in 2015, she was invited by a mentor to an event at the White House. Just before Christmas that year she began work inside the Obama administration. Two years later she transitioned from that political role to her current non-political permanent federal position.
"Being disabled is an identity and a human experience," she says. "It's not contingent on the need or the want to be cured and no amount of walking or other able-bodied functions will ever change the value or worth of a human being. As a society we need to stop being afraid of disability."