For the past month, millions of people in Cameroon have been without the Internet - not because of a technical fault but due to a deliberate act of repression by the Government.
The blackout, apparently targeting the country's minority Anglophone population, has been condemned by United Nations Special Rapporteur David Kaye as an "appalling violation" and a breach of international law.
It is also economically disastrous, as it affects the country's tech hub, Buea, a city in south-west Cameroon which is often referred to as Silicon Mountain because it has been tipped to emulate Nairobi, Cape Town and Lagos as one of Africa's great centres of digital innovation.
"This Internet blackout in the English-speaking regions of Cameroon came after the massive unlawful arrests of civilians, including minors, [a government clampdown which] failed to put an end to peaceful protests against the marginalization of the English-speaking minority," says One Young World Ambassador Madelle Kangha, 26.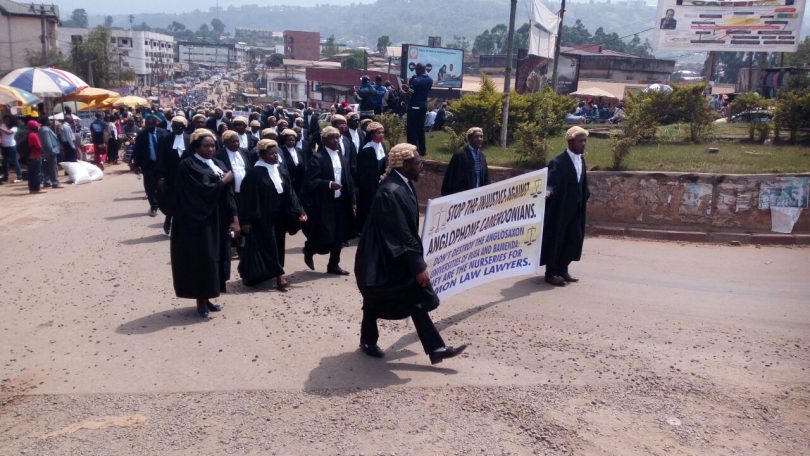 Kangha is co-founder and president of Jumpstart Academy Africa, a social enterprise which provides secondary school students between the ages of 15 and 19 with real world, hands-on learning. She is frustrated that the blackout has not provoked greater concern for the plight of a linguistic minority that comprises around one-fifth of Cameroon's population.
"When a government denies over 8 million citizens access to the Internet and censors free speech, there needs to be outrage! However, there is yet to be outrage from the French-speaking majority in Cameroon, the media and the international community."
Kangha says that the loss of Internet connection in Silicon Mountain (Buea's network of digital start-ups is based on the slopes of Mount Cameroon), was harming the career prospects of the country's young people. "The tech industry in Cameroon is now being crippled by the government when Internet infrastructure and job creation should be at the top of its agenda." She notes that Buea has grown into a tech hub despite the city's limited infrastructure and with little national government support.
Last month's Internet shutdown coincided with warnings by Cameroon's Ministry of Posts & Communications. Issued in a statement and in mass texts to mobile phone subscribers, they threatened jail sentences of up to 20 years for those deemed responsible for "malicious use of social media" or "spreading false news".
In November, more than 100 people were arrested in English-speaking areas of Cameroon, and one person was shot dead, during demonstrations over the use of French (which is the majority language in the country) in courts and schools in Anglophone areas. Lawyers and teachers have taken part in strikes over the same issue.
Another One Young World Ambassador, Tangwa Livinus Acha, says that the Internet had played a key role in conveying news of the "arbitrary" arrests, including those of prominent political activists Felix Agbor Nkongho and Fontem Neba. "The news went viral on social media. Later in the evening, the government ordered an Internet blackout in both [Anglophone] regions," he says.
Aside from "economic losses to start-ups, entrepreneurs and one of the biggest tech hubs in the country", the lack of an online connection has left communities with "highly limited access to information", says Acha, 26, a law graduate and human rights activist who works with the youth-led community development organisation Dynamic Youths for Better Tomorrow.
Nina Forgwe, the Executive Director of The Organization for World Peace, has said that schools have been shutdown, with nearly a term of education being lost. "Life here is characterised by abductions, arbitrary arrests and human rights abuses by government forces [which have] ensured the international community remains totally unaware of what is going on."  
Ruth Fongwa, founder of Redemption Education Initiative which combats orphan illiteracy, added to this notion, saying that the government has been sharing false images of school resumption. "After years of suffering, these [Anglophone] minority people stage a peaceful protest but are met with violence and ill treatment", she added. 
The blackout has even hit Africa's first winner of Google's annual global coding competition. Nji Collins Gbah, just 17 when he won the prize, has been forced to quit his hometown in north-west Cameroon and travel seven hours to the nation's capital, Yaounde, in order to get back online. "I wanted to get a connection so I could continue studying and keep in touch with Google," said Gbah, who is due to visit Google's Silicon Valley headquarters in June to meet its leading engineers. "I'm trying to develop my own model for data compression using deep learning and machine learning," he told the BBC.
Internet blackouts have become increasingly prevalent in Africa as regimes - including Ethiopia, Gabon, The Gambia, Morocco and Uganda - have sought to close down dissent.
Cameroon's linguistic divide is a legacy of colonialism and the division of a former German African colony into British and French areas at the end of World War One. In 1961, after the colonial powers withdrew, the Southern Cameroons voted in favour of joining a Cameroon state, while the Northern Cameroons became part of English-speaking Nigeria. In the 1990s, the Southern Cameroons National Council (SCNC), emerged as a secession movement but it has since been banned.
The situation is now so strained that another One Young World Ambassador spoke only on condition of anonymity because of fears of being targeted by the police. "Today, more than ever, we [Anglophones] are reminded that we have no civil liberties whatsoever. Death penalty charges, overnight abductions and mass arrests are to remind us to revert to where we belong - in the background, as second class citizens," said the source. "I can't utter a word in English in a Government office or taxi in Yaounde without getting weird looks or verbal reminders that I don't belong."
The latest developments have come as a surprise to Millennial age Cameroonians brought up to believe that historic divisions in society no longer applied. "We had been caught up in the 'unity' rhetoric and never really gave thought to the real structural inequalities that the system has perpetuated against this minority.
But the government's targeting of the Internet as a means of repression appears only to have strengthened the resolve of young civil rights activists. "I have been reminded that standing up and resisting oppression is what it takes to be heard," said One Young World's source. "And that's what we're doing."