The emergence of Emmanuel Macron at the front of the race for the French presidency is a direct result of the appeal of his pragmatic politics to a young generation of voters, it has been claimed.
The leader of the centrist En Marche! party is favourite to become France's next leader after winning the largest share of Sunday's first round vote. Macron will take on Marine Le Pen of the Front National in the final run-off for President on 7 May.
Speaking on One Young World's The Exchange, Macron supporter Marie Cipriani said that the former banker had made an asset of the new party En Marche! not having a political tradition and that he had created a new form of politics by not being bound to either a left-wing or right wing ideology.
"What a great way to turn a weakness into a strength!" she said. "I'm 21 years old and I have never felt like engaging myself in a political way but he gave me the opportunity to do so."
Cipriani, a One Young World Ambassador, told the internationally-renown French journalist Christine Ockrent that she had previously felt excluded from politics. "I was not thinking that I belonged to the right or the left, I was not finding my place until Emmanuel," she said.
The En Marche! leader has successfully connected with young voters through modern communication platforms, she added. "Emmanuel Macron found a way to engage with these people and let them express what they were feeling and using the same tools that we use in our everyday lives."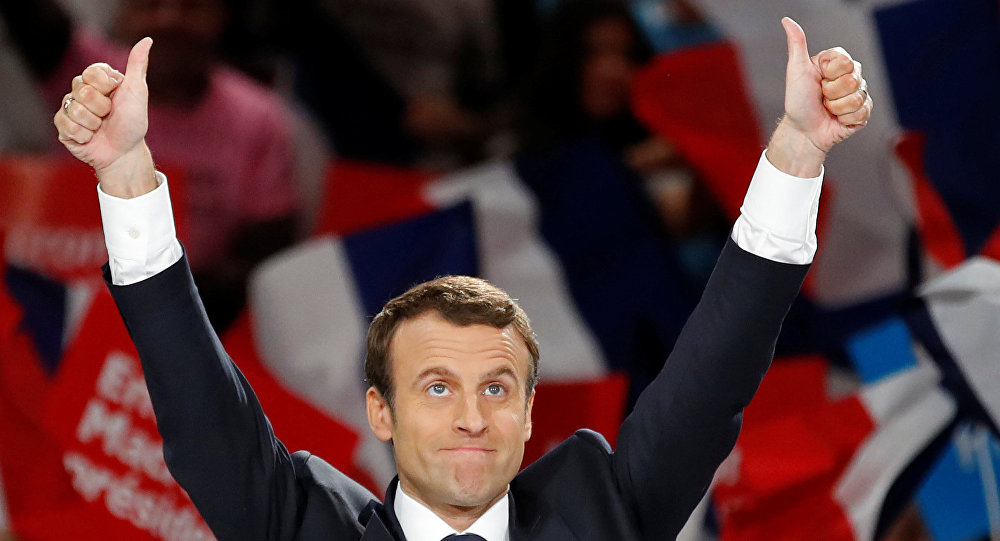 Macron polled 23.8% of votes in the first round, ahead of the far-right Le Pen, who took 21.5%. The centre-right candidate Francois Fillon and the hard-left Jean-Luc Melenchon each received just under 19% of the vote in a large turnout of 79%.
One Young World's The Exchange examined the appeal to young people of all four of these Presidential candidates.
David Masson-Weyl, a supporter of Front National, predicted that his party's success could have major implications for the future of Europe. "The most important point, symbolic point, of the political platform of Marine Le Pen is a referendum on the European Union. The United Kingdom had their Brexit a few months ago and [in] France with Marine Le Pen we want to implement the vote for Frexit."
Asked by Ockrent about the Front National's controversial hard line on immigration, Masson-Weyl acknowledged that there was a focus on "immigration, assimilation and radical Islamism" but said this was only a part of Le Pen's political programme. "We have to discuss a whole bunch of different issues during this campaign so it's normal for us to speak about immigration but we did a lot of meetings on Europe, the European Union, education, health, so we address every issue. And I don't think it's a bad thing to do, to speak or express opposition on immigration.
He argued that the "keystone" of Le Pen's position was "taking back control" of French laws, currency, budget and border controls from the EU.
Cipriani declared her support for Macron's backing for France's future commitment to the European project. "I'm completely pro-European and I was really quite upset to see that Europe was [blamed] as the reason of all our problems."
Macron's success in the first round prompted a surge in the value of the Euro.
Fillon and his Les Republicains party were represented in The Exchange debate by Clemence Boullanger, who argued that the centre-right leader offered the promise of "stability" after a period when French society has been alarmed by political upheaval in the US and UK, as well as terror attacks at home. "I am afraid that the election of a far-right leader...would spread divisions and bring demonstrations and instability as we have seen in the United States," she said.
Melenchon supporter Elsa Meyer claimed that the Unsubmissive France leader represented the best candidate for change after 30 years of mainstream parties which she said had produced ineffective and barely distinguishable policies.
This was the second edition of The Exchange, which aims to bring together young leaders from different sides of the political spectrum to debate and discuss serious issues in an open but respectful manner. You can watch the full episode below: