Two of Italy's leading stateswomen, Federica Mogherini and Stefania Giannini, alongside the Senegalese singer/activist Youssou N'Dour, joined One Young World Ambassadors on stage in Brussels to target new ways to fight global inequality.
The high-level discussion, hosted by the European Commission this week, was moderated by One Young World Ambassador Ilwad Elman, the Somali-Canadian peace activist, and featured contributions from other Ambassadors, including Ousmane Ba from Guinea and Lina Khalifeh from Jordan.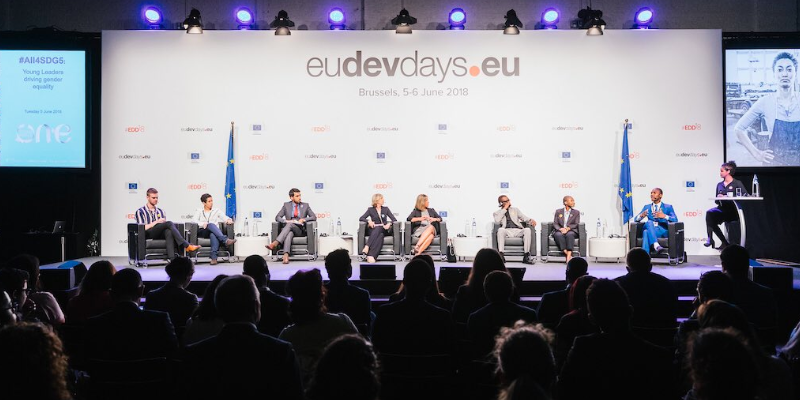 Ms Mogherini, who served as Italian Minister of Foreign Affairs, is the High Representative of the European Union for Foreign Affairs and Security Policy. Ms Giannini is a former Italian Minister of Education, Universities and Research and was recently appointed as Assistant Director-General for Education at UNESCO. Mr N'Dour, one of the world's most famous musicians, is also a human rights campaigner and has served as a Minister of State in Senegal.
The event titled "#All4SDG5: Young Leaders Driving Gender Equality" was part of the European Development Days, which took place on 5-6 June this year and annually brings together the global development community for the sharing of ideas and experiences.  The main thread of EDD 2018 was "Women and Girls at the Forefront of Sustainable Development: Protect, Empower, Invest". 
"We are freezing half of the potential of our economy" @FedericaMog #EDD18 #SheisWe #shEEDs pic.twitter.com/ScFYiaZMut

— European External Action Service - EEAS  (@eu_eeas) 5 June 2018
Ms Elman opened the young leaders session with a keynote speech. She is Director of Programs and Development at the Elman Peace and Human Rights Center in Mogadishu and is a young leader for Extremely Together, the countering violent extremism initiative led by the Kofi Annan Foundation with One Young World and supported by the European Commission.  The session was designed to help change mindsets and to implement everyday actions that will help achieve the UN's Sustainable Development Goal 5 of achieving gender equality for all women and girls by 2030. Discussions explored the four key topics of education, economic empowerment, gender-based violence and political inclusion.
Around 20 other One Young World Ambassadors travelled to Brussels to participate in the audience discussion that followed the initial contributions from the panellists. They included several One Young World Peace Ambassadors, young leaders who have been recognised and supported by the European Commission for their work in peacebuilding and promoting social inclusion around the globe. Other young leaders groups represented at the event include Young Mediterranean Voices, AU-EU Youth Plug-In Initiative and EDD Young Leaders.
Watch the full session here.