A new photoshoot of the global leaders who attended the One Young World Summit (OYW) in Bogota in October 2017 has been released in the latest issue of Vanity Fair UK. Written by former Secretary-General of the United Nations and OYW Counsellor Kofi Annan, the accompanying article addresses the key role young people play in building a peaceful, inclusive and sustainable future.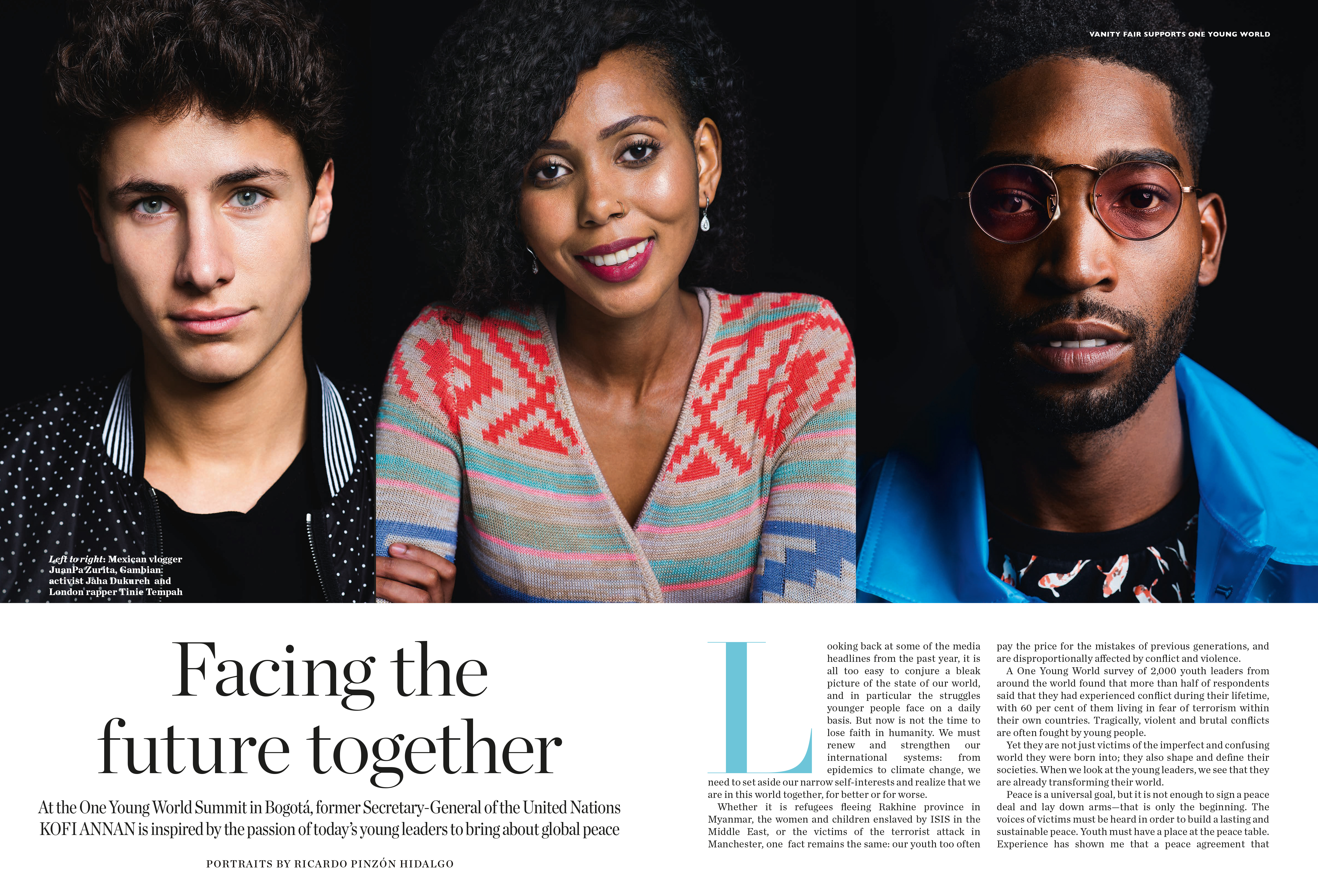 The feature includes photos of Kofi Annan himself, President Juan Manuel Santos of Colombia, Colombian legal reform campaigner Natalia Ponce de Leon, BAFTA winning director Stephen Daldry alongside British playwrights Joe Robertson and Joe Murphy, Dutch model Doutzen Kroes, British rapper Tinie Tempah and Bollywood star Nargis Fakhri all of whom spoke at the 2017 Summit.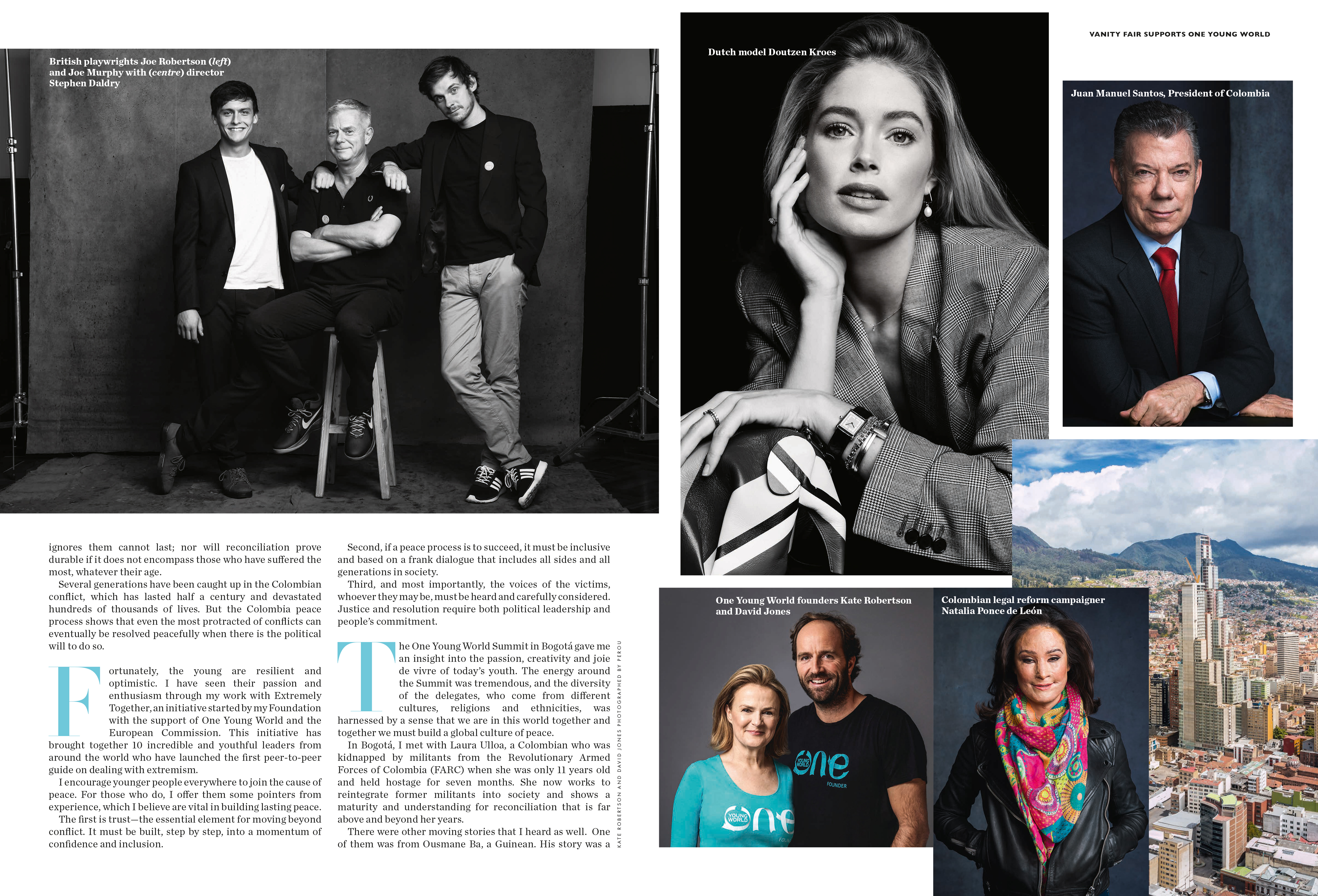 The feature also includes OYW cofounders Kate Robertson and David Jones and several OYW Ambassadors, including Gambian activist Jaha Dukureh, women's rights campaigner Trisha Shetty, LGBT activist John Edison Restrepo, FARC kidnap victim and peace campaigner Laura Ulloa, social media entrepreneur and humanitarian Jerome Jarre and Mexican blogger Juanpa Zurita.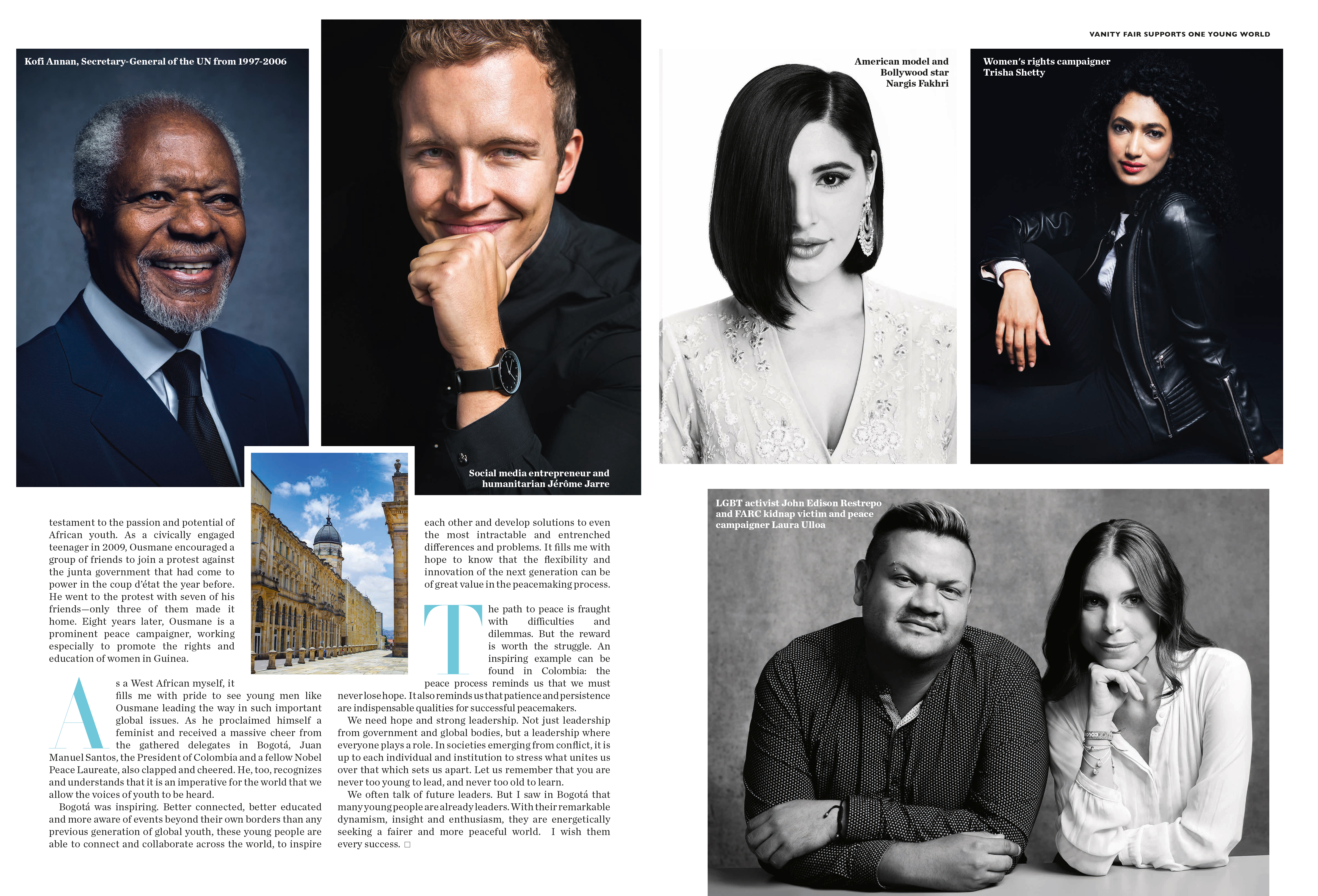 The portraits were taken by critically acclaimed photographer Richard Pinzon Hidalgo.
The 2017 One Young World Summit, which took place in Bogota from 4 to 7 October, gathered 1,300 young leaders from more than 190 countries around the world to discuss worldwide challenges alongside world-leaders from across the globe, and to share and generate innovative solutions to the world's most pressing issues.
Young people are not just victims of the imperfect and confusing world they were born into; they also shape and define their societies...young leaders are already transforming their world. https://t.co/68vwHybU1h @VANITYFAlR @OneYoungWorld @Xtremely2gether

— Kofi Annan (@KofiAnnan) April 5, 2018
In great company. Thanks @OneYoungWorld & @VanityFairUK https://t.co/v6j7rb5tVp

— Nargis (@NargisFakhri) April 6, 2018
V.F. photographed @TinieTempah at the @OneYoungWorld Summit, which brings together some of the world's most valuable young talent to address the problems facing the next generation. https://t.co/JTfs1Fm1oV

— Vanity Fair UK (@VanityFairUK) April 6, 2018
Found myself in amazing company in this month's @VanityFairUK. So honoured to be featured alongside these stellar humans from @OneYoungWorld.https://t.co/0fn7E6MihF pic.twitter.com/yfWvVVFCsD

— Trisha Shetty (@TrishaBShetty) April 5, 2018