Young leaders from the seven Muslim-majority countries whose citizens have been banned from entering the United States by Donald Trump have called on young people worldwide to make a stand against the controversial policy.
When Mr Trump made the controversial order, Libyan One Young World Ambassador Hajer Sharief was in New York City attending a high-level debate at the United Nations on sustainable development and peace. "This ban identifies me as a terrorist," she complained.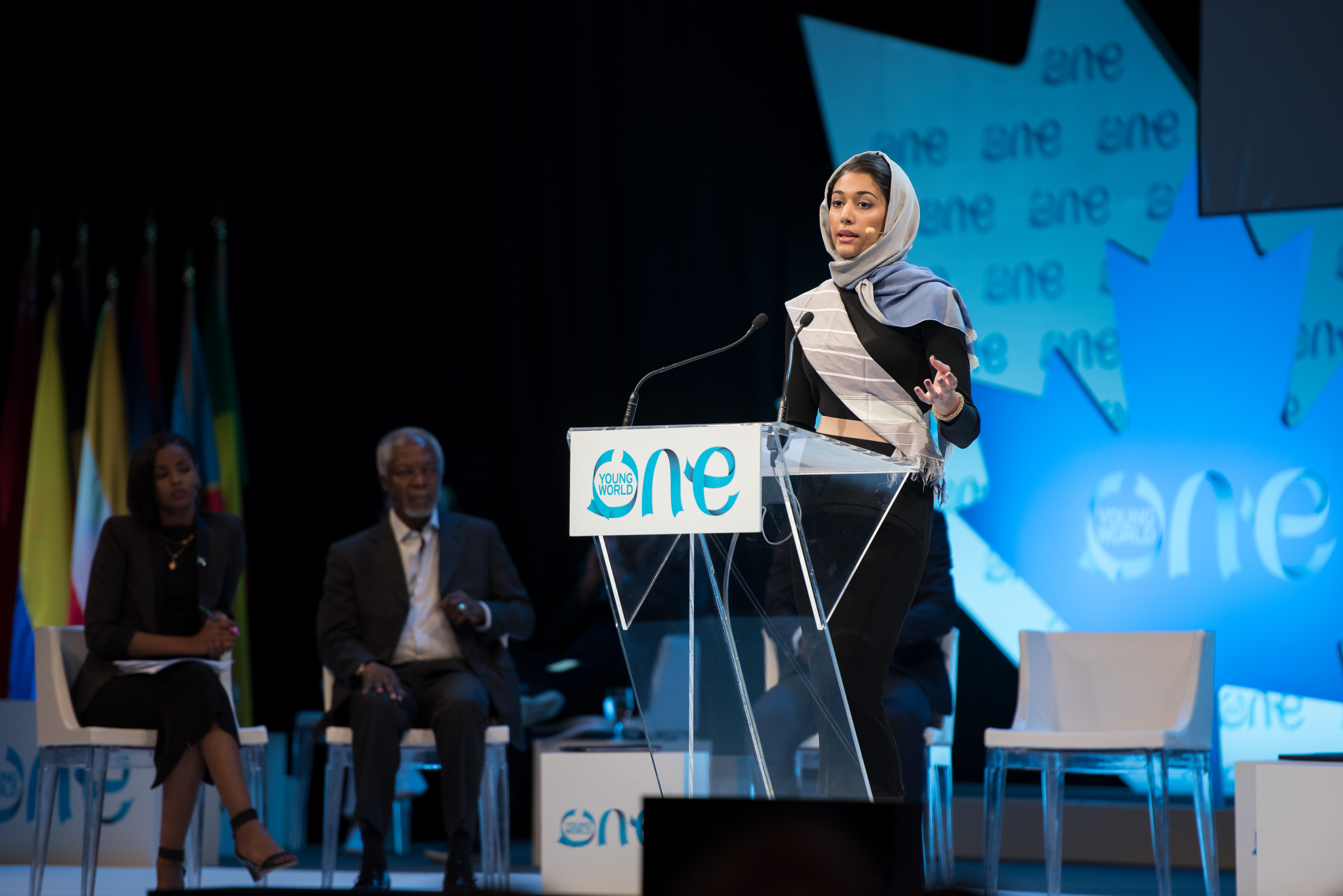 Ironically, Sharief, 24, (pictured above) had been invited to the UN by the General Assembly to share her knowledge of peacebuilding and countering violent extremism on the ground in Libya. "When I woke up the next morning I was shocked by the news," she said. "I find it ironic that we still live in a world where men in suits sitting in an office can with one signature identify millions of people as terrorists."
Sharief, co-founder of the Together We Build It peacebuilding organisation in Libya, was among delegates at One Young World 2016 Summit last September in Ottawa, where she spoke on counter-extremism projects. She told delegates that she is sometimes treated like a terrorist when travelling on her Libyan passport. "I didn't expect the day would come so soon when that would become official policy," she said after Mr Trump's announcement.
The US officials behind the travel ban have "no idea of what's happening on the ground" in the countries being stigmatised, she said. "The majority of people in these seven countries are non-violent. There are people who are courageously working on preventing violent extremism every day of their lives. The international community should support them - not identify them as terrorists."
She called on people around the world to "be an activist" and fight the ban. "This is a day where ordinary people need to take a stand as this is not a political issue, this is a humanity issue. Americans and the rest of the world have to decide either to love or to hate. People should view this as a violation of humanity.
The ban "is an extreme discrimination on my country", said Narges Shariati, an Iranian One Young World Ambassador.
"Iran has always been under International sanctions and pressures, inflicting lives of innocent Iranians," said Shariarti, 32. But this time, by this visa ban order, our dignity as human beings has been disrespected. The lives of many Iranians - including my cousins and friends who study and work in the U.S - could be affected drastically. Here in Iran, I feel more isolated as this order could affect other countries' visa policies as well. We all want a peaceful world but this is not achievable by humiliating certain nationals."
Iraq-born Amir Ashour, 26, founder of the Iraqueer LGBT+ support group and a refugee now living in Sweden, (pictured below) said such a blanket ban was "a direct violation of international human rights standards" and would have lasting consequences for international relations. "It will directly fuel hatred, exclusion, and division which will feed terrorism. Families, LGBT+ individuals, students, companies, activists and many others will suffer as a result of such extreme and hateful decisions."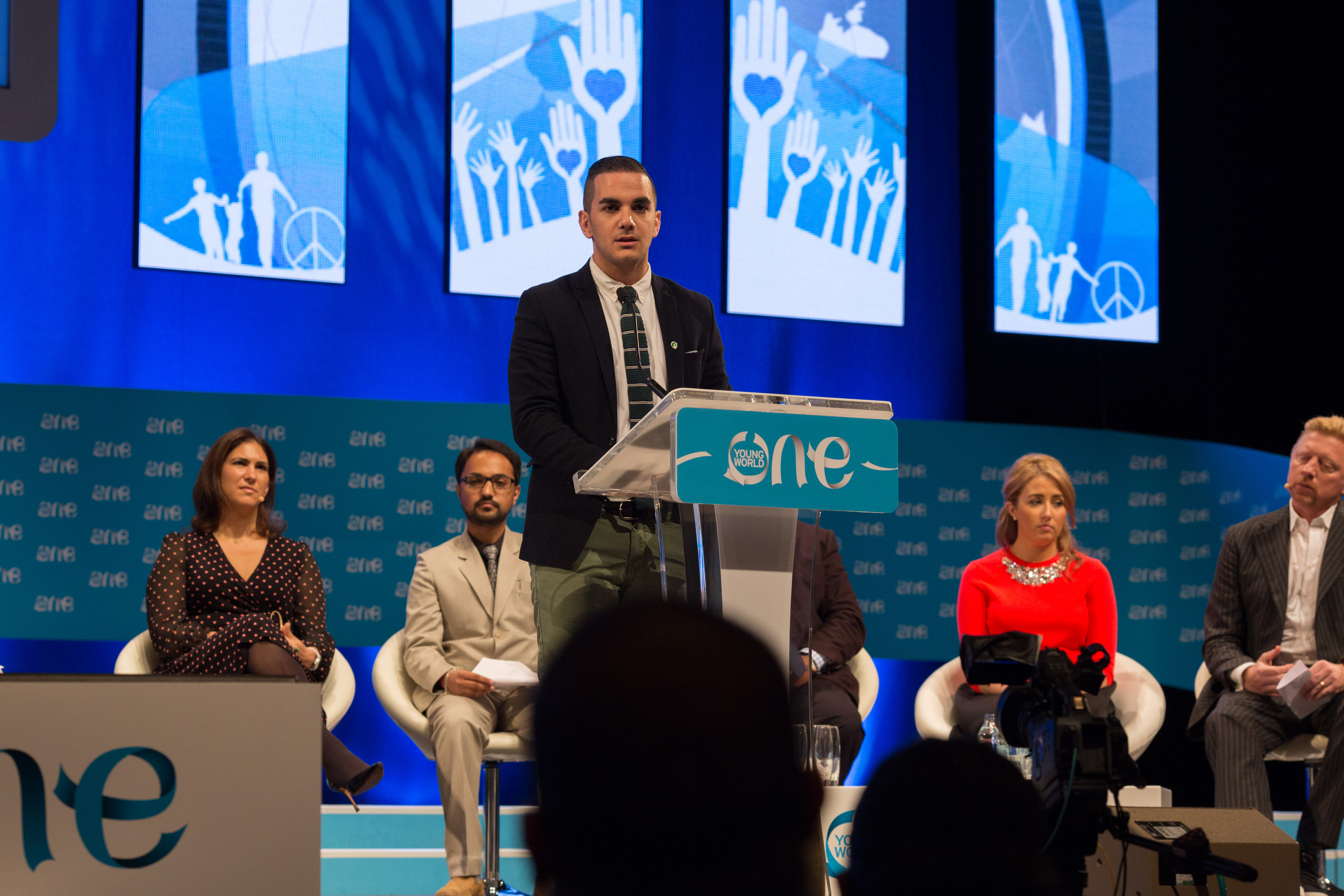 But he claimed that the fight against discrimination would be strengthened too. "We need to be extremely passionate and dedicated to turn our disagreement into actions. Those right-wing extremists might be gaining more power, but so are the progressive groups."
Ala'a Jarban, a Yemeni One Young World Ambassador, was also "shocked" by news of the ban, and concerned for the future of his sister, a refugee in the US. "Being a Yemeni was already burdensome as I cannot remember an instance where I was not harassed and questioned in airports just because my country of birth made me a possible threat," he said. "My sister and I were thrilled about planning a reunion in New York City after not seeing each other for over five years due to the ongoing war in Yemen. This plan now seems far-fetched."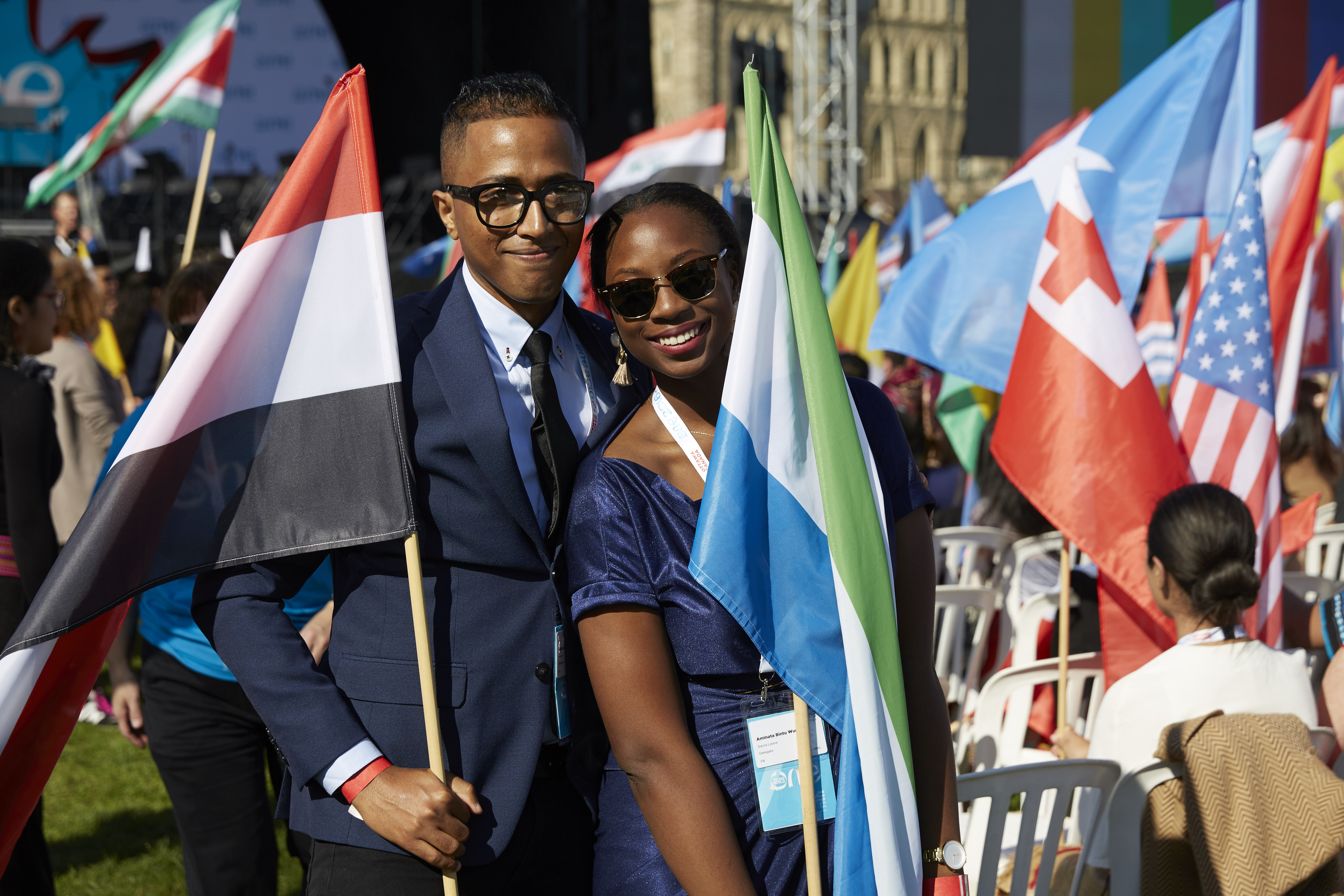 Jarban, 28, (pictured above) said his sister is "scared" to go outside the United States because "once she leaves, she can't return back to the country she has called home for the past seven years".
Despite having previously experienced war and persecution, he described the past weekend as "the hardest and heaviest days of my life", a mood compounded by "the xenophobic shooting (which killed six people on Sunday) at a mosque a few hours away from where I am currently living", in Canada.
But he said he remained convinced that humanity would prevail. "I find a glimpse of hope in the way people came together to stand up for each other. This is the only way for us to overcome hate; we have to address it first, hold each other's hand and find ways of resistance."
The visa ban is "racist and discriminatory" said Guled Ibrahim, 29, a Somali refugee now living in Minnesota, United States (pictured below).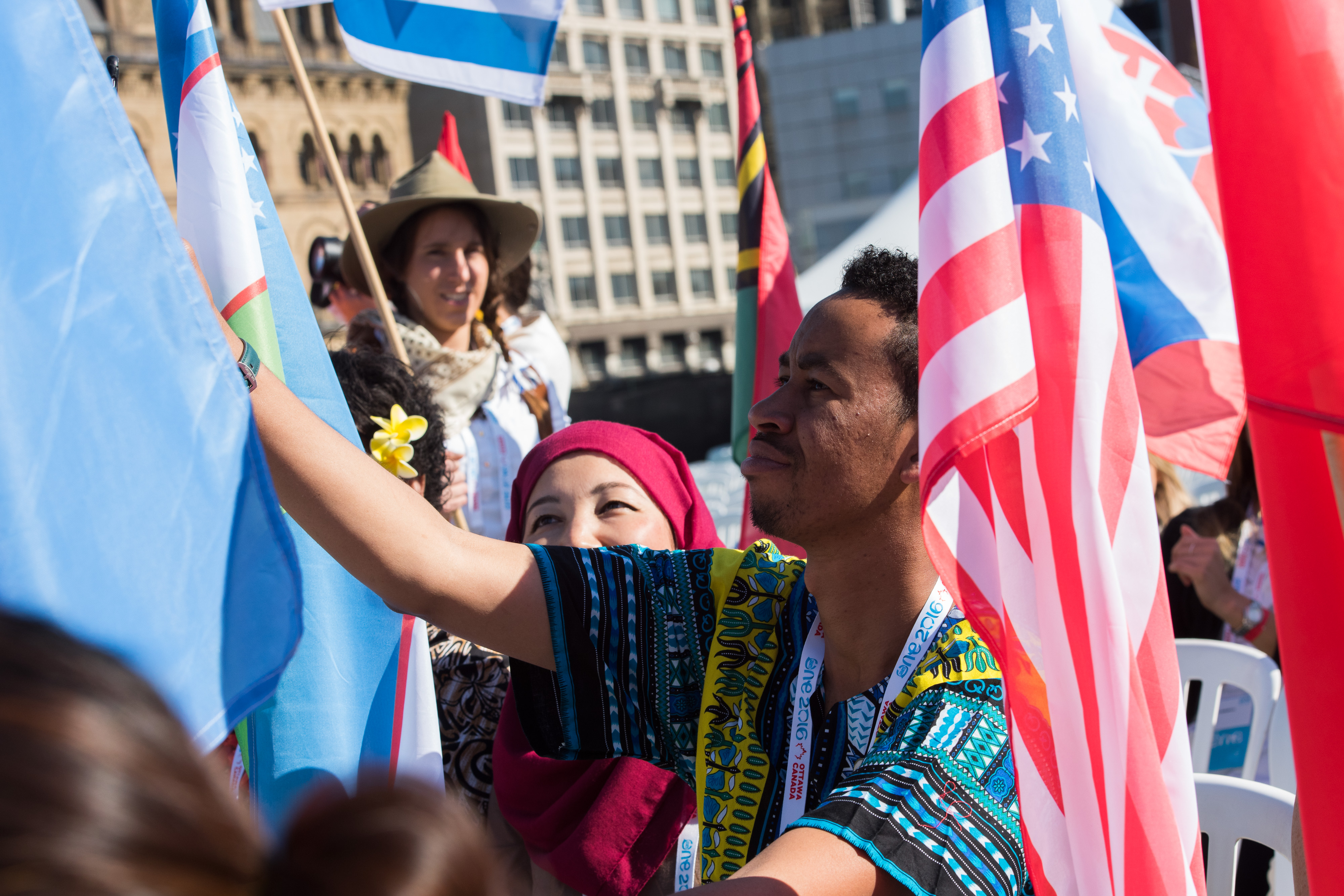 "If Trump had his way 11 years ago—when my family and I were refugees in Kenya waiting to be resettled in America—I may have never had the opportunity to become a law abiding American citizen and pursue my dreams of becoming a lawyer," he said. "This policy shuts the door on my family and friends who are still refugees and who were waiting to be resettled in American legally."
Ibrahim fears that his relatives and friends living as naturalised citizens in Europe, Australia and Canada will not be able to visit America "simply because they are Muslim of Somali origin". The ban, he said, was "unAmerican, unconstitutional, and ill-advised".
Other young Americans also have concerns over the effects of the policy. Lourdes Rivery, 28, a One Young World Ambassador from Washington DC, said: "This is a self-inflicted wound in the fight against terrorism. Our most important allies have been, and will continue to be, the vast majority of Muslims who reject ISIL (Islamic State). Let us not forget that it is Muslims themselves who suffer most at the hands of this radical, extremist group."
Among the millions of people who could be affected by the visa ban is Hani Al Moulia, 23, a Syrian refugee now living in Canada and a member of Prime Minister Justin Trudeau's Youth Council.
In a passionate address to the One Young World 2016 Summit in Ottawa, Al Moulia advised delegates to place to one side their ID cards and reconsider the place that they "call home".
The One Young World Summit brings together young leaders from 196 countries with the aim of empowering them to bring positive change around the world. Obtaining so many different visas for the travelling delegates is always one of the biggest challenges in staging an event of such international scope.