Hyppolite Ntigurirwa interviewed on the BBC for his #BeThePeaceWalk
Hyppolite Ntigurirwa spent 100 days walking across his country to mark every day of the 1994 Rwandan genocide https://t.co/IxvkrHnba1 pic.twitter.com/2fy04l5FfA

— BBC News Africa (@BBCAfrica) July 26, 2019
When Hyppolite was seven years old he saw this father killed during the 1994 Rwandan genocide. Since then, he has become a key advocate of peace and genocide/violence prevention. This year is the 25th anniversary of the genocide and Hyppolite has just completed the 100 day #BeThePeaceWalk across Rwanda.  His walk aims to halt the intergenerational transmission of hatred. To listen to the whole interview, click here.
Fernando Rangel's Refugio 343 initiative has successfully adopted 10 refugee families in Brazil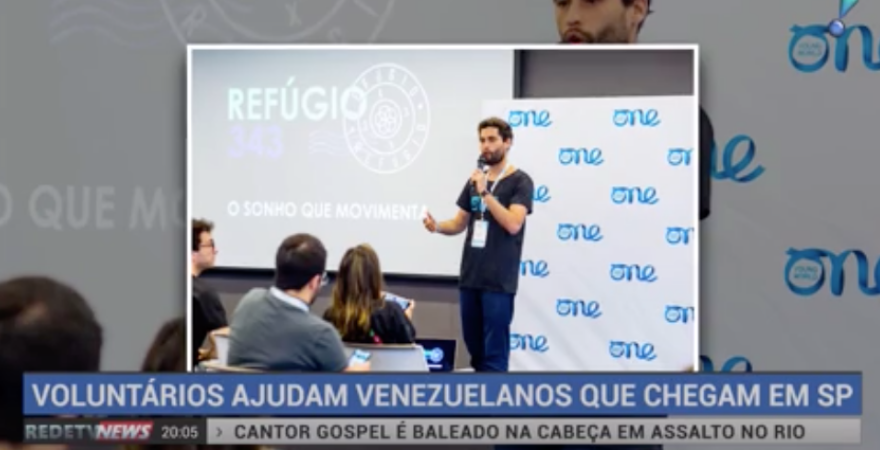 Refugio 343 is a social movement that is organically giving a new life to 10 Venezuelan refugee families taking them from the misery of the streets in the border to a whole new life, including house, work, medical care and education, following a sustainable process to independence. This initiative was born from an informal talk from OYW Ambassadors and their work has already impacted 10 Venezuelan refugee families. Refugio 343 has become a social business with an end goal to bring 100 families in 2020. To read more about their incredible initiative, please click here
Hayley Mulenda has been chosen as a Rare Rising Star 2019
Thank you @UniKent for covering this. Going back to university was probably the hardest decision I made last year and I'm happy I chose Kent!  https://t.co/juUAcvRTKK

— Hayley Mulenda (@HayleyMulenda) July 25, 2019
Rare Rising Star is an annual awards ceremony that celebrates the top ten black African and Caribbean university students in the UK and aims to share positive stories and inspire the next generation by providing them with access to role models. Hayley has been chosen as a Rare Rising Star 2019 because of her work in the field of mental health. She is the author of the book The ABCs to student success, which interlinks the alphabet, psychology and life lessons to ensure that students are able to deal with different circumstances that will enhance their successes not just academically but in life.  Read more about Hayley's nomination here.
Rimla Akhtar successfully launched the #GetOnBoard Programme at Wembley Stadium to prepare women for board level positions
Tuesday night was epic for a number of reasons. The #Lionesses were playing their 3rd straight semi-final, 11.7m tuned in to watch it (highest TV audience for 2019) – & we @RimJhimConsult launched our ground breaking #GetOnBoard programme at the Home of Football @wembleystadium pic.twitter.com/S3Zb1gv0Ko

— RimJhim Consulting (@RimJhimConsult) July 4, 2019
Rimla is the Founder of a leading sports development consultancy called RimJhim Consulting as well as the Chair of the Muslim Women's Sports Foundation.  Due to her huge contribution to equality and diversity in sport, she was ranked 14th Forbes Global 2019 Most Influential Women in Sport. The #GetOnBoard initiative was created by RimJhim Consulting and supported by Sport England and Perrett Laver to prepare 13 women for board level positions. The 10-month initiative will provide professional training and targeted seminars to 13 Black, Asian and Minority Ethnic Women.
Isaac OIufadewa speaks at the SIMBI Health Outreach Program in Lagos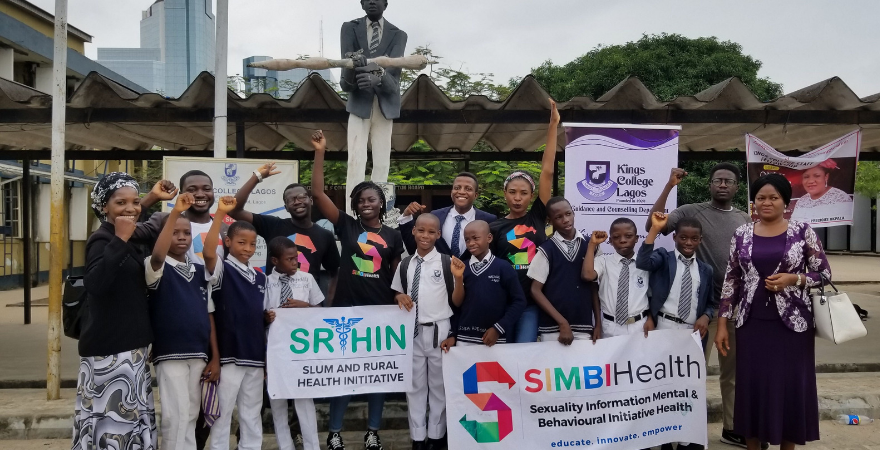 On Wednesday 24th of July, volunteers from the Slum and Health Rural Health Initiative (SRHIM) organised a Health & Career interactive session for over 600 junior secondary school students at King College Lagos. Dr.Isaac Olufadewa, who is the OYW Coordinating Ambassador for West Africa and also the Founder of the Slum and Health Rural Health Initiative(SRHIM), a registered youth-led  non-profit organisation that ensures access to healthcare information and services in Nigeria and Africa through an innovative  ART ( Advocacy, Research and Technology) approach. He encouraged the students to take physical and mental health seriously in order to not fall prey to drug abuse, unprotected sexual intercourse and sexually transmitted diseases.
OYW Ambassador Mia Perdomo and Andrea de la Piedra featured on BBC News
¡Somos noticia en la BBC de Londres! @MariaPerdomoZ y @andreadlpg ahora son parte de las 101 personas/ideas que están cambiando la forma como trabajamos Felices que nuestro mensaje este llegando a más países, generando cambios positivos en la sociedad https://t.co/8DlwSuNWUR

— Aequales (@aequalesla) July 24, 2019
Mia and Andrea's work advancing gender parity in Latin America has been featured by BBC News. They are the Founders of Aequales, a company that ranks Latin American companies by gender equality and provides workplace training on gender. Aequales already has locations in Peru and Colombia and the two entrepreneurs are eager to expand to Mexico later this year. To read the article, click here
Dehydys Pimentel launched the Pride Network at BP Spain
Dehydys launched the Pride Network on the 4th of July in BP in Spain. The event was aimed to provide inclusive behaviours and promote respect around the LGBT+ community and it was a huge success with around 60 attendees.  Dehydys Pimentel is the Senior Midstream Business Developer for BP and also the chair of the Diversity & Inclusion team of BP. She is passionate about providing equal opportunities in the workplace and she has made huge strides in BP.
Fadeia Hossian speaks on The Lens podcast
The Lens host, Oli Barrett, meets Nicki Clegg, Chief Technology Officer of law firm Irwim Mitchell and Fadeia Hossian, Lawyer at Clifford Chance and OYW Ambassador to discuss technology, their respective background and challenges on how to make business more accessible. The podcast was called "The robots are coming: how tech, law and accessibility intersect in the world of business". To listen to the whole podcast, click here.
Previous 
Achaleke Christian Leke named Among 35 Vision of Global Changemaker
Achaleke has been named among 35 leaders in the world recognised by the Chevening Scholarship Program of the Foreign and Commonwealth Office for his contribution to youth development and involvement in preventing violent extremism. Achaleke is a youth civil activist and peace advocate that volunteers as the National Coordinator of a youth-led civil society organisation called Local Youth Corner Cameroon. To read more about his nomination, click here.
One Young World Lagos featured in the Nigerian Tribune 
OYW West Africa held the Lagos Caucus on the 13th of July. The caucus was themed "Better Innovation, Bette Future". The event gathered around 150 leading policymakers, experts and young leaders who participated in an intergenerational dialogue on how to ensure sustainable innovation and promote policies that will guarantee equitable access to healthcare, education and opportunities in West Africa. The event was a huge success and was featured in one of Nigeria's most important newspapers, the Nigerian Tribune. To read the full article, click here.
Andrea Ngombet will speak at the 23rd Forum 2000 Conference
The Forum 2000 Foundation pursues the legacy of Vaclav Havel by supporting the value of democracy and respect for human rights, assisting the development of civil society, and encouraging religious, cultural and ethnic tolerance. Since 1997, the Forum 2000 organises an annual conference that attracts a number of prominent thought leaders, Nobel laureates, former and acting politicians as well as business leaders. Andrea Ngombet is a young activist and corruption fighter who is currently running for President of the Republic of Congo. He has been invited to speak at the 23rd Forum 2000 Conference.
Adulai Bary has won the "Young Leader of the Year Award for Technology"
Adulai Bary has received the "Young Leader of the Year Award for Technology" awarded by the West African Leadership (WAL) Summit. WALSUMMIT is a platform designed to discuss leadership in West Africa. Adulai Bary is the Co-Founder and CEO of InnovaLab, an accelerator located in Guinea Bissau that focuses on social impact sectors such as Education, Agriculture and Healthcare. He is also the Founder BIGTechnologies which is a start-up that offers IT support for sustainable development solutions in Guinea Bissau. 
Saeed Atcha appointed as Her Majesty the Queen's Deputy Lieutenant of Greater Manchester at The Royal Household
Saeed Atcha, 22, has become the youngest recipient of an MBE in Her Majesty the Queen's 2019 New Year's Honours List for services to young people and the community in Manchester. Saeed is an advocate for youth development, through the advancement of education with regards to the media and business sector. Saeed founded Xplode Magazine, bringing in over 250 volunteers, and training over 4,000 young people in employability, media, business and life skills. He also sits on the Greater Manchester Expansion committee of His Royal Highness the Prince of Wales' Step up to Serve programme, where he assists in the strategy and planning for the campaign.  To read more about his appointment, please click here
Sophie Kanza has been named one of 100 GLOBAL Most Influential People of African Descent
Sophie Kanza has just been named 100 GLOBAL Most Influential People of African Descent Class of 2019 as part of the United Nations International Decade for People of Africa Descent 2015-2024. Sophie is an international peace activist and speaker, her projects aim to educate and advocate for reduced inequalities for migrants, refugees and asylum speakers. Her Afrophobia Awareness video #Singabatu- We Are Human was the only African winner at the UNAOC Plural Migration Festival 2017 and has been screened in over 4 continents.
Willy Missack spoke at the United Nations Headquarters 
Willy Missack spoke at the United Nations on "Inclusive national policies in the face of climate change: towards a rights-based approach to the implementation of SDG13". Willy Missack is currently the Coordinator of the Vanuatu Humanitarian Team (VHT) in Oxfam.
Meg Zeenat Wamithi has been chosen as a Rare's Rising Star 2019O
Rare Rising Star recognises and celebrates extraordinary candidates. Each year, they showcase the achievements of the best black students in the UK. Meg has been chosen as a Rare Rising Star 2019 because of her work in the field of mental health. She is the Founder and Director of My Mind Matters Too, a student-led health consultancy that aims to positively add to the discussion of mental health.
Mohammad Kanfash writes an article in The Guardian about starvation tactics used in Syria
Mohammed has just recently published an article about the bombing and burning of fields as a starvation tactic in Syria. Human Rights Watch estimates that the death toll since the war in Syria began can be as high as 511,000 but there are no reliable statistics of the number of deaths due to starvations.  Mohammed states the following "While accountability may be hard to assign, identifying criminal responsibility in environments spanning wide jurisdictions is the bread and butter of international criminal law. There should be no excuses for not pursuing justice". Mohammad Kanfash is the Founder and Director of Damaan Humanitarian Organization, a non-profit, development organisation working in Syria that offers medical care, education, food assistance and emergency relief to those affected by the war. In his article, he makes a call for the starvation crimes to end. Read the full article here.
Hasan-Abo Shally gave a Tedx talk - "Why I slept behind a fridge for two years"
Hasan is an impact-driven social entrepreneur technologist who is passionate about exploring social impact technology. At a very young age, he self-taught himself software development and sold his first application while in high school. He is also the Founder of Hasoub, a grassroots NGO paving the way for the coming generation of Arab tech-entrepreneurs and working towards creating a more productive Arab Society. To listen to his whole Ted Talk, click here
Diane Paredes will attend the World Economic Forum in Tianjin thanks to her company Suade Labs being elected as a Technology Pioneer
The World Economic Forum has just chosen Suade Labs as a 2018 Technology Pioneer. Technology Pioneers are early-stage companies from around the world that are involved in the development and deployment of new technologies, which are poised to have a significant impact on business and society. Notable examples of past Pioneers include Google, Twitter, Dropbox and Transferwise. Suade Labs is the first RegTech Company to offer regulation-as a-service to automate regulatory compliance for financial institutions, its mission is to prevent the next financial crisis. Following Suade's selection, Diana Paredes, CEO and Co-Founder of Suade Labs, will be participating in the World Economic Forum Annual Meeting in Tianjin. To listen to the full interview, click here.
Yolanda Joab Mori addresses the UN at the opening session of the High-Level Political Forum (HLPF) on Sustainable Development held at UN Headquarters in New York
The HLPF is focused on tracking the progress of the Sustainable Development Goals since its implementation 4 years ago. During the opening session, Yolanda stressed the need to close the disconnect between governments and grassroots to translate the 2030 Agenda to action on the ground. She also highlighted the importance of investment in science, technology, engineering, and maths (STEM) so people can become problem solvers. Yolanda Joab Mori works on climate change education issues for the International Organization for Migration in Chuuk, Federation States of Micronesia (FSM). To read the full report, please click here.
Asiya Mohammed has been recognised by Her Majesty Queen Elizabeth II as the 100th Commonwealth Point of Light in Honour for her work supporting survivors of sexual violence.
Asiya is the Founder of Conflict Women Ltd, which helps survivors of sexual and domestic abuse rebuild their lives through entrepreneurship. Over the past 5 years, Conflict Women have trained over 70 women of who 25 are financially independent with their handcrafted jewellery. The Commonwealth Point of Light Nomination is part of the legacy of Her Majesty The Queen of thanking inspirational volunteers across the 53 Commonwealth Nations for the difference they are making in their communities.
Spandana Palaypu spoke at the World Forum for Foreign Direct Investment in Sydney
Spandana Palaypu was a key speaker at the World Forum for Direct Investment in Sydney, Australia. The panel discussion focused on Industry 4.0, the change in the future of the workforce and talent retention given the rapid growth of technology.  Spandana is the Founder and CEO of ZoEasy, an online platform that bridges the gap between employers and blue-collar workers. Her start-up is addressing the gaps in the UAE market via disruptive technology.
Fatoumatta Kassama was elected as Vice President of the National Association for Gambia Nurses and Midwives 
Fatoumatta is the Founder and Director of Eye Care for All, a community-based organisation that provides free home-based community eye care services for the less privileged. She is also the Founder of Prospect for Girls, a not for profit organisation that empowers women and girls through vocational skills training an educating them on non-communicable diseases and sexual reproductive rights. Her incredible work has led to her election as the Vice President of the National Association for Gambia Nurses and Midwives.
Neeshad Shafi spoke at the Global Landscape Forums in Bonn Germany
The Global Landscapes Forum is the world's largest knowledge-led platform on sustainable land use, dedicated to achieving the Sustainable Development Goals and Paris Climate Agreement. As director of the Arab Youth Climate Movement Qatar (AYCMQA), Neeshad is making a greater call for climate action by bringing together young men and women to join hands to fight climate change. He believes that "radical collaboration" is the only solution to protecting nature.
Andrea Ngombet interviewed by the Centre for Opening and Development of Latin America (CADAL)
Andrea was interviewed by CADAL on the issue of human rights in Congo Brazzaville. During the interview, Andrea discusses the lack of democratic practices in the Congo and the undemocratic reign of President Nguesso over the past 3 decades. Andrea recently announced that he will be running as president of the Republic of Congo in the coming 2021 elections. His presidential campaign "Incarner l'espoir" (incarning hope) proposes a collective vision for a true emergence of the Republic of Congo. To listen to the full interview, click here.
James Thuch Madhier work was featured in the book 'Limitless' 
Limitless is a book that identifies and highlights the contributions and leadership of young leaders who are enacting social change. The book was launched at The Resolution Project's  Young Leaders  Now Award Dinner in New York City. James' work was featured in one of the chapters in the book.  James is the Founder & CEO of The RainMaker Enterprise, a social enterprise that implements solar-powered water infrastructure to build healthy and resilient communities in Africa.
Emad Badi interviewed on France24 on the recent strikes in Tripoli
Emad Badi was interviewed on France 24 where he discussed the recent strikes on migrants in Tripoli and how the recent events will affect conflict resolution in and around Tripoli. Emad Badi is currently working at the Middle East Institute Countering Terrorism and Extremism Program.  
Muzzammil Syed has created an engaging video called "Precipice"
Muzzammil Syed has created a new video called "Precipice", the aim of the video is to build engagement on the UN sustainable development goals and create awareness of the issues. To see the whole video, please click here.
Hussain Manawer performs at Glastonbury
Hussain Manawer is an OYW Ambassador and an advocate for mental health. To date, he has spoken to over 14,000 students on a vast array of topics from cyberbullying, to mental health and to careers and opportunities that students have in their near future. His career as an artist and performer first started at Sofar Sounds, an intimate space where artists perform a listening room, but now he will be performing at Glastonbury. Even Richard Branson, Founder of Virgin Group, has shared a story of Hussain's success on LinkedIn. To read more about Hussain Manawer, Sofar Sounds and Glastonbury, click here.
Victoria Beckham just shared a post with Sinead Burke 
Victoria Beckham is a big fan of OYW Ambassador Sinead Burke and the work she does for inclusivity. Sinead Burke has made big strides when advocating for inclusivity in fashion. She has not only walked on the MET Gala but is also a contributing editor of Vogue. Her conversation with Victoria was about what ways they can use their influence to ensure inclusion!
Kehkashan Basu delivered a keynote address at Stanford University and meet George Shults, former US Secretary of State  
Kehkashan delivered a keynote address at the "Accelerate Peace" conference at Stanford University on the topic "Voices for a World Free of Nuclear Weapons". She shared the work of Green Hope in empowering marginalised children and the urgent need for world leaders to stop wasting money and resources on building nuclear stockpiles and instead work towards poverty eradication, education, health care, human rights, mitigating climate change and sustainability. Kehkashan's message was very well received and she had the honour to address an audience that included former US Secretary of State, George Shultz, Special Advisor to the Secretary General of the U.N., H.E. Adama Dieng, former White House Advisor, David Gergen and former US Secretary of Defence, James Mattis.
Congratulations to Oliver Rieche who has been awarded a highly competitive Fellowship to the Turkey Europe Forum 
Oliver is a trainee solicitor at Reed Smith LLP in London and he also co-chairs the firm's LGBT+ network 'PRISM'. He has a keen interest in civic society as he represented the German youth as Head Delegate during the G20 youth summit, is a One Young World Ambassador; as well as, a Global Changemaker.  He has just gotten elected as a 2019 fellow at the Turkey Europe Forum. The Turkey Europe Forum is a project of Stiftung Mercator in cooperation with TUSIAD, under the patronage of Federica Mogherini, the EU High Representative for Foreign Affairs. The forum brings together dedicated young leaders from Turkey and Europe exchange ideas!
To learn more about the Turkey Forum and other candidates, please click here.
Meg Zeenat Wamithi, George Imafidon and Oscar Anderson receive The Diana Award
Meg, Oscar and George have recently joined the prestigious Diana Award Cohort. The Diana Award was established in memory of Diana, Princess of Wales, to reward a young person aged 9-25 for the social action and humanitarian work. Meg is the Founder and Director of My Mind Matters Too, a student-led health consultancy that aims to positively add to the discussion of mental health.  George Imafidon is the Co-Founder of Motivez, a mobile application that aims to build a brighter future for young people through events, the app is a personalised platform for young people aged 16-25 to explore their interests by providing easy access to high-quality career-enhancing events in London from arts to technology and entrepreneurship. Oscar Anderson is a campaigner for disability rights and inclusion. He has lobbied for standard testing to measure levels of bilirubin in the blood of new-born babies in the UK. His campaign has inspired the launch of Project Oscar, an initiative working to make simple photo-therapy available to treat neonatal jaundice in rural Vietnam.
Hyppolite Ntigurirwa's #BeThePeaceWalk went live on BBC Bristol with John Darvall 
Hyppolite is a survivor of the 1994 Rwandan Genocide against the Tutsi. He has become a key advocate of peace and genocide/violence prevention. His current initiative, Be The Peace, aims at halting the intergenerational transmission of hatred. His #BeThePeaceWalk is a 100-day walk across Rwanda commemorating the 25th Anniversary of the 1994 Rwandan Genocide promoting peace throughout the nation.
Sougourounama Henri Kabore has just been recruited by Oxfam in Burkina Faso as their Peace Building Advisor
Upon a 6-month selections process, Henri has just been recently recruited by Oxfam as a Peace Building Advisor. As an expert in the peacebuilding process, Henri will have to lead the implementation of both national and multicounty programs with partners in Mali and Niger. Henri is also the Founder of "Burkina Faso Youth Interfaith Network", a non-profit organisation to boost sustainable peace and development to tackle terrorism in the country. He also has over eight years of experience focusing on youth empowerment, peacebuilding, and health promotion.
OYW Managing Director Ella Robertson and OYW Ambassador Rosie Warin both featured in 35 Women Under 35 in Management Today.
Rosie Warin is the Founder of Kin&Co, a management consultancy focused on diversity and sustainability. Her consulting firm has beat off competition and won clients such as Tripadvisor, Danone and BT. Kin& Co with an all-female leadership team is set to turn over 2.6 million this year.  Ella Robertson is the Managing Director of One Young World, the global forum for young leaders. She is also the Founder of W1 Debates and represented Scotland at the World Debating Championship. Read the full article here
Kumba Liliana Musa represents the Government of Sierra Leone at UNICEF headquarters.
Kumba recently attended an Artificial Intelligence (AI) and Children's Rights workshop at UNICEF HQ in New York. The workshop looked into exploring what governments and organisation are doing in terms of AI policies and strategies to protect and promote children's rights. Kumba Liliana is the Founder and Executive Director of a non-governmental organization called STEM Women Sierra Leone. Her organisation is not only improving STEM education across the country but is also increasing women participation in the STEM fields.
Sheree Atcheson recognised as WeAreTheCity (WATC) Rising Star
WATC is a leading women's website for careers, awards, women in tech, networking and events. Sheree Atcheson is currently a consultant at Deloitte UK and is also the UK leader for Women Who Code, a non-profit organisation dedicated to eradicating gender bias through a number of initiatives such as hack nights, tech talks and career training. Sheree has been listed as one of the UK's Top Most Influential Women in Tech and an international multi-award winner for her services to Diversity & Inclusion in the industry.
Evan Barnard featured in Inside Philanthropy for building inclusive nature trails
Evan Barnard was one of the winners of the 2017 Diller Tikkun Olam Award. The Diller Tikkun Award is a $36,000 grant for Jewish teenagers who are impacting American Society. He won the award for his project repairing and creating braille walking trails in his hometown in Georgia. Thanks to Evan's work, the blind and the visually impaired can enjoy nature trails independently with the help of braille, regular signs and guide ropes.  His site, Nature for the Blind, lists more than 200 braille trails and sensory garden in 35 countries.  Please read the full article here.
OYW Ambassador, Enass Abo-Hamed, and OYW Counsellor, Mr. Suphachai Chearavanont, will co-chair the World Economic Forum's Annual Meeting of the New Champions (AMNC) 
The 13th edition of the AMNC will take place in Dalian, China from 1rst to the 3rd of July. The theme of this year's meeting is Leadership 4:0: Succeeding in a New Era of Globalization. Participants will pool ideas as they seek to achieve sustainable, inclusive growth in a global economy. Enass Abo-Hamed and Mr.Suphachai Chearavanont will co-chair the forum and they will play a vital role in shaping the agenda of the meeting.  Enass Abo-Hamed is a researcher and entrepreneur in energy storage facilities. She is the Founder and CEO of H2GO Power, a cleantech company that develops hydrogen energy technology in order to access zero-emission and reliable power supply for millions across the world. Mr.Supachai, an OYW Counsellor, is the CEO of Charoen Pokphand (CP Group), one of the largest agro-industrial conglomerates, consisting of 100 companies throughout 21 countries. He is also a member of the Thai government's Independent Committee for Educational Reform and he established True's CSR initiative, which brings together communications technology and innovation to enhance education for underprivileged children in 6000 schools in Thailand. Read the full article here.
"Meet Oscar Ekponimo: a software engineer, technologist, and CEO of Chowberry Inc" – The Sagagist
Oscar's work has just been featured in Sagagist News, a Nigerian newspaper. Oscar is a software engineer, social and technology entrepreneur. He is the Founder of Chowberry Inc, a cloud-based software application that alleviates poverty, reduces food waste and makes nutritious food available to the most vulnerable at a discounted price. Chowberry connects with supermarkets, grocery stores and NGO's and alerts them on expiry dates of products and shelves, these products are picked up NGO's and then distributed to the most needy. To read the full article, please click here
Farida Asgarzade addresses the YouthSpeak Forum 2019 in Azerbaijan  
YouthSpeak Forum aims to unite leaders of different professions and engage them in dialogue. The forum was co-organised by AIESEC Azerbaijan Youth Organization with the support of the Ministry of Youth and Sports. Farida Asgarzade is a key advocate for education and she has implemented new teaching methods at Baku State University. At the forum, she presented the Canvas Business Models.  Read about the event, here
Rina Chunga Kutuma featured in Glamour Magazine 
Vodacom Durban July (VDJ) is Africa's greatest horseracing event.  VDJ is also renowned for the exhibition of fashion events that highlight the build-up to race day. This year's theme is Stars of Africa and in keeping with the theme, Award-winning Kenyan photographer, Osborne Macharia undertook a shoot with South African designers, of which one of them was Rina Chunga. Rina Chuga is the founder of Ri.CH Factory, an African contemporary and lifestyle brand. Rinas has pursued her passion for African cultural conservation through fashion and building community conversations.  Rina was listed in Forbes Africa's 2018 30 under 30 and Destiny magazine's 40 Under 40.  Read the full article here
Finance Matters interviews Luke Davies  
Luke Davies, OYW Ambassador and Vice-President Group CEO at Barclays and Co-Founder Barclays Green Banking Council has just been featured by Finance Matters. In the article, Luke Davies talks about the development of a Green Bank within Barclays.  When asked about how t the idea? He answers the following "Our clients demanded it of us – we continue to be assessed by our clients on the basis of our own carbon footprint and the need to support their ambitions to adapt to a low carbon world". Read the full article here
Eldon Holder organised the True North Strong: Anansi Storytelling Canada Day Experience
In partnership with Tribe 1 and Young Leaders Advisory Council, Canada Day 2019 will present the first ever True North Strong: Anansi Storytelling Canada Day Experience featuring a series of interactive storytelling workshops, exhibits and Afrocentric community performance. Eldon Holder has been key in organising the event. Eldon is the founder of Ottawa Young Leaders Fund and Co-Founder of the Youth Leaders Advisory Council for Black History Ottawa. Based in Ottawa, Eldon aims to address urban disparities and improve the social, educational and economic advancement of visible minorities, aboriginals, and newcomers to Canada.
Events & Caucuses
Successful OYW Berlin Caucus!
Today we're joining young leaders at the #OYWBerlin Caucus, hosted by Deutsche Bahn, to hear from industry leaders about the changing economy, #sustainability & the rise of #intrapreneurship for #innovation. Stay tuned for updates! pic.twitter.com/OJg3jjhx59

— One Young World (@OneYoungWorld) July 25, 2019
The hugely successful caucus was hosted by Deutsche Bahn in Berlin.  The event gathered together industry leaders to discuss the changing economy, sustainability and the rise of intrapreneruship for innovation. The caucus accommodated around 80 participants and had very interesting speakers including Dr. Lutz who shared some insights into Deutsche Bahn and social business.
Check out the highlights of OYW Brazil Caucus!
Check out the highlights from the #OYW Caucus in São Paulo hosted by @JNJGlobalHealth & @InsidePMI

Young leaders convened for a discussion around #SustainableDevelopment addressing:

Human Rights
Climate Change

Political Renovation pic.twitter.com/yfrK4A8ne2

— One Young World (@OneYoungWorld) July 25, 2019
Held on the 29th of June, OYW Brazil held the Sao Paulo Caucus themed " A discussion around sustainable development". The event gathered young leae for a discussion around sustainable development addressing human rights, climate change and political renovation. The event was a huge success thanks to the organisation OYW Coordinating Ambassador Rafael Angelo, OYW Ambassador Laura Fatio, OYW Ambassador Fernando Raigel and the event's sponsor Johnson & Johnson.
Singapore Caucus "FinTech beyond finance"
The event was hosted by Standard Chartered in partnership with One Young World and was focused on answering the question "How are organisations using technology to power financial inclusion?". The caucus brought together like-minded young individuals who are interested to learn more about how technological innovation drives positive social outcomes, starting with furthering social inclusion. The event was a huge success! If you missed the event, you can catch the highlights by clicking on 
this link.
Rafael Angelo and other OYW Ambassadors successfully raise money to build houses for TECHO 
TECHO is a non-profit organisation that mobilises youth volunteers to fight extreme poverty in Latin America by constructing transitional housing and implementing social inclusion programs. Rafael Angelo, OYW Coordinating Ambassador for Latin America as well as OYW Ambassador Fernando Rangel successfully raised funds to build 6 houses for TECHO.  Given the success of their campaign, they had the opportunity last weekend to build one of the houses!
One Young World Lagos Caucus a success!
Held on the 13th of July, OYW West Africa held the Lagos Caucus, themed "Better Innovation, Better Future". The event gathered together leading policymakers, experts and young leaders who participated in an intergenerational dialogue on how to ensure sustainable innovation and promote policies that will guarantee equitable access to healthcare, education and opportunities especially for people in underprivileged communities. The caucus accommodated around 150 participants. The caucus was a huge success thanks to the organisation of OYW Coordinating Ambassador Isaac Olufadewa and the event's sponsors who were Novartis and  RB; as well as support from other OYW Ambassadors Olubunmi Odekunle.
Haiti Mixer!
The hugely successful Mixer was organised by OYW Ambassador Marc Alain and hosted at Banj in Port-au-Prince, Haiti. The Haiti Mixer brought together a mix of OYW Ambassadors and other young leaders to share stories, connect with other members of the OYW network and discuss upcoming opportunities with One Young World.
Mexico Caucus
On 5th July, OYW hosted a caucus in Mexico City at Facebook Mexico, bringing together OYW Ambassadors and other change agents to discuss public health, women's empowerment, technology, environment and corporate social responsibility. The caucus was organised by OYW Coordinating Ambassador Manuel Besares and joined by OYW Managing Ambassador Maria Villela.