NEW UPDATES
Ambassadors represent OYW at the Social Business Youth Summit
OYW is a Community Partner of Social Business Youth Summit, a global, youth forum organised by Shazeeb M Khairul Islam and Khalid Hossain. Ambassadors from Indonesia, Vietnam, Philippines and Bangladesh attended the event and participated in a meet-up and an exclusive dinner with Professor Yunus. Minh Tuan Ta from Vietnam also spoke on the main stage about his organisation, HELP International (pictured).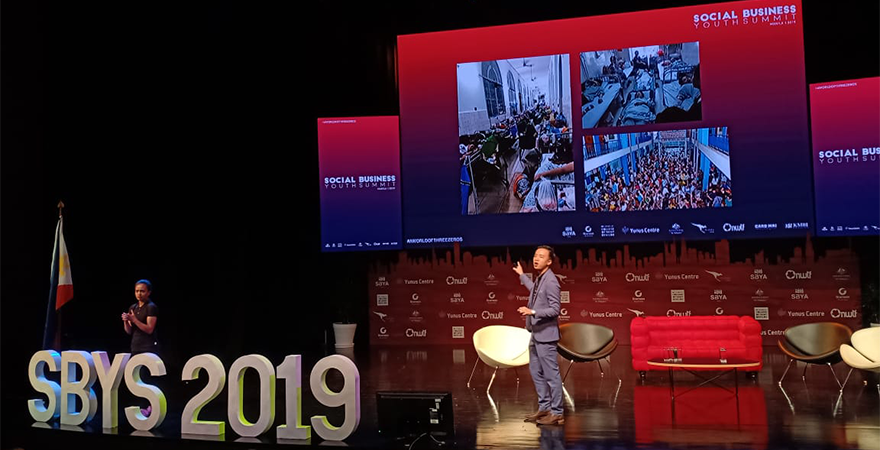 Neeshad Shafi included in the "World's 100 Most Influential People in Climate Policy" by Apolitical
Neeshad featured in the list celebrating the most important figures tackling climate change in 2019, published by Apolitical. He is included alongside prominent campaigners and advocates including David Attenborough, Greta Thunberg and Al Gore, and was recognised for his work as co-founder of the Arab Youth Climate Movement Qatar. See the full list here.
Two Ambassadors unite to launch innovative social enterprise in Kigali
Hayden Taylor (Unloc) and Jean D'Amour Mutoni (Acts of Kindness) have secured a grant for their new social enterprise from the Queen's Commonwealth Trust. The project will support, incubate and encourage up to 90 young people (aged 16-35) from Kigali to explore social enterprise over the course of a 12-month period starting in July 2019.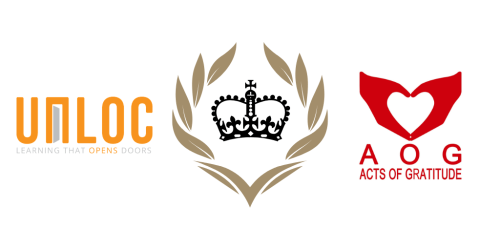 Ilwad Elman meets with Presidents of Djibouti and Somalia
Peace activist Ilwad Elman met with President Guelleh of Djibouti, and President Farmajo of Somalia. She convened with the state leaders in her capacity as Director at the Elman Peace and Human Rights Centre in Mogadishu.
Jemima Lovett seeks improved Domestic Abuse Bill
The UK is introducing the first Domestic Abuse Bill in the world, however, there remain flaws in the legislation. Jemima is running a campaign to extend the Bill and perfect it. Support the campaign here.
Alexandra Philp Reeves presents at SXSW19
For the third time, Alexandra took to the stage at the Texas-based conference. In one sitting she spoke to the audience alongside Lexi Kaplin, as the co-founders of conversationHEALTH. She also sat on a panel alongside other female leaders in the industry, to discuss Female Founders in Health Tech.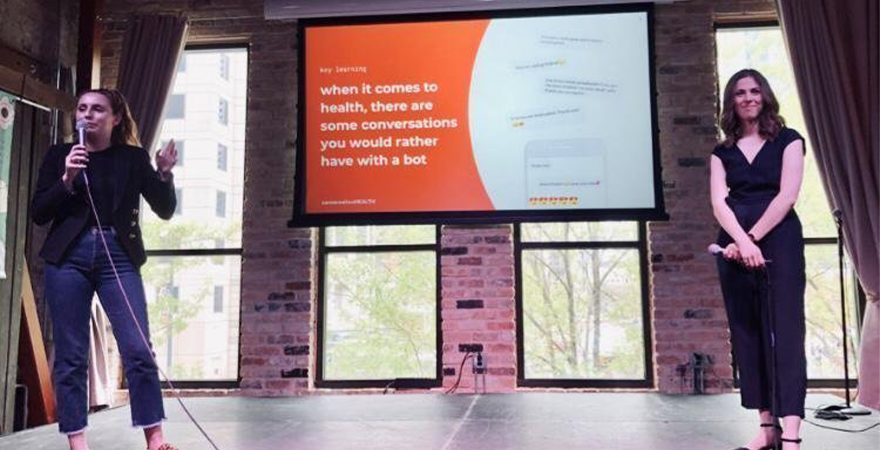 Jennifer Pfister selected to represent Germany at Youth 7 Summit
Jennifer has been chosen as part of the German delegation at the Youth 7 summit, prior to the G7 summit this summer in France. During the Y7 summit, young changemakers will formulate policy recommendations regarding inequality for the G7 heads of state. As a representative for Economic Inequality, she is excited to work together with young people from the G7 countries and discuss innovative ideas to combat inequality.
Grigor Yeritsyan elected to Yerevan City Council
Following the Velvet Revolution in Armenia last year, the country held its most free and fair democratic election in the modern nation's history. Grigor was elected as a Member of the City Council in Yerevan, as part of the growing participation of young leaders in Armenian politics.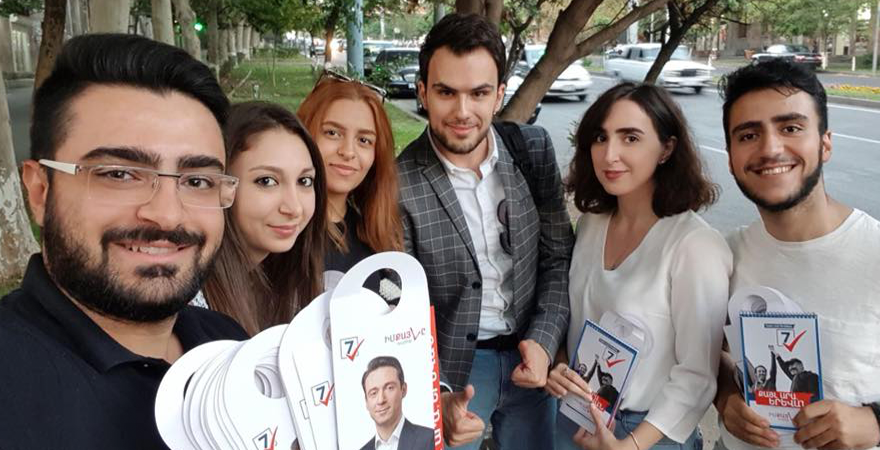 WIllice Onyango advises on HP Foundation's participatory budgeting resources
Willice was involved in the implementing organisation, designing new resources for the Hewlett-Packard Foundation to invest in participatory budgeting projects around the world.
EBAA Ambassadors attend AGM in Brussels
One Young World Ambassadors, along with various colleagues from the aviation industry, gathered in Brussels for the European Business Aviation Association's AGM. They met with many senior figures including Adam Twidell, CEO and Founder of PrivateFly (pictured).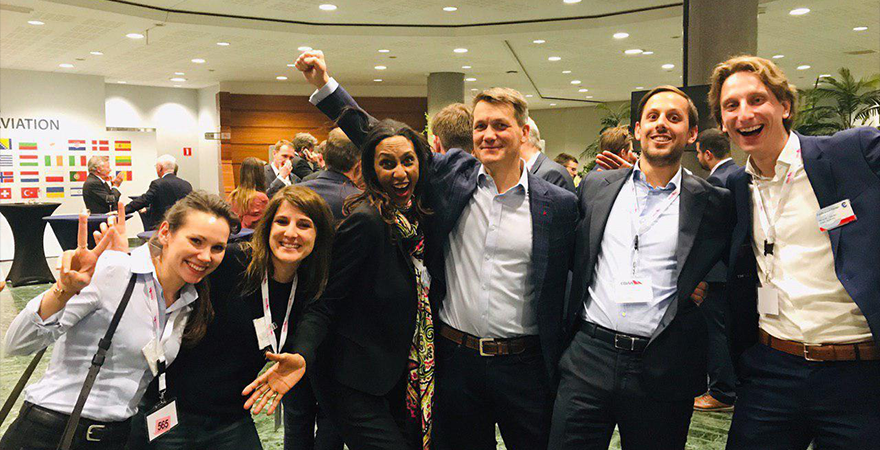 Arash Bordbar interviewed on Sky News
Arash discussed the challenges faced by young people in Western Sydney on Sky News Australia, in the lead up to the People's Forum debate at Western Sydney University.
Ambassadors speak at TEDx events
Ahmad Nabeel gave a TEDx talk in Oman, his second speech with the organisation.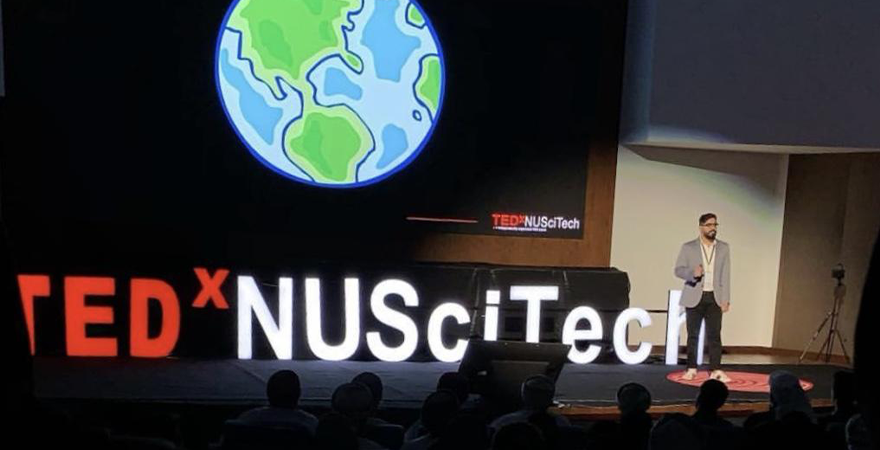 Meanwhile in the UK, Mike Omoniyi spoke at TEDxBradford on algorithms and online echo chambers.
Finally, Kriti Sharma gave the talk "How to keep human bias out of AI" at TEDxWarwick.
PREVIOUS UPDATES
Latin American Ambassadors assemble to celebrate "el Mes de la Mujer" in Colombia
Alongside "It Gets Better Colombia" and "SietePolas", One Young World Ambassadors in Colombia gathered to celebrate International Women's Month. Under the title "Juntas Hacemos Historia" (Together We Make History), Ambassadors and activists shared initiatives and stories to empower women, and show that there is no one way to be a woman.
Grace Forest rallies against modern slavery on International Women's Day
Grace draws parallels between the early feminist movement in America and the modern incarnation of slavery, typified by labour conditions in the fashion industry. Ultimately, she calls for action on widespread human rights violations which disproportionately harm women all around the world. Read more here.
Noorjahan Akbar featured in GAP's International Women's Day campaign
Noorjahan, women's rights advocate and writer, was the focus of GAP's Lead with LOVE campaign. It celebrates her work raising the voices of women in Afghanistan, promoting equality and sisterhood.
Salimatou Fatty and Ellen Chilemba demand action on gender inequality in Africa
In coalition with 43 other African activists and on International Women's Day, Salimatou and Ellen called for political leaders to go beyond platitudes and rhetoric and rectify the deep inequalities on the continent. Read the letter here.
Meg Wamithi raises awareness of Mental Health challenges for students
Meg has been busy recently, advocating on Channel 5 News for better mental healthcare in universities, organising and running My Mind Matters Too's inaugural spotlight event "Time to Talk Day", and campaigning at the University Mental Health Day. Watch an excerpt of her television appearance below:
The number of students struggling with mental health has increased 600% over 10 years. The government is launching a new dedicated taskforce.

We speak to two students about their experiences as well as Rachel from @StudentMindsOrg and Nabila from @nusuk 

1 of 2 pic.twitter.com/hGjBBJh2Is

— Channel 5 News (@5_News) March 7, 2019
Amanda Bartley judges Show Me the Green 2019
Amanda, as a representative of OYW and Unillever, was selected as a judge at the student-run conference in Toronto. The two-day event helps to shape business leaders of tomorrow and introduce sustainability into the business of today.
Two Ambassadors feature in TOP 30 Health Innovations for Africa
Dr Charles Immanuel Akhimien and Dr Gasana Joel were selected by the WHO in their list of the top 30 health innovations across Africa. Their work will be showcased at the WHA Africa Health Forum in Cabo Verde. Read more about it here.
Caroline Casey leads the #Valuable500 campaign
OYW counsellor Caroline Casey is behind the #Valuable500 campaign, driving to place disability rights at the heart of the corporate agenda. The movement has already received pledges from Virgin Media, Fujitsu, BraunAbility and Omnicom Group but there remains a long way to go in the fight for inclusivity. Watch Caroline's address below:
Caroline Casey—an activist who is legally blind—is calling on 500 companies to put disability rights at the forefront of their agendas. Learn more about Caroline and The #Valuable500 here: https://t.co/6GkOhOO6C3 pic.twitter.com/8YAB3fBkMG

— Mic (@mic) March 6, 2019
Susanne Baars recipient of prestigious NASA award
Susanne was honoured to receive a personalised badge from NASA. The founder of Social Genomics, providing lifesaving information via smartphones, was awarded the badge by the Program Executive for NASA itech.
Former Novartis CEO joins board of Gregory Rockson's mPharma
Gregory Rockson is excited to announce the acquisition onto the mPharma board of Dr Daniel Vasella, a senior figure in the pharmaceuticals industry. Gregory Rockson co-founded mPharma to lower costs and increase access to medication on the African continent, and the former Novartis CEO is to join their already prestigious board of directors. Read more here.
Ahmad Nabeel selected as Ambassador for Kuwait's 2030 vision
Ahmad was honoured to be chosen by The Emiri Diwan (Royal Palace) and The Supreme Council for Planning as an Ambassador for Kuwait's 2035 vision. At the "Kuwait is Proud" forum, he spoke about the role of youth in achieving the country's vision.
Jesse Breidinger recognised as WFF 2019 Change-Maker
Jesse was announced as a Women's Foodservice Change-Maker, at the 2019 Annual Leadership Development Conference in Dallas. She was rewarded for her innovative work within Coca Cola driving positive change beyond her immediate responsibilities.
Karan Jerath discusses AI and renewable energy with CTO of Shell
Karan was tasked with the role of co-moderating a discussion with CTO and Executive Vice President of Technology, Yuri Sebregts. They covered topics randing from climate change, the role of oil/gas majors, and the future of Artificial Intelligence.
Meghna Alam presents a young leader's perspective on women empowerment at Youth 1.0
In a panel discussion which sought to explore youth perspectives on gender inequalities, Meghna shared her opinions on women empowerment. by Plan International Bangladesh's event, Youth 1.0, was themed "Balance for Better" in celebration of the 2019 International Women's Day.
Vanessa Tseheye addresses UN Human Rights Council on the suffering in Eritrea
On the invitation of the High Commissioner on Human Rights, Vanessa addressed the Council on the suffering of the Eritrean people. She felt liberated as she passionately addressed the assembled representatives including the Eritrean regime and enabling governments.
Devika Malik launches Commonwealth-based disability network for young people
Devika attended parliament to the Children and Young People's Report on the Global Disability Summit and the Global Disability Children & Youth Charter. The Commonwealth Children & Youth Disability Network was launched at the event, a particular passion project of Devika, a core, founding committee member of the newly-formed network.
Hussain Manawer interviews England and Spurs midfielder Dele Ali
In an interview published by Soccerbible, OYW Ambassador and Poet Hussain Manawar sat down with Premier League footballer Dele Ali as they discuss inspiration, performance and inevitably the World Cup.
Lotus Flower commence legal action defending women violated by ISIS
Taban Shoresh's organisation have launched their first legal action, in an effort to seek redress for the victims of ISIL's foreign fighters. She decided to take on the challenge and represent the displaced women subjected to "rape, torture, trafficking, enslavement and violence at the hands of jihadists". Read more here, or find out more about it in The Times.
James da Costa and Abdulkadir Elmi announced as G7 Youth Delegates
James da Costa, co-founder of the Mandala Group, was selected to be the head delegate for the G7 Youth Summit in France. He will be accompanied by fellow Ambassador Abdulkadir, selected to be a delegate for his role co-founding and running a childcare delivery platform called Beba.
Bozhanka Vitanova discusses entrepreneurship on The Lens podcast
The Lens podcast featured Bozhanka alongside Keith Weed, the global Chief Marketing Officer from Unilever, in a podcast on entrepreneurship. She discussed her research on entrepreneurialism, the intrapreneurial trend, skills development, and many more intriguing topics. Hear more below:
Nambian newspaper celebrates Shaandre Finnies work as Peace Ambassador
Shaandre's work as a Peace Ambassador and co-founder of Empateamwork was documented by Namibian media outlet "Windhoek Express". They praised his project promoting cross-cultural exchange to create further understanding about the Heroro and Namaqua genocide in colonial Namibia. Read more here.
Kehkashan Basu receives Community Award for Youth Service
Kehkashan was awarded the prize at a conference on behalf of The Community of Youth Officers for the Province of Ontario. She was recognised for her work empowering young people globally in the sustainable development process.
Kemi Adetu inspires the next generation of young leaders at ForUsGirls event
Kemi was invited to the "Career Day Experience: Discovering Career Opportunities Through Innovation" by fellow Ambassador and founder of ForUsGirls, Aminka Belvitt. She spoke to 13 girls from "Figure Skating In Harlem" on setting career goals, creating their own opportunities and the basics of design.
Ben Conard speaks in plenary session at the Fair Trade conference
Representing his company Five North Chocolate, Ben spoke at a plenary session on "Leading towards a Sustainable Future: A Lunch Conversation". The session took place at the Fair Trade Campaigns National Conference in Chicago.
Sesame Mogotsi inducts new Peace Ambassadors to the CYPAN
In preparation for the launch of a six-month campaign on the localisation of the UNSCR 2250 on Youth, Peace and Security, Sesame Mogotsi hosted an induction for a new batch of Peace Ambassadors and volunteers starting at the Commonwealth Youth Peace Ambassadors Network.
Global Goalcast chat with Noam Shuster on comedy's capacity to create change
Noam Shuster, an Israeli Ambassador, took up comedy after she became disenfranchised with more traditional forms of peace-making. She reveals to the podcast how comedy has provided her with access to new, untouched and diverse audiences. Listen to the show here.
Olasupo Abideen rallies youth participation in Nigerian elections
Olasupo organised the first North Central "Vote Your Future Youth Summit" for over 2000 young people. They campaigned for young people to vote on issues, not out of emotional sentiment. The higher-than-expected voter turnout in the younger generations is promising, especially in light of the last-minute postponement.
Yolanda Joab attends Young Pacfic Leaders Conference
Yolanda was selected as one of the 50 Young Pacific Leaders to attend the Conference in Fiji. She was selected for her tireless work fighting climate change in Micronesia.
TEDx provides a platform for OYW Ambassadors across the world
Daniela Villegas and Carolina Garcia presented at the TEDxCESA in Colombia. Caroline spoke about her expedition to the Antarctic, and Daniela addressed LGBT representation. Meanwhile, Caritta Seppa spoke at a TEDx event at Tampere University in Finland.
Charles Immanuel Akhimien educates AHAIC on technological improvements to healthcare
Charles spoke at this year's Africa Health Agenda International Conference (AHAIC) in Kigali, Rwanda on 'Leveraging technology to drive improvements in health access and quality of care'. He also led a discussion hosted by the UN Foundation on Universal Health Coverage (UHC) and the private sector.
Six Ambassadors represent One Young World at the ASEAN Youth Engagement Summit 2019
Emmanuele Marie Parra was significantly responsible for the organisation and success of the event, establishing contact between OYW and AYES, finding partners and speakers, and supervising the attending ambassadors. Also speaking at the plenary sessions were Sotheary You, Angela Mae Minas, Jonathan Chu, Margianta Dinata and Pol Bordas.
Angelique Pouponneau appointed CEO of prominent conservation trust
Angelique has been chosen by the Board of Directors as the new CEO of SeyCCAT, a conservation and climate adaptation trust fund in the Seychelles. She has clear plans for the organisation, which strategically invests in ocean stakeholders to generate innovation, action and sustainably prosperity in the county. Read more about it here.
Canada's Kehkashan Basu invited to speak at conference by President of Suriname
The conference of 'High Forest cover and Low Deforestation' (HFLD) countries was held in Paramaribo from 11th to 14th February, under the auspices of UN. Kehkashan addressed the Heads of States, including the President of Suriname, and other dignitaries from the HFLD countries on 'The Role of Youth in Protecting our Forests'.
Sara Rajabli's work on the Eastern Partnership Initiative chosen by European Commission
Sara's work on the impact of Eastern Partnership Initiative in Azerbaijan was voted top by the attendees of the EC's 10th anniversary conference commemorating the policy's launch. Her story was presented by Azerbaijani blogger Gunay Rasulova in front of more than 100 Young European Ambassadors and senior officials at European Commission building.
Noam Shuster-Eliassi's BBC Arabic interview goes viral
Peace-activist and comedian Noam, in an interview with BBC Arabic, satirically propositioned the Saudi Crown Prince. The irony of her marriage proposial was lost on many media outlets, and the clip went viral. Watch her humorous reaction below.
Tespack among the "5 Hottest Tech Start-Ups in Finland"
Caritta Seppa, founder of Tespack, was featured on a list published by "The Next Web" which picked out the most impressive and impactful tech startups in Finland. Tespack has made huge waves in the wearables industry, and will soon be launching "the world's first smart cycling backpack". Read more here.
Olasupo Abideen on the panel at UN National Peace Committee in Kwara
Olasupo was invited to speak at the United Nations National Peace Committee High Level Dialogue Forum For Peaceful 2019 Election, that took place in Kwara. The forum featured key policy stakeholders and non-governmental organizations on "The role of civil society and non governmental organizations in the peaceful conduct of elections".
Danny Bartlett defends Youth Strike 4 Climate on Sky News
Danny, in a live interview on Sky News, defended the activism of young leaders who refused to attend their schools in a defiant stand against governmental inaction on climate change.
Nayab Jan presents on female empowerment at Population Welfare Training Institute
Nayab was honoured to speak at the PWTI event, where she highlighted the links between female empowerment and education with child birth and planning.
Ambassadors' articles strongly criticise revoking an extremist's citizenship 
In a blog for The Lotus Flower organisation, Taban Shoresh passionately condemned the British government's decision to revoke Shamima Begum's British citizenship as "an impetuous approach" which "will never be the solution". Read more here.
Writing an article for Project Syndicate, Bjørn Ihler and Fatima Zaman also implored the UK and USA to receive returning ISIS-supporting citizens for trial rather than "abandoning responsibility" in an act of political point-scoring. Read more here.
Mariann Avila participates in Facebook Community Award programme
Mariann, winner of the Facebook Community Award, returned from the programme in Sao Paolo with renewed vigour and passion to inspire the next generation to pursue the SDGs.
Salam al-Nukta guest of honour at Orange Corners event
Salam al-Nukta was invited to present at the inaugural Orange Talks, an initiative which features young innovative leaders and provides them with a platform to share their ideas with policymakers and stakeholders within the Dutch government. She spoke to the audience on the importance of female and youth empowerment for entrepreneurship.
Ali Mustafa chosen as Co-Chair for Youth Sub Committee at UN Civil Society Conference
At the 68th Civil Society Conference of the United Nations, Ambassador Ali Mustafa was selected to be the co-chair of the Youth Sub Committee.
Olga Elizarova holds workshop at The Paris Design Summit
Olga led a workshop which applied game design principles and behaviour change techniques in unison to design products or services which tackled, in particular, youth education and unemployment in France.
CAUCUS HIGHLIGHTS
OYW Lima 2018
OYW Japan 2018 
AMBASSADOR MEET-UPS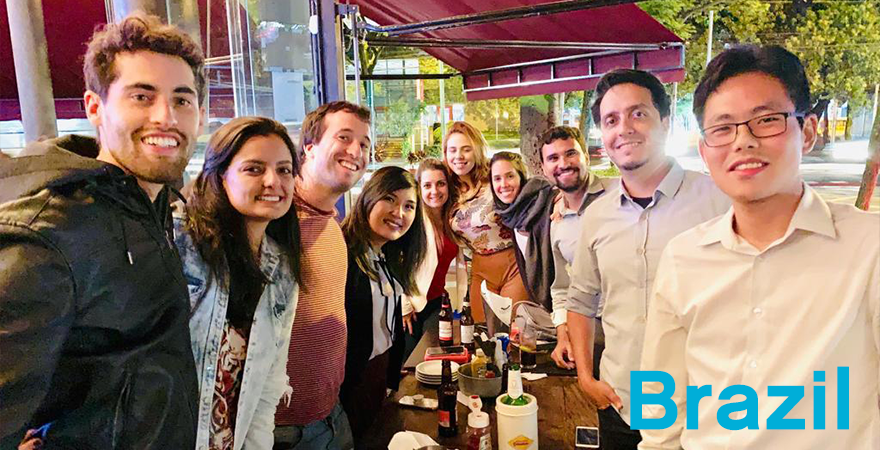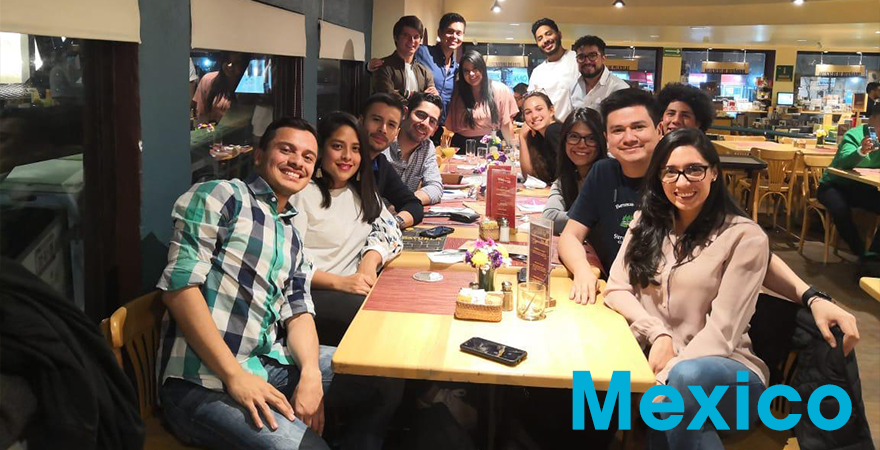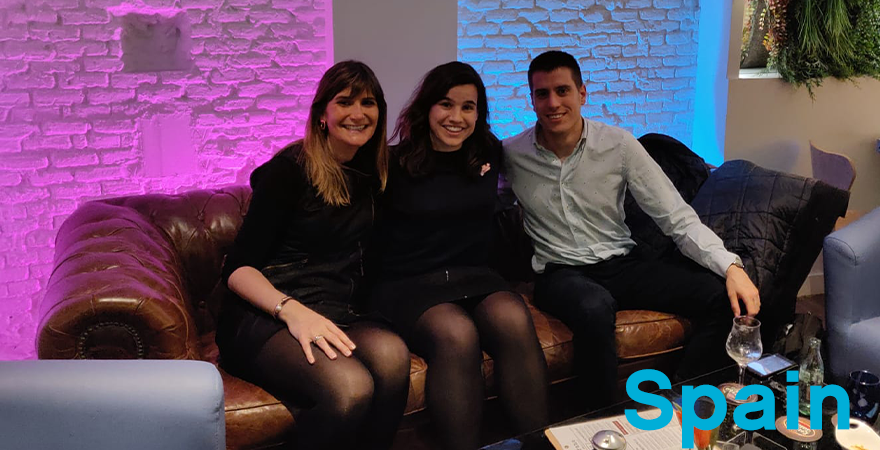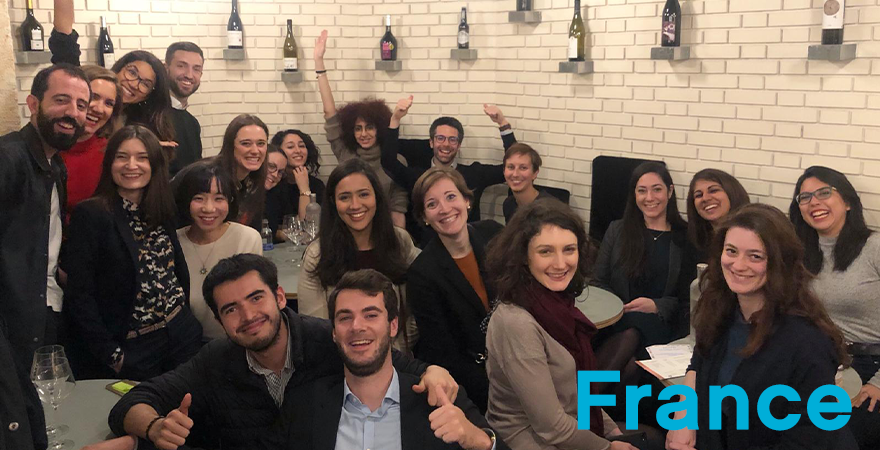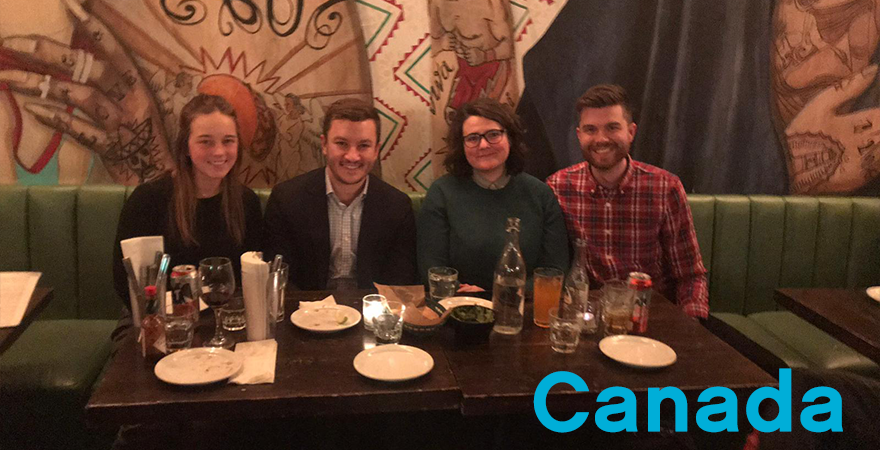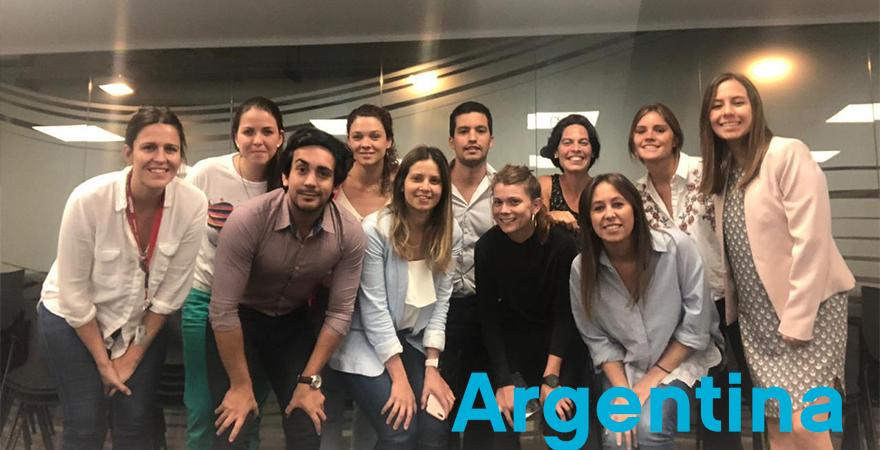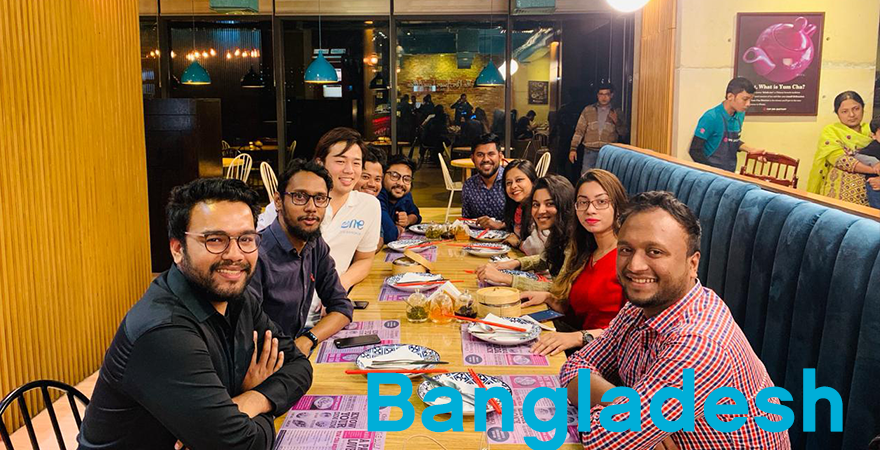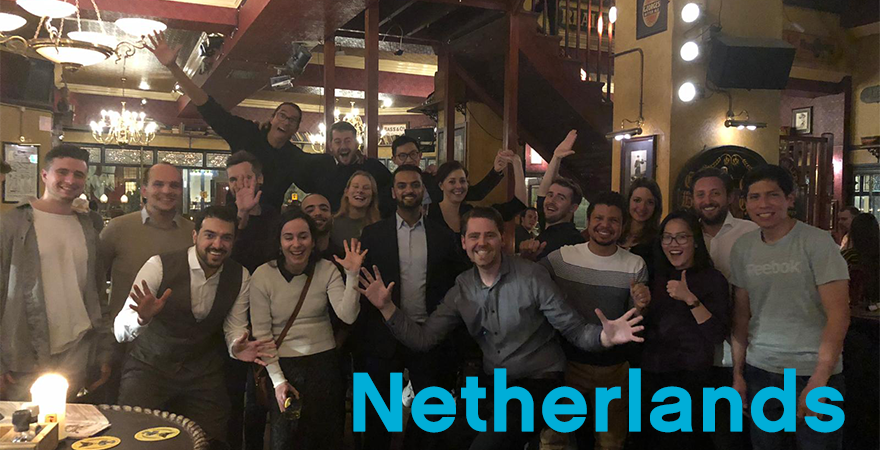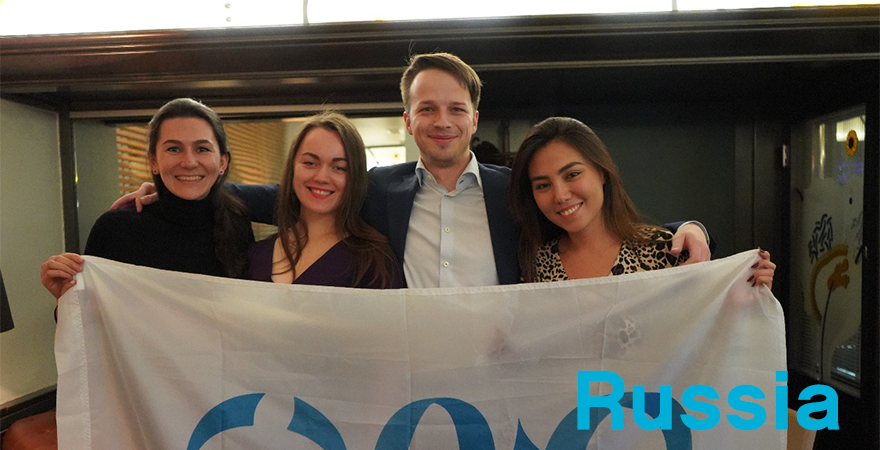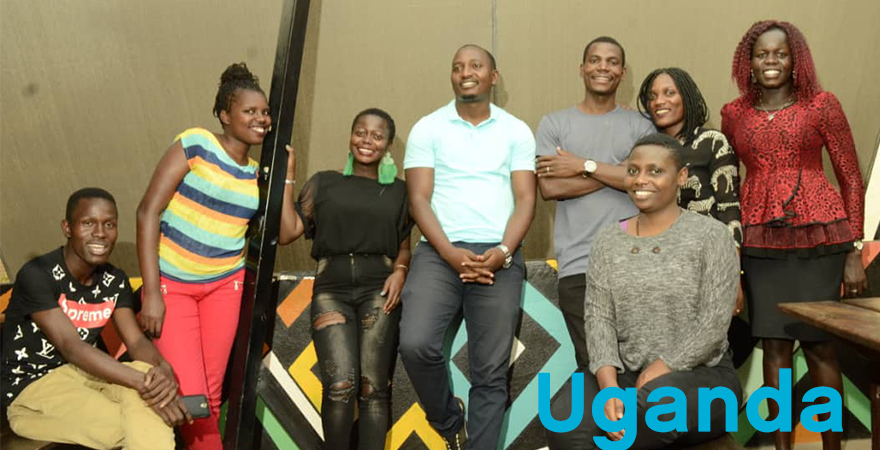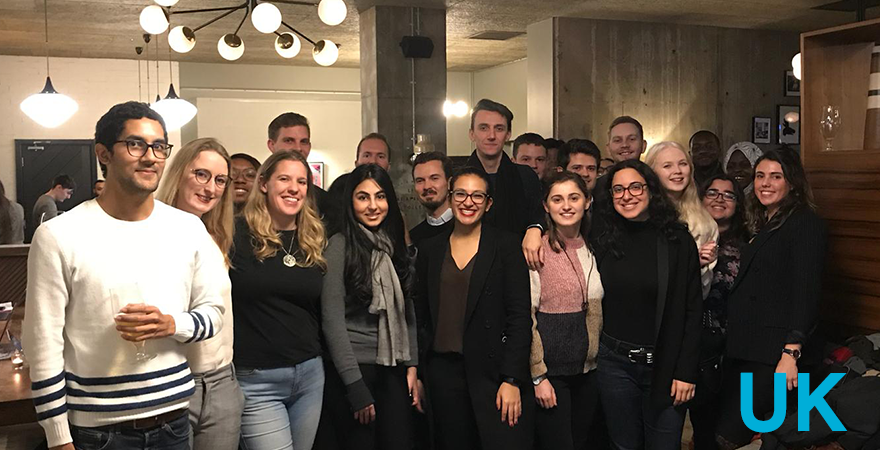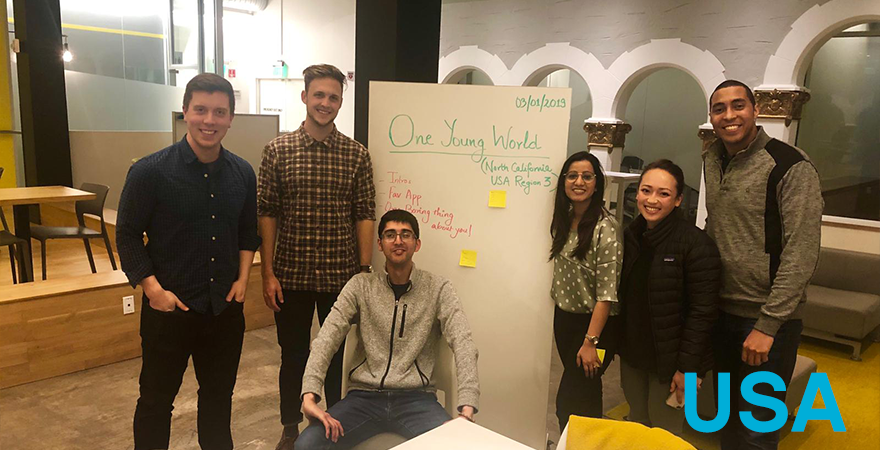 Image