Look back at some of the best #OYW moments of 2017:
1. Jerome Jarre launched 3 #LoveArmy campaigns and raised over $6 million
OYW Ambassadors Jerome Jarre and Juanpa Zurita, alongside actor Ben Stiller and other social media influencers, launched the #LoveArmy movement to support humanitarian crises around the world. The online fundraising campaigns, fueled by the power of social media, raised over $6 million in total, supporting food and water crisis relief efforts in Somalia with #LoveArmyForSomalia, earthquake relief in Mexico with #LoveArmyMexico and the Rohingya humanitarian crisis with (#LoveArmyforRohingya.
Watch the team behind the #LoveArmy movement explain how they managed to raise millions at #OYW2017:
2. Hussain Manawer broke the world record for largest mental health lesson
Hussain is an Ambassador who wears many hats: he is a campaigner, social entrepreneur, poet and mental health spokesman. In March 2017, Guinness World Record officially recognised him for giving the World's Largest Mental Health Lesson at London's Hackney Empire.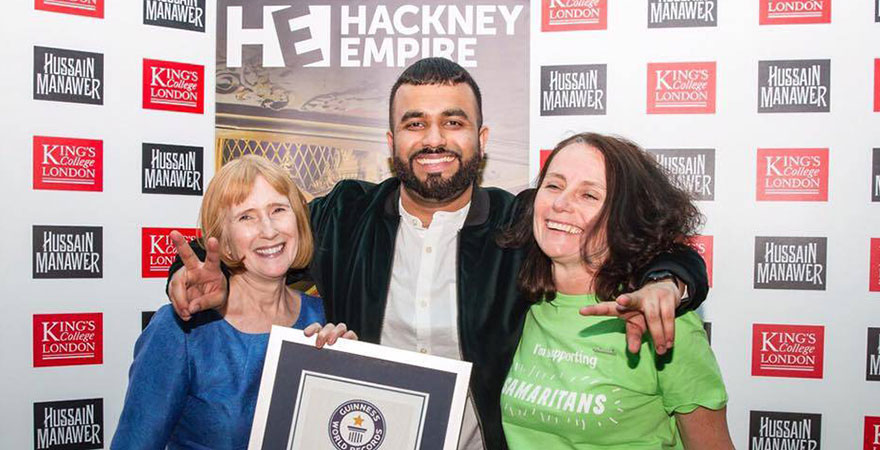 Alongside King's College London senior psychologist Professor Dame Til Wykes,  Hussain hosted 538 secondary school students for a 30 minute presentation on mental health and gave a spoken word performance.
Watch one of his latest performances at the Closing Ceremony of OYW 2017 in Bogotá:
3. OYW Counsellor Caroline Casey rode 1,000km across Colombia on horseback for the #valuable campaign
In August 2017, disability activist Caroline Casey embarked on a month-long trek across Colombia to drive global awareness of her new disability campaign, #valuable, which is working to bring disability at the top of the business agenda.
"If business recognises the value and worth of people with disabilities, their lives will improve. It is time to put disability on the global business agenda", she said at the 2017 Summit.
Caroline challenged 500 global businesses to put disability on their board agendas - a goal to be achieved by OYW 2018 in The Hague. In Bogotá, she addressed an audience of senior business leaders and was joined on stage by eight CEOs willing to take up her cause, including Unilever CEO, Paul Polman:
4. OYW launched Peace Ambassadors initiative supported by the European Commission
OYW launched a new initiative with the support of the European Commission – One Young World Peace Ambassadors – with the aim to empower and celebrate the role young leaders play in preventing and countering violent extremism, peace-building efforts and conflict resolution.
As part of the initiative, 80 young peacebuilders from across the world had the chance o attend the Summit in Bogotá and join together to build upon and improve existing cohesive strategies for sustainable peace.
I'm thrilled to be one of 80 #OYWPeace Ambassadors & attend @oneyoungworld Summit! #Youth4Peace Learn more: https://t.co/0lhwbJ1Ggi pic.twitter.com/Fhvwx1XFqC

— Noorjahan Akbar (@NoorjahanAkbar) August 12, 2017
5. The Exchange challenged slacktivism among young people
The Exchange, launched in Spring 2017, is a programme which brings together young leaders who stand on different sides of pressing issues to debate and discuss what matters to them most.
This year, OYW hosted 3 online panel discussions on the US elections (before Donald Trump won), the post-Brexit political climate in the UK and the uncertain French elections, where young people from diverse political backgrounds expressed their views in a neutral platform to foster discussion and build mutual understanding of opposing viewpoints.
Stay tuned to find out more on the next phase of this programme, The Exchange 2.0.
6. Colombia signed a historic peace deal with FARC
In June 2017, Colombia's FARC rebels sealed a historic disarmament agreement after more than 50 years of civil conflict. Today, Colombia offers a symbol of hope for countries embroiled in violence..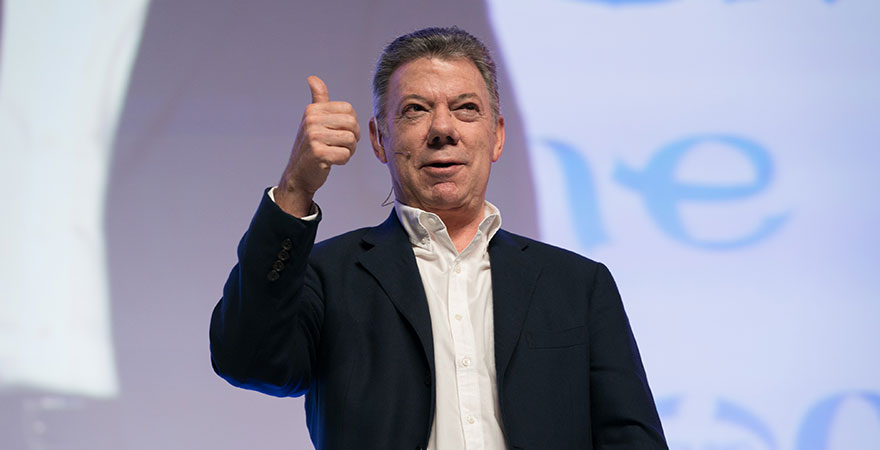 Given this major development, peace and reconciliation was the overarching theme of OYW 2017, with the main focus being the role young people play in propagating peace. President of Colombia Juan Manuel Santos joined young leaders on the final Summit day, dubbed Peace Day, to highlight the major contribution of young people to the peace process as a whole.
Listen to his words:
7. Cher performed exclusive song at Closing Ceremony in Bogotá
At this year's Closing Ceremony in Simon Bolivar Park, delegates enjoyed an exclusive performance from Cher with her new song inspired by Free The Wild, 'Walls'.
8. OYW Co-Founder Kate Robertson received the 2017 Corporate Citizenship Award
Last June, BritishAmerican Business honoured Kate with the Corporate Citizenship Award for her "exceptional commitment and innovative approach to corporate responsibility."
BAB CEO Jeffries Briginshaw with our 3 #CSR honourees Douglas Flint @HSBC @kateatoyw @OneYoungWorld & Arthur Sulzberger Jr @nytimes pic.twitter.com/1ISPVRO2Kb

— BAB London (@BABLondon) June 16, 2017
BritishAmerican Business CEO Jeffries Briginshaw also presented Corporate Citizenship Awards to Douglas Flint, Group Chairman of HSBC and Arthur O. Sulzberger Jr, Chairman of the New York Times Company. Mr Briginshaw recognised all awardees for "embracing the spirit of corporate citizenship, promoting trust, inclusive business models and managing global impacts- putting these values into action to drive prosperity and economic development in communities globally and locally.
9. Facebook VP launched the Social Entrepreneurship Award at OYW 2017
At the Summit, Facebook's VP of Global Marketing Solutions and OYW Counsellor Carolyn Everson launched the Facebook Social Entrepreneurship Award, offering a Grand Prize worth $55,000, plus three prizes worth $5,000 for young social entrepreneurs looking to scale their businesses.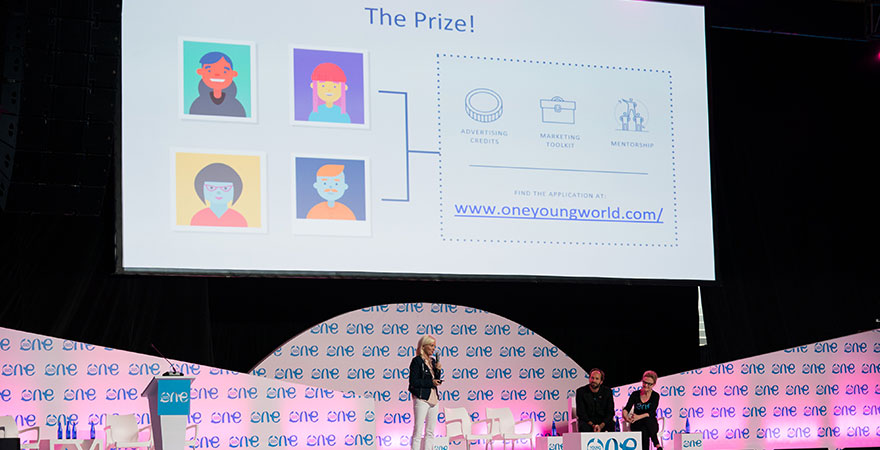 The four winners, yet to be announced, will come from the four regions in which Facebook operates, with each winner receiving Facebook advertising credits and executive mentorship.
10. OYW took over ten cities for regional Caucuses
Caucuses are Ambassador-led and organised regional gatherings, which provide an opportunity for Ambassadors to connect face to face and gain insight into a range of emerging issues.
This year, over ten Caucuses were organised around the world, including cities like London, Hong Kong, New York, São Paulo, Sharjah and Mount Hope, Trinidad and Tobago, among the others.