In an effort to further share the incredible work of the OYW Ambassador community, we've launched our monthly list of top projects you need to know about. This is the last batch before the London Summit so we have made it a good one!
The OYW network is all about collaboration - so please get in touch if you're interested in learning more or joining forces with any of the Ambassadors listed. Remember, if you log into your OYW profile, you can email them directly via the messaging button. Just go to their OYW profile and you'll find the button located on the bottom left. You must be logged in to do this.
Want to be featured on a future list? Contact your regional Coordinating Ambassador - full list here.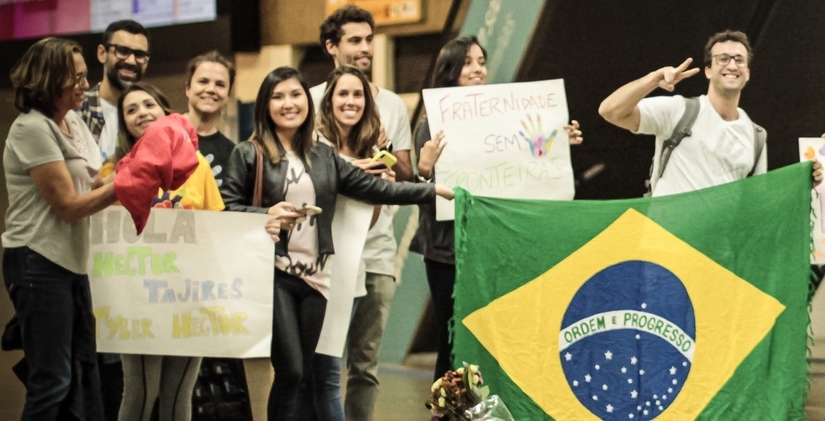 Fernando co-founded Refúgio 343 in June 2019 alongside fellow Ambassador Laura Fatio. Refúgio 343 was formed to help relocate Venezuelan refugees to São Paulo, Brazil, and to help the families to settle and start a new life together. 168,000 Venezuelans have entered Brazil since the crisis started. Refúgio 343 works to help families displaced by the crisis to find a place to live and funds their living costs for six months while they become settled. Around 70 volunteers have signed up to help support the families through the relocation process. Several One Young World Ambassadors have been a crucial part of this project, including Guilherme Sperandio, Suelen Nina, Rafael Angelo, Bruno Cantarella and Alice Xavier. Refúgio 343 was officially launched at the São Paulo caucus on the 29th June 2019. 
The organisation supports the family to enroll their children into local schools, to search for jobs, and to help make the process of migration less stressful and difficult than it would be otherwise. The first family has already been relocated from the border town of Boa Vista, and Refúgio 343 aims to support 9 more families to relocate and settle in São Paulo. Refúgio 343 is currently fundraising to generate R$200,000 Brazilian reals in order to support all ten families. 
Support the project to raise it's fundraising target here.
Based on her experiences at the One Young World 2018 The Hague Summit, Satta founded WeSay Change - Liberia's first online referral and reporting centre for victims of sexual and gender-based violence (SGBV) to take action against sexual abuse. WeSay Change is a Regulated Call directory system designed to support survivors of sexual abuse psychosocial and mental needs. The WeSay Change online platform provides information on all SGBV referral and medical centres and provides accessible content covering the Liberian Rape Law, Children's Laws and other legal instruments that prohibit sexual violence in Liberia. WeSay Change is part of Action for Justice and Human Rights, and the project has already reached out to over 5,000 people in four counties in Liberia. The platform also hopes to reach schools and communities without access to the internet through radio drama, using local languages to highlight the dangers of SGBV in an accessible and understandable medium.
Connect with Action for Justice and Human Rights on Facebook | Twitter | Instagram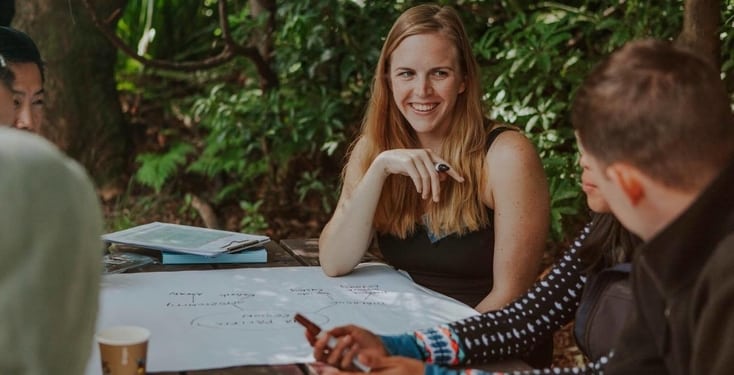 Kate founded Money Bites after attending One Young World 2018 The Hague. Money Bites is a blog designed to make information about personal finance more accessible and to demonstrate how sustainable lifestyle choices can also be financially prudent. The goal of Money Bites is to talk about finance and make the often overwhelming concept of money more bite sized. The blog is primarily aimed at young people and it strives to normalise conversations about money, which is often seen as a taboo subject. Kate is currently working on a podcast that focuses on women and money, particularly highlighting the less commonly discussed experiences that women tend to have with money. 46% of Australian women report that they find dealing with money stressful and overwhelming, so resources are needed to decrease anxiety and increase knowledge on this issue.
Read a recent post here.
Connect on Facebook.
Johnson and Johnson delegate Bimo and Unilever delegate Jessica were both inspired to make a change after attending the One Young World 2018 The Hague Summit. They joined forces with a fellow Ambassador from BP to create CARBONETHICS. CARBONETHICS is a platform to educate people about their carbon footprint and to help them offset their emissions through planting mangroves in Thousand Islands, Jakarta. Founded in May 2019, CARBONETHICS works to educate people about their carbon footprint calculations, translate their footprint into a carbon offset price, and then use the money generated for carbon absorption and coastal restoration projects. Planting mangroves and seagrass helps with carbon sequestration and absorption, and will prevent coastal erosion. The coastal restoration project involves coral revival initiatives to help protect the coast and preserve habitats for sealife. The project is hoping to diversify its portfolio of carbon offset initiatives into solar energy and biogas projects, and is set to be scaled up globally in the near future. CARBONETHICS also plans to run eco-trips, providing experiential learning to people interested in climate change prevention and carbon offsetting in Indonesia.
Zarangiz founded WoWoman in 2014 to help provide women and girls with the skills, tools and mindset to pursue their dreams and achieve financial independence. So far, more than 8,000 women have benefitted from training courses on topics such as entrepreneurship, programming, community building and soft skills. WoWoman runs several projects and programmes to help women to develop their talents and to share their stories. The online platform enables women to connect and to find opportunities to help them pursue their ambitions.
Since attending One Young World The Hague 2018, Zarangiz opened a new educational centre and hub for social entrepreneurs based in Azerbaijan. This hub, named Wspace, is a co-working space and business cafe that offers women an inclusive and accessible work space with facilities for children and families. Her work has also been recognized on the Forbes 30 Under 30 list.
Connect: Website | Facebook | Instagram
6. Karl Molina, Philippines
RingCentral Culture Council
 
RingCentral Culture Council is the team responsible for the diversity and inclusion and corporate social responsibility programmes at the company. Karl leads these efforts at RingCentral, helping to make the company inclusive and diverse. The Culture Council works to ensure that individuals and employees are not discriminated against based on their sexual orientation, gender identity or gender expression. The Council also runs a sustainable social responsibility programme that helps to improve education in the local community. Since the Council was started in July 2018, it has helped to improve conditions for women, LGBTQ individuals, people with disabilities, children, and young people out of education. Approximately 3,000 people have been positively impacted through the range of activities conducted by the RingCentral Culture Council to date.
Find out more about RingCentral Careers here
Watch videos about pride here (video 1 & video 2) and about the children's gift drive here
Salam is the founder and CEO of ChangeMakers, an organisation that teaches young people coding skills with the aim of reducing the gender gap in the tech sector. ChangeMakers aims to reduce unemployment rates and close the gender gap in the tech field in Syria, encouraging females to become programmers and empowering young people to grow up as world-shapers. Since its launch in 2016, the initiative has reached more than 1,000 young people through 5 major events and 3 bootcamps. 50 young people have attended ChangeMakers coding bootcamps free of charge. ChangeMakers focuses on providing young people with coding skills while developing communication skills effectively as vital tools for the future. The aim is to help young people in Syria to develop useful skills that can help them to secure stable jobs in the real world once they leave education.
Connect on
Facebook
Mariann is the founder and director of School on the Road, an initiative that strives to spread quality education in science, technology, engineering and maths (STEM). School on the Road runs a range of programmes to get children interested and engaged in STEM subjects. The Coding Kids branch hosts STEM clubs for children from first grade to junior high school to teach them the basics of computer science. The Girls in STEM mentoring programme supports girls in the final year of high school to increase their interest and performance in STEM subjects. School on the Road also runs community projects like week long summer camps in rural areas of Mexico, where children, and also parents, are taught about the importance of STEM and how it can help them in the future.
Connect:
Facebook
|
Youtube
|
Instagram
|
Twitter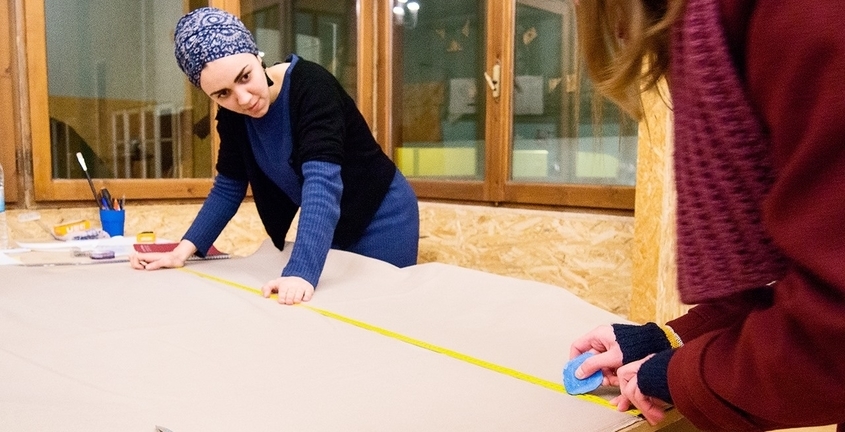 Debbie is the founder and CEO of Knit2Lead, an organisation that empowers underprivileged and socially excluded women through fashion. Founded in 2015, Knit2Lead teaches women how to upcycle old linens and fabrics into clothes that they can then sell on to generate an income. This project aims to help women facing social exclusion such as women who are unemployed, former prisoners, drug addicts or those suffering from eating disorders. Knit2Lead runs workshops with these women, teaching them the basics of clothing design and sewing, and providing them with the materials to tailor old linens into new clothes. The clothes can then be sold through the Knit2Lead website, enabling the women to generate an income through their work.
After attending One Young World 2018 The Hague, Mustapha was inspired to start WEYD, a digital platform helping young talent to access suitable career mentors. Founded in April 2019, WEYD seeks to provide support to young people starting out in their professional career by matching them with more experienced mentors. The idea is that providing mentorship would then help support young people to overcome potential barriers to success such as socio-economic status or ethnic background. The platform is currently under development and has ambitions to reach young professional across Europe.
11. Elizabeth O'Neill, United States
Ontic SDG Project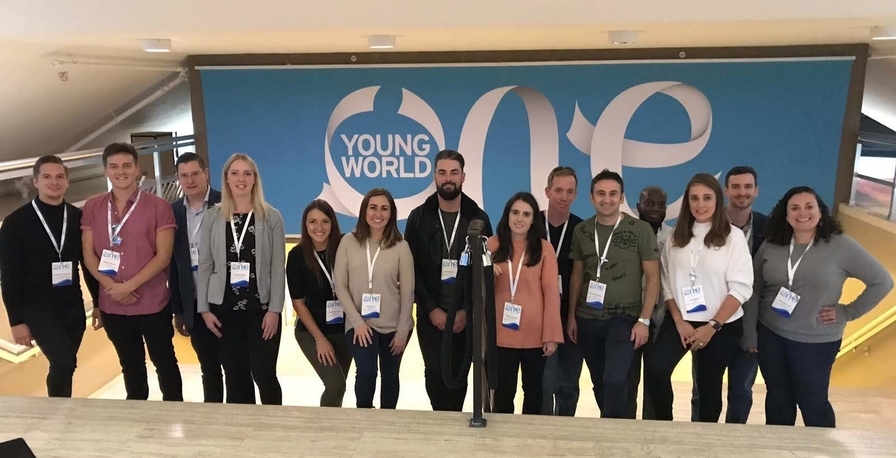 After attending One Young World 2018 The Hague, Elizabeth and her colleagues at Ontic Engineering and Manufacturing, BBA Aviation, decided to start a project to further sustainability efforts across the organisation. Elizabeth and her team drafted a white paper study on mitigating carbon emissions as an enterprise wide project. The group also chose six SDGs that were deemed to be of particular importance to Ontic, and then had these approved by the board to be adopted as part of their company wide focus. Ontic Ambassadors are working together to educate their fellow colleagues about the SDGs and to facilitate employees at every level to make a change in whichever capacity that is aligned with these selected Global Goals. A company wide communication is shared regularly, highlighting the SDGs and potential improvements that employees can make. Currently the Ambassadors have worked to completely remove single use plastic water bottles from several sites.
Matthieu is the Community Manager for Institut de l'Engagement, a non-profit that helps young people aged 16-30 to further their personal and professional development by helping them to find jobs, get back into education or to start their own businesses. The institute helps these young people to take steps towards achieving their goals in a practical way. Each year Matthieu helps to support 700 young people in this way. Institut de l'Engagement aims to transcend the barriers between the working world, the academic world and the charity sector to bridge the gaps and help build a more connected and committed society. The institute selects young people for the programme by primarily looking at their voluntary experience, emphasising the importance of community work and being rewarded on merit. More than 13,000 young volunteers have received personalised advice, and 3,600 young people have graduated through the full programme.